The result of our BDSMContacts.ca review: Our test on BDSMContacts.ca turned out to be an insufficient dating website.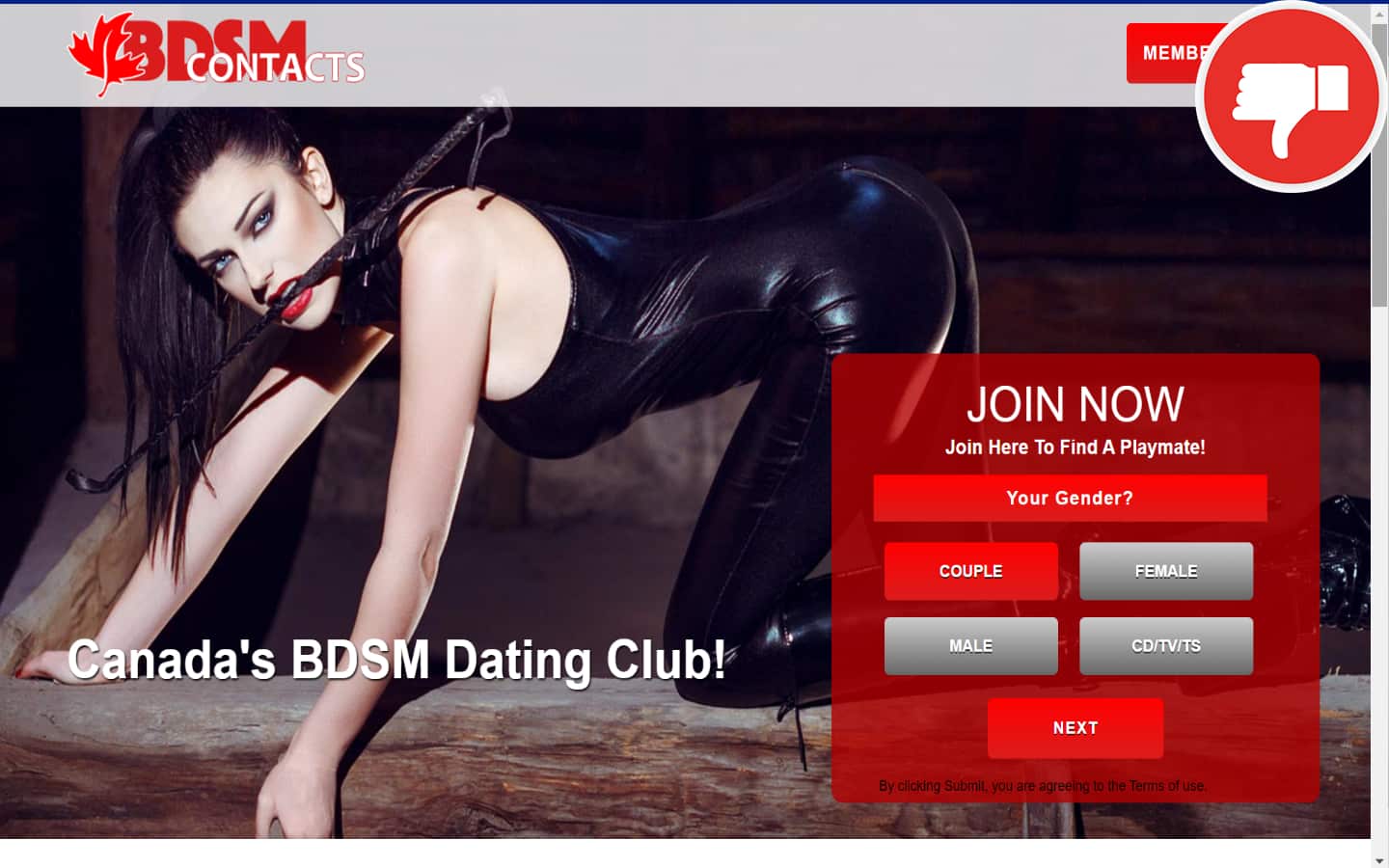 Report for BDSMContacts.ca review
At first sight, BDSMContacts.ca looks like an ideal place to arrange exciting sex dates with the Canadian BDSM community. But after we do some research on the internet and read the terms and conditions, we cannot recommend anyone to register here. Unfortunately, it is highly unlikely to be able to arrange a real date via this platform, as many member profiles are fake.
The site contains fictional profiles, which are created and managed by employed operators. With the help of these profiles, new users are tricked into a chat conversation. However, to use the chat feature, a paid membership subscription is required. These subscriptions renew automatically. If not terminated in time, they can easily lead users into an expensive subscription trap.
The operator behind this rip-off, is VodFun Limited from Douglas, Isle of Man. They are well-known for several scams dating websites and have received numerous negative user reviews on the internet.
Scroll down to read the details of our BDSMContacts.ca review.
Details on the BDSMContacts.ca review
BDSMContacts.ca advertises with free registration, promising features, and a big members' area. It seems to be a great place to get in touch with the Canadian BDSM Community, and to arrange for new fetish experiences.As always, we search the internet for user reviews and carefully read the site's terms and conditions. Unfortunately, we quickly find out that the portal is in fact a fake chat scam.
The following note is from the terms and conditions
From time to time, the Company employees (or employees of its parent or affiliated companies) may create test dating profiles for the purpose of checking and testing the functionality of our Website and Service to improve the quality and user experience for its Users.
The website claims to use test "dating profiles" for the purpose of testing the functionality and improving the user experience. But from our experience, these fake profiles are solely used to trick new users into signing up for the paid membership subscriptions as quickly as possible.
Fake chat scam
Shortly after the free registration, new users will find several message notifications in their mailbox. Obviously, these messages are not sent by real people, but by the employed operators, who hide behind fictional profiles. As users are not sufficiently informed about the fake profiles, they assume that each message is sent by a real person, with whom a date can be arranged. Consequently, they are willing to reply as quickly as possible. But to reply, they must become a paying subscriber first. The chat feature cannot be used without such a subscription.
Subscription trap
All membership subscriptions extend automatically if not terminated in time. From our experience, this can easily lead into a subscription trap. Therefore, we do not recommend that you to give it a try. Moreover, each chat conversation seems to be completely pointless anyway. The member profiles are fake, so it is impossible to arrange a real-life date via this platform.
The operator of BDSMContacts.ca is already well-known for this kind of rip-off. VodFun Limited, from the Isle of Man, runs a whole network of scam dating portals and has got an terrible reputation. The internet is filled with negative user reviews and complaints about this company and its websites.
The conclusion from our BDSMContacts.ca review
Unfortunately, BDSMContacts.ca is a fake chat rip-off and cannot be recommended at all. The site uses fake messages, created by employed operators, to lure new users into signing up for a paid membership subscription. As these subscriptions renew automatically, they might lead into an expensive subscription trap. Furthermore, the chances of arranging a date seem extremely low. The operator of the site has got countless negative user reviews online.
Let us know your BDSMContacts.ca experience in the comments as well.