ZoomFlirts.com review
April 29, 2022
The result of our ZoomFlirts.com review: Our test turned out to be an insufficient dating website.
Report on ZoomFlirts.com review
At first sight, ZoomFlirts.com looks great. This online dating portal claims to be a legit choice. On the landing page, we read a short description of the website. What it offers sounds interesting and promising. This site has a special matchmaking system which is unique. Based on the information we provide, the search algorithm will find matches for us. The only things we have to do then are chat, flirt and date.
This website advertises a lot of erotic content. On the homepage, we see several images that show attractive women. But these are not actual site members. At least, this is our impression. We believe these pictures are used for advertising purposes only. However, they make a great first impression. We assume this website is a casual dating site. It must be full of interesting, entrancing members receptive to hot adventure.
The operator of the site is Crix Ltd, which is based in Mahé, Seychelles. Well now the penny drops. This company is well-known on the internet. We found many reviews from its former users. Generally speaking, former users had a bad experience and complain of a rip-off. We know this company too. This operator runs a huge dating network. All its websites use fake chat.
Is ZoomFlirts.com a rip-off?
The online dating portal ZoomFlirts.com might seem a great choice, but it is not. This website is a scam with fake chat. The profiles on the site are fake and controlled by fake chat operators. We know the site operator. This very same company runs numerous other dating portals. All sites in this operator's network use the same tricks. This is confirmed by numerous reviews on the internet. This operator is notorious and has a terrible reputation. Now we will recount our experience with this website, which is quite unique.
The profiles on the site are fictitious. This website is an entertainment service. Generally speaking, entertainment means fake chat. It is a common euphemism for moderation. Site users have no idea about moderation or the 'purpose of entertainment'. However, they are obviously not seeking entertainment but dates, as the landing page offers.
In a nutshell, we have proof of a fake chat scam. But this website appears inactive. After registering, we were not able to use the site. The portal only has two sections. We see a small selection of profiles in the members´ pool. We also view our profile settings. Furthermore, we provide our age, full name and a profile picture. This is all we can do.
The profiles in the members´ area look great, but they are fake. We recognized them right away. Some fake profiles are used on numerous sites, making them easy to spot straight away. They are of course useless. It was not possible to visit or contact these profiles. As stated above, only two sections make up this site. We didn't see an inbox area or payment section. So we couldn't make any contact with other members or spend any money.
This is certainly positive as it means we don't have to fear any rip-off. It is simply not possible to fall for any fake chat or subscription trap. Ultimately, this website does not seem to pose any current risk. But this could change if it attracts further registrations and renewed activities. We formed a negative impression of this site. The chances of falling for the tricks played by this cheeky entertainment website are small. We assume other members feel similarly.
This portal is completely useless; internet reviews state the same thing. In the end, most newly registered members will probably delete their profiles after a few minutes.
Scroll down to read the details of our ZoomFlirts.com review.
Registration on ZoomFlirts.com
Registering on this website is as easy as pie. We click on the registration button. We then enter a valid e-mail address and password. This is all the information required. Afterwards, we just have to confirm that we are older than 18. If we weren't, we'd have to leave the website. However, this site just asks a simple question about our age. All we have to do is answer this without actually verifying how old we are. Nor do we have to verify our account. We could tour this website right away.
The process of registration is certainly smooth, fast and simple. But too little vital information is asked for. Moreover, our unverified profile is the best proof that this is a dating website with inadequate data protection. Spammers can register just as easily as we did. Additionally, there is a high risk of a scam. The failure to insist on verification of new profiles usually opens the door to fake profiles.
We have to mention another aspect of registration. We did not provide one single item of distinctive personal information in our profile. Other users do not know where we come from or what we look like. They will not know our expectations from this website or our match preferences. In the end, we created an empty profile. A profile like ours lowers the general quality of the platform. We are certainly not the only ones who do not provide any further information later on, either.
While registering, we assume the members´ pool will be filled with fake profiles or profiles without much information. In our experience, an over-cursory registration process is a sign of an unreliable dating portal. This is especially the case here, since the landing page promises a great matchmaking service. This website claims to be a legit casual dating site. Well, it appears the opposite is the case.
Members' area on ZoomFlirts.com
After registration is completed, we visit the website members´ area. There we see a small selection of profile pictures. At first sight, the profiles look good and appealing. We assume we made the right choice with this site. Now at the top of the site we see four matches. At the bottom, we see many further images, which are blurred. This website has two sections. We see the members´ area and the profile settings. There is no payment section. Nor can we spot any area for reading and sending messages.
The profiles on the website look good: actually, a little too good to be true. Two factors lead us to this conclusion. First, we spotted some fake profiles. Thanks to our experience, we recognize a few profiles commonly used on fake chat sites. Most fake profiles come from a huge central data collection. In a nutshell, we know this website uses fake profiles.
We also see a match rate on each profile. This is nothing short of impossible. We did not upload any data to our profile. While registering, we just provided our e-mail address. So logically, it is impossible to arrange matches for us.
By the way, we want to emphasize the inadequate data protection as well as the fake profiles. We were able to see the profiles on the website without verifying our account. Usually this means anyone can register and see the site's content and members' details. This is terrible personal data safety. Actually, the site profiles are fake in any case. But this remains another negative aspect of this site.
Usually, fake profiles mean a fake chat scam too. This is the case here. The platform is an entertainment service. This is admitted in the legal information. But this website is a little slippery.  We cannot send messages. Nor could we visit the profiles to read further information. Actually, this website doesn't seem to work. If we click on a profile, we are immediately redirected to the top of the site. These profiles bear an invitation stating "Claim her". But nothing happens if we click this button.
We were not able to read messages. During our review, we did not find the inbox section. We have no idea what this website is all about. Now it becomes clear that the platform is an entertainment service. This is a clear sign of fake chat. The expression 'entertainment service' is a commonly used euphemism. So we now have evidence proving our suspicions. But we did not personally experience fake chat.
We know that the operator runs dating sites that use moderated chat. We also found plenty of reviews about the operator and its rip-off tactics on the internet. However, for some reason, this website seems to be currently offline.
As we see it, the site uses fake chat. But it is not a risk. Any user who registers here will experience the same as we did. After registration, a new member can do nothing. It is not possible to read or send messages. Profiles cannot be visited or liked. It is possible to add our full name and age to our profile. That is it: there is nothing more we can do.
But we still have to issue a clear warning. The website is a scam. It may not be active or online at the moment; at least it looks this way. But this could change at any moment. If there were more activity on the portal again, the operator might bring it back to life.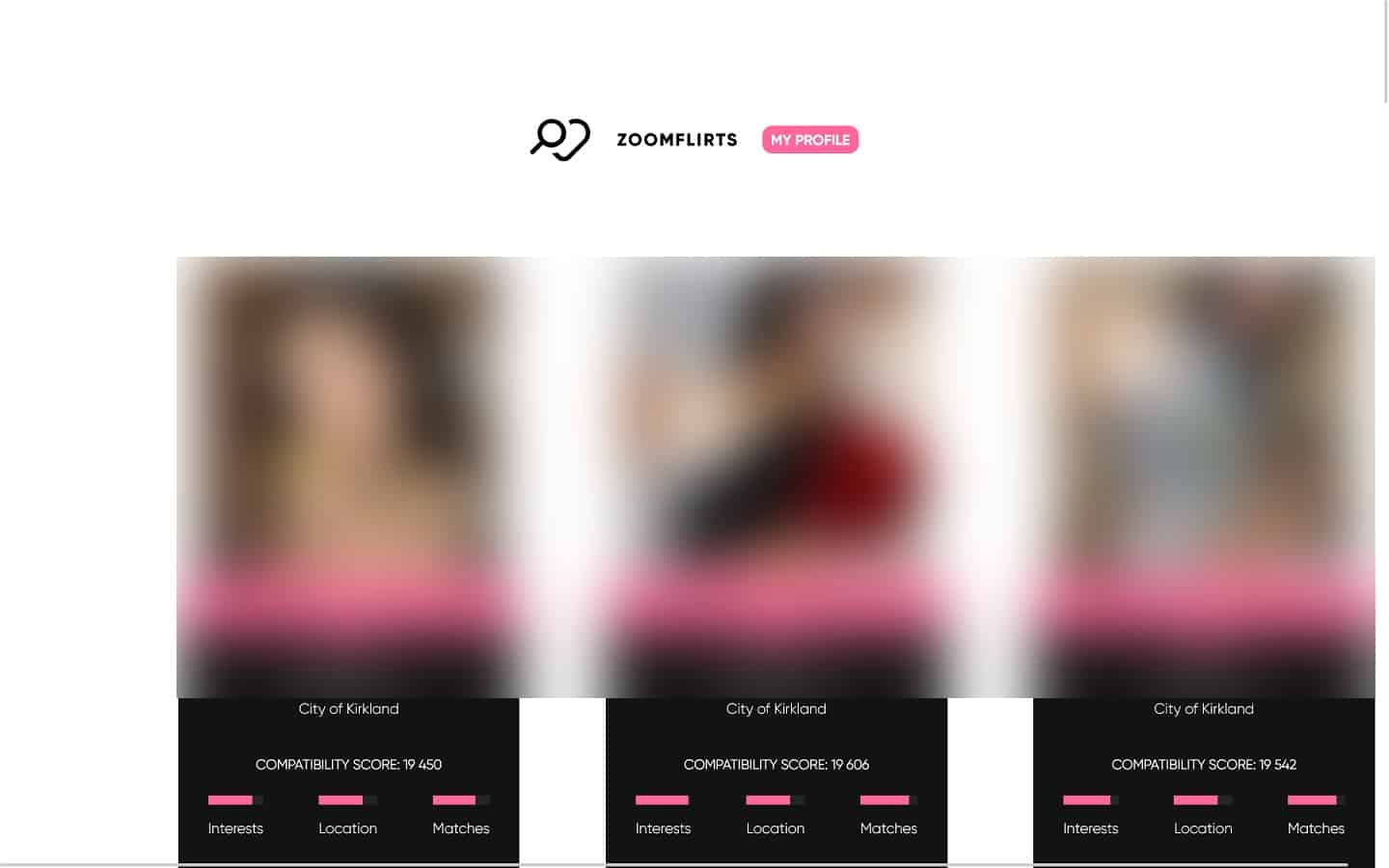 Terms and conditions of ZoomFlirts.com
Extract from the terms and conditions from the ZoomFlirts.com website. Current status of the terms and conditions as of April 29, 2022.
The Service offered for Your personal, non-commercial use. You comprehend, acknowledge, and accept that our Service, presented in the style of an online dating service, is an entertainment service. All content is provided for the entertainment and amusement of You. Our Site does not guarantee that You will find a date, partner, or participant, or that you will meet any member, user or profile in person.
Costs on ZoomFlirts.com
Registration on this online dating platform is free. Verification of our profile is not compulsory. We were able to visit the site and see various profile pictures. After our free registration, we received free basic membership. This kind of membership did not allow us to do anything. Well, we could add a little further data to our profile. This extra information concerns our name and age; we can also upload an image. But we were not able to use the site at all.
We saw four profiles in the members´ area. But we could not click on them. Each profile contained a button inviting us to: "Claim her". But these buttons did not work. When we clicked a profile or other button, we were redirected to the top of the site.
We really tried to get to know this website better, even though we knew it is a fake chat scam. But this website did not allow us to take any action. We verified our account. Plus, we added more details to our profile. Usually, we never do this, as most dating sites we review are a rip-off with defective data protection. Doing this here did not help. We did not find the payment section. It was not possible to spot the inbox area. We couldn't use a single feature.
According to the terms and conditions, a paid subscription will be offered. This did not happen in our case. Even after we waited for a little while, we still didn't receive any subscription offer. We know that in this situation, costs normally arise. It is also stated that payments will be renewed. But as this website is no longer active, there is currently no risk of falling into a subscription trap.
Conclusion from our ZoomFlirts.com experience
ZoomFlirts.com is a scam. This website uses fake chat. There might also be a risk of a subscription trap. This website is an entertainment service. Usually, entertainment stands for moderated chat. But this website appears no longer active. We tried to review it scrupulously, as we spotted all the usual signs of a cheeky website. We also found more than one item of proof of a rip-off. However, we were not able to use any feature of the site.
This website does not allow users to visit profiles. It was not possible to send messages. An inbox where we could read messages from fake chat operators was nowhere to be found. No paid subscriptions were on offer during our test. This website appears to be offline. So there is no risk at the moment. This could change in the future.
The site operator is Crix Ltd, which is based in Mahé, Seychelles. We know this company. It is notorious for its huge dating network. All its sites use fake chat. It could be that this website will be revived if there is enough activity. So we still have to issue a firm warning.
Contact data of the operator of ZoomFlirts.com
Crix Ltd
Tenancy 10
Marina House
Eden Island
Mahé
Seychelles
offers@crixltd.com
FAQs for ZoomFlirts.com
Here you can find the FAQ (Questions and Answers) for the dating website ZoomFlirts.com
What has attracted positive attention to ZoomFlirts.com ?
The site's landing page looks great.
What has attracted negative attention to ZoomFlirts.com ?
This website is completely useless. We were not able to use any site features. Plus, it uses fake chat, with the risk of members falling for a subscription rip-off.
What can I do on ZoomFlirts.com with a free account?
Nothing. We were not able to use the site at all. Fun fact: paid subscriptions are not offered either.
Can I really meet someone on ZoomFlirts.com ?
No, the profiles are fake.
Is there moderators or bots on ZoomFlirts.com ?
Yes, this website is an entertainment service.
How can I cancel my account on ZoomFlirts.com ?
To cancel your subscription, please contact customer support. In your profile settings, you can delete your profile.
Let us know your ZoomFlirts.com experience in the comments as well.