WildHotMilfs.com review
July 15, 2022
The result of our WildHotMilfs.com review: Our test turned out to be an insufficient dating website.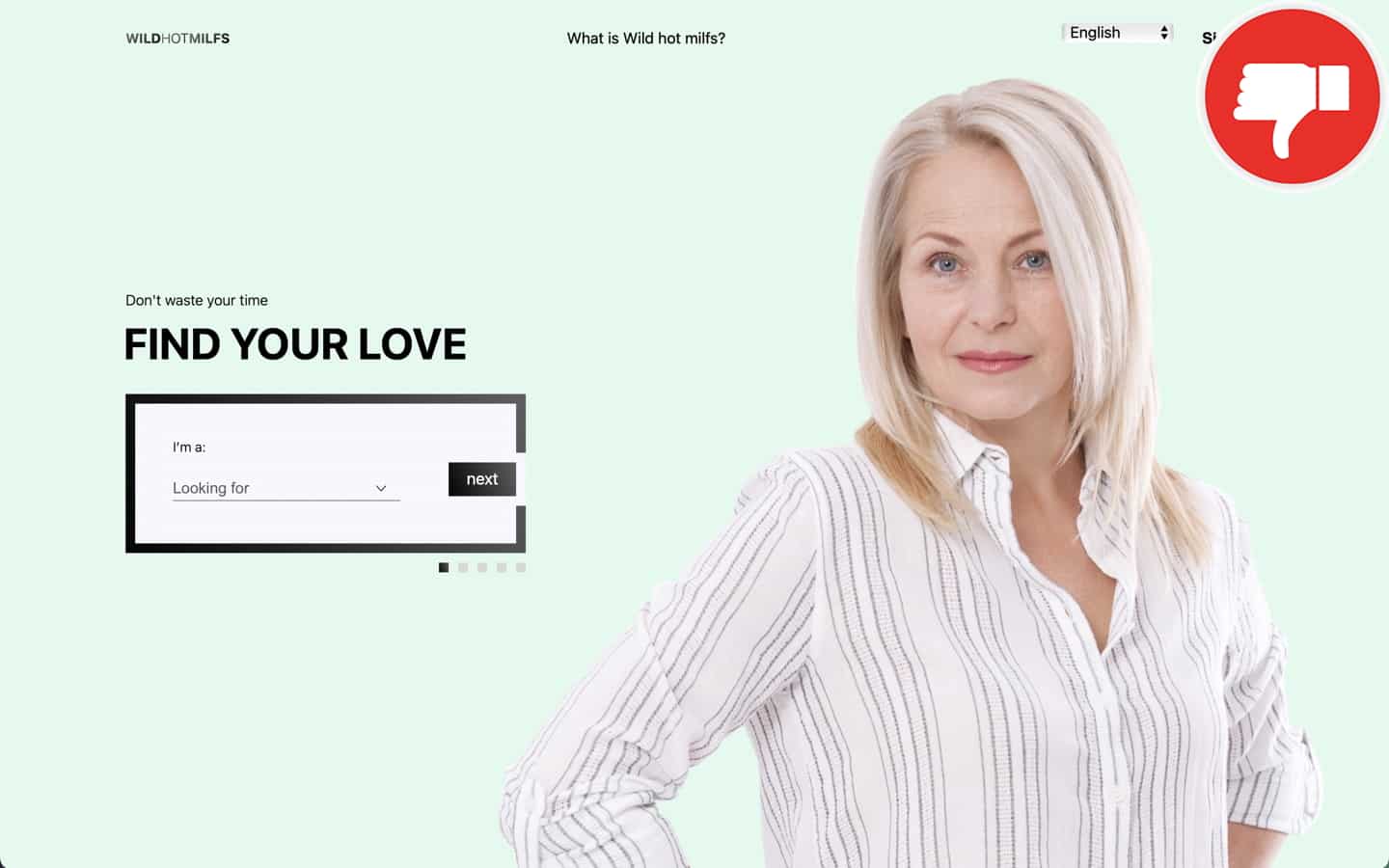 Report on WildHotMilfs.com review
At first sight, WildHotMilfs.com seems to be just another ordinary dating website catering to those who like to hook up with Milfs. The landing page, although simple in its layout, is well-made: the colors are soft and the overall design conveys the impression that the site is reliable. However, it does not provide vital details of the services provided. We do not know how many active members there are or whether users are required to take out paid membership to be able to use it.
We therefore created a free profile to find out about these matters and carefully read the site's terms of service. This website is operated by a company named Estival GmbH, registered in Wan Chai, Hong Kong. We have not had any prior experience with this company, but we can at least say it has a very poor reputation online. We found a lot of online reports from former users alleging this site has fake chat controlled by chatbots that send automatic messages and that it is a subscription rip-off.
Our experience tells us that most if not all the profiles in the members' area are fictitious. They are created by company employees for the purpose of luring users into paid services.
If they wish to contact other members, users must first sign up for premium membership, which is renewed automatically. In the experience of former users, this is where the scam lies, as the operator simply ignores or rejects cancellation requests. To attract more users, the platform offers a 3-day trial subscription at an unbeatable price. This might sound like a great offer, but the deadline for termination is too short for a user to cancel their subscription on time, which inevitably leads to a costly money trap.
Is WildHotMilfs.com a rip-off?
WildHotMilfs.com is indeed a sneaky subscription rip-off. There is no doubt that most users will choose the 3-day trial membership option to test the platform. What they don't know is that they will never be able to cancel this form of membership before it is renewed as a much more expensive version of monthly membership. The TOS indeed state that users can cancel their membership "at any time prior to midnight of the third business day following the date of this contract, excluding Sundays and holidays." With trial membership, this is simply not physically possible.
From the information we gathered from online reviews and drawing on our own experience, we believe the members' area shows mostly, if not exclusively, fictitious profiles. We found written evidence in the TOS that the company creates these fake profiles to contact new users via chats and inveigle them into upgrading their free accounts. If new members accede, the site suddenly goes silent: messages promptly cease, and the hot Milfs disappear. There are in fact no real members to flirt with on this platform, which is merely designed to subject its users to a rip-off.
Scroll down to read the details of our WildHotMilfs.com review.
Registration on WildHotMilfs.com
Registering on WildHotMilfs.com is free and only takes a few minutes. Users are asked to provide their age and location and choose a nickname and password. A verification code was supposedly sent to the email address we provided, but we realized we could gain access to the members' area anyway without any kind of validation. Naturally, during the registration process, we were not informed that we were signing up on a paying site and that our free account would not allow us to use its services. Each link we clicked after registering just took us to the payment page.
Members' area on WildHotMilfs.com
The first thing we noticed when entering the members' area was the number of stunningly beautiful, hot women… who were certainly not Milfs. The oldest can only have been 30. The scam is so unsophisticated that we wonder whether users who fell for it knew what "Milf" means. But this is all obviously just window dressing, since there are no real members on this site.
All we could do was browse through profiles, but each time we wanted to do something else, like add a profile to our list of favorites or send a message, we were prompted to upgrade our account.
Terms and conditions of WildHotMilfs.com
Extract from the terms and conditions from the WildHotMilfs.com website. Current status of the terms and conditions as of July 15, 2022.
Once in a while, we may invite members to use 'Promote My Profile' service through Account Settings. After the activation of this ability, we will automatically get permission to broadcast custom messages created by any user or select any random message from the template list. It is our right and responsibility to choose members for the 'Promote My Account' service. The process of sending messages through this service will be free, still, the member who sees and wants to reply to the messages, needs to have an upgraded and valid Paid Membership.
Costs on WildHotMilfs.com
Users who wish to take out a paid subscription have 4 different packages to choose from, but they are encouraged to take the cheap 3-day trial membership option for $0.79 per day. There is no indication of the total amount users have to pay. A 1-month membership option, for instance, costs $2.86 per day. Alternatively, a 3-month plan costs $1.00 per day and a 6-month one $0.64 per day.
The information is so confusing that there is little doubt most users will choose the trial offer. However, it is precisely this option that proves virtually impossible to terminate in time before it turns into a recurring monthly subscription.
Conclusion from our WildHotMilfs.com experience
Unfortunately, WildHotMilfs.com is certainly not the right place to find hot Milfs or anyone else. It is in fact just designed as a sneaky subscription rip-off. Our review shows the site uses fake profiles and chatbots that send computer-generated messages to new users to lure them into buying auto-renewing trial subscriptions that are simply impossible to terminate before they are renewed at a much higher price. As we see it, there are no real members here. It is therefore not possible to find a real date or even a genuine flirt via this site.
The site is operated by Estival GmbH, a company registered in Wan Chai, Hong Kong. We had not come across this company prior to doing this review, but we found several online reports alleging a scam on the part of an untrustworthy company.
Contact data of the operator of WildHotMilfs.com
Estival GmbH
RM 1005, 10/F Tai Yau BLDG 18
Johnston Rd Wan Chai
Hong Kong
support@wildhotmilfs.com
Phone: +33 9 71 08 12 81
FAQs for WildHotMilfs.com
Here you can find the FAQ (Questions and Answers) for the dating website WildHotMilfs.com
What has attracted positive attention to WildHotMilfs.com ?
The landing page is appealing and conveys the impression that the site is reliable.
What has attracted negative attention to WildHotMilfs.com ?
All the profiles in the members' area are fake. They mostly show attractive young women, even though the site claims to cater to those looking for hot Milfs.
What can I do on WildHotMilfs.com with a free account?
Users can only browse through other members' profiles.
Can I really meet someone on WildHotMilfs.com ?
No, there are no real members on this site.
Is there moderators or bots on WildHotMilfs.com ?
There may be physical operators, but we believe the company mostly makes use of chatbots that send automatic computer-generated messages to new users.
How can I cancel my account on WildHotMilfs.com ?
Users who wish to cancel their subscriptions should contact customer support.
Let us know your WildHotMilfs.com experience in the comments as well.