The result of our SinglePolish.com review: Our test on SinglePolish.com turned out to be an sufficient dating website.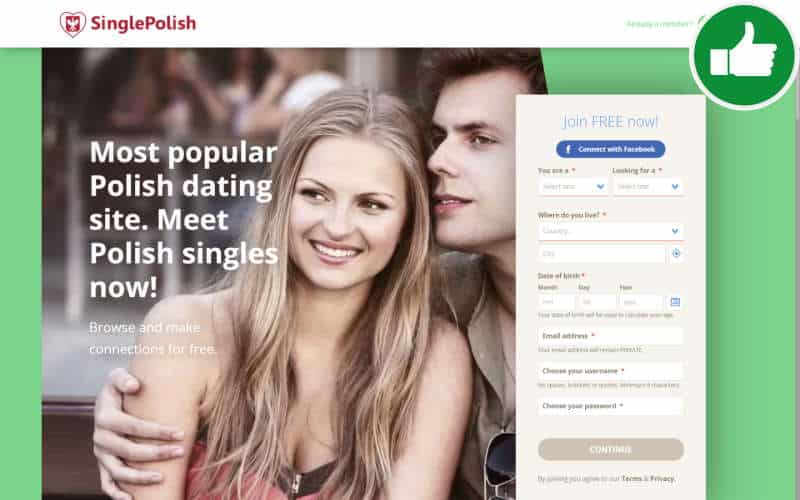 Automatic subscription renewal

A limited number of users
Report for SinglePolish.com review
SinglePolish.com is an online dating website that connects Polish singles from all around the world. The design of the website is nice, and, most importantly, we did not find any scam or rip-off on this platform.
The operator of the website is World Singles LLC, based in Dana Point, United States. This operator runs other similar pages that are specialized in different countries, but all of them work in a very similar way. We have written reviews about some of these pages, and our experience so far has been positive. In our opinion, the operator is trustworthy.
Scroll down to read the details of our SinglePolish.com review.
Details on the SinglePolish.com review
The dating platform SinglePolish.com looks like a good option for single Polish all around the world. It belongs to a network of dating sites run by the North-American operator World Singles LLC. We have experience with other platforms from this same company, and so far, all our reviews have been positive. The operator is reliable, and we did not find any scam or rip-off on the platforms that we have tested. The same happened here. The website looks legitimate, and in our review, we did not find any fraud.
No subscription rip-off
To access all services on the platform, it will be necessary to purchase a platinum membership. The normal cost per month is $19.99 dollars, but at the time of writing this review, the platform had an offer for only $11.99 dollars. This price looks affordable. However, the reason for considering a platform a subscription rip-off is not related to the price. Charging an expensive price is not a scam. The rip-off happens when the customer ends up paying for a service that he did not want to purchase.
This normally happens because some operators do not provide sufficient and clear information about the subscriptions that they offer. In other cases, the subscription rip-off occurs because the termination process is too complex and makes the cancellation almost impossible. Fortunately, this is not the case. On this platform, although all subscriptions will renew automatically, the cancellation process is simple and clear. Therefore, we do not consider the page to be a rip-off.
Real profiles
It is almost impossible to be sure if every profile on a dating platform is real. Nevertheless, we have enough experience to recognise when a dating platform is a fake chat scam. Luckily, we can say that this platform does not look like one of these scams. The profiles look real, and there is no evidence of fictitious profiles or fake chat operators in the terms and conditions.
The conclusion from our SinglePolish.com review
The dating website SinglePolish.com looks like a legit dating platform. The operator running the site is not new to us, and its reputation is good. All our reviews about this company have been positive as well. Although the website could improve some aspects, we consider this online dating platform acceptable.
Let us know your SinglePolish.com experience in the comments as well.