The result of our SensualAgenda.com review: Our test on SensualAgenda.com turned out to be an insufficient dating website.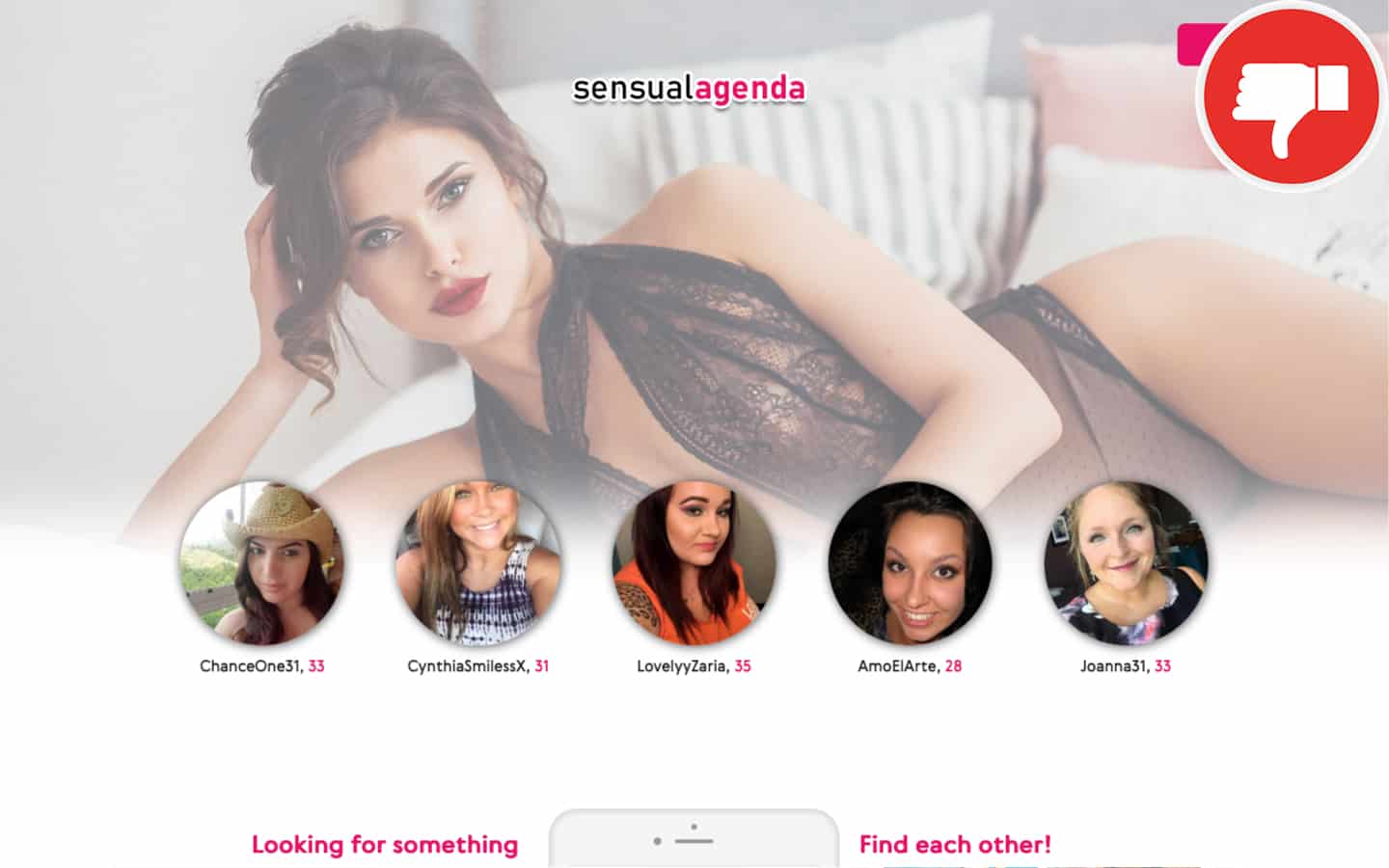 Report for SensualAgenda.com review
If you believe the operator of SensualAgenda.com, the dating website has more than three million members worldwide. In addition to that, the registration is free of charge. A few of the members are shown on the landing page. All of them are attractive looking women. After doing sufficient research, we have our doubts. The operator can just create fake profiles whenever they are needed.
SensualAgenda.com is another fake chat scam operated by Meteor Interactive B.V. The operator is based in Utrecht in the Netherlands. The company makes use of fake chat operators that make chatting an expensive experience. This only works because the fake operators can hide behind fictional profiles. We have encountered this kind of scam countless times before.
Scroll down to read the details of our SensualAgenda.com review.
Details of the SensualAgenda.com review
On the landing page of SensualAgenda.com, we read that on here, finding sexy dates nearby is just as easy as signing up. The large number of members is impressive. This makes you believe that there surely must be plenty of other members living nearby. However, you cannot trust that number. The operator creates fake profiles, so it is hard to tell how many of the members are real.
Faked chats
At first, most users will not notice that something is wrong. They will be pleased by the many messages they receive in the chat. What makes this even more satisfying, is the fact that the other members are highly attractive. It does not take long to realize that as a user, you are asked to pay money to be able to chat. Although this is more of a downside, many people are willing to pay the price for a flirt with the right person.
However, the users do not know that they are not talking to the person shown on the profile. They are only having a chat with a fake operator, that has no desire to meet them in real life.
In the terms and conditions, we read about the fictional profiles
"You also understand that this is a fantasy entertainment Service and that (i) the profiles are fictional and your interactions will be with operators;"
Here we also read that the operator uses a special symbol to mark the profiles that are merely fictional. This seems more like an excuse to us. After reading several negative reviews of SensualAgenda.com, we know that at first, many users do not realize they are talking to moderated fake profiles.
If you want to unlock the chat function, you must buy credits first. This is not a one time-payment. You are required to pay for every single message you send. According to the price list, one message can cost up to 1.50 USD. The high price for chatting and the usage of fictional profiles, makes this website a rip-off.
SensualAgenda.com is operated by Meteor Interactive B.V. This company is based in Utrecht, in the Netherlands. We already have some knowledge about this operator, from previous encounters.
The Conclusion from our SensualAgenda.com review
Once again, we see that Meteor Interactive B.V. tries to lure the users into a rip-off. Using SensualAgenda.com is extremely expensive. You must pay for sending messages in the chat. To make you pay even more, the operator is working with fake chat operators. They send tempting messages in the chat, to entice the users to reply.
Let us know your SensualAgenda.com experience in the comments as well.