The result of our NearbyFlings.com review: Our test on NearbyFlings.com turned out to be an insufficient dating website.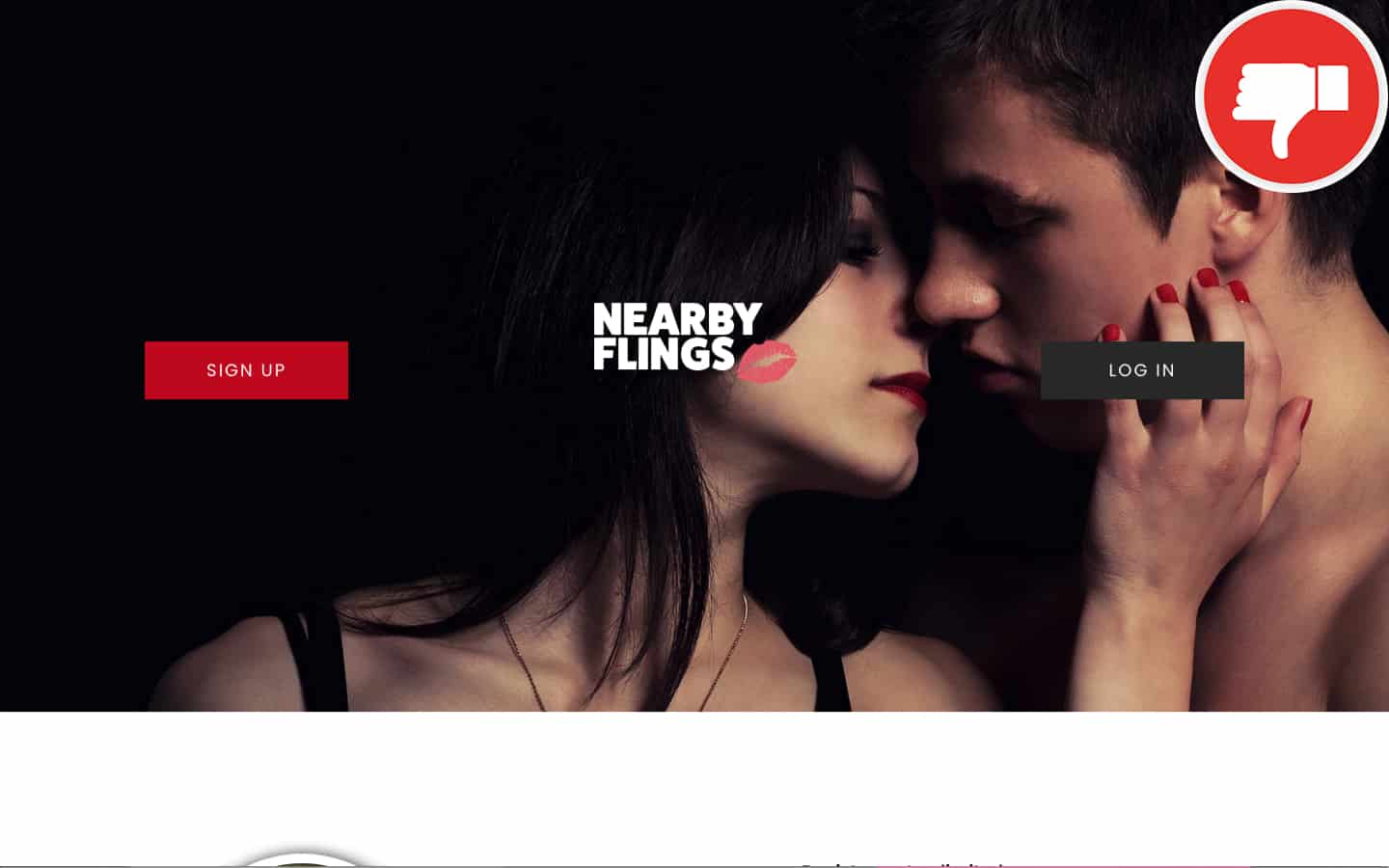 Report for NearbyFlings.com review
NearbyFlings.com is an online dating site that comes with an easy-to-use interface and offers free registration. You must take a closer look at the front page to learn about the cost of chatting. While you can use the site for free, nothing works without a proper message function. The company operating this site is Meteor Interactive BV, who are based in Utrecht.
According to the Dutch company, NearbyFlings.com is a "fantasy entertainment" service. This means that many of the profiles, perhaps all, are fictive as well as moderated. These moderated fake profiles engage in conversations with real users. The operators know that users must pay virtual "credits" to send chat messages. This dating site is just one of many fake chat scams on the internet.
Scroll down to read the details of our NearbyFlings.com review.
Details on the NearbyFlings.com review
It is difficult to find anything negative about the front page of NearbyFlings.com. Here we are told that this is a discreet and popular dating service. We also get the impression that we can get started right after signing up and have all the tools we need. This information is slightly misleading to say the least. At first, you cannot even use the chat. Users must invest money to be able to chat with others.
Not the only scam site run by the operator
NearbyFlings.com is operated by Meteor Interactive BV, who are based in Utrecht. This Dutch company runs a big network of scam sites, several of which we have dealt with already. User reviews on the internet reveal that this dating site is a scam as well. Several users share their negative experiences with the site and accuse the operator of working with moderated fake profiles. There is even proof of the use of moderated fake profiles in the terms and conditions.
Excerpt from the terms and conditions
You also understand that this is a fantasy entertainment Service and that (i) the profiles are fictional and your interactions will be with operators.
Nothing but a money grab
Users are required to pay for using the chat. Before they can do so, they must exchange their real money into virtual "credits". Sending a message costs one credit, which is at least one dollar. There is also a premium membership. This lasts a month and grants you full access to all features. This membership does not renew automatically, which means that this is at least, not a subscription rip-off.
The high cost of chatting makes it possible for fake chat operators to rip the users off. They are employees of the operating company and interact with the users. By using fictive profiles, they manage to do so without raising suspicion among the users. If they seduce them with success, it becomes easier to increase the users' spending.
The conclusion from our NearbyFlings.com review
We understand the negative user reviews for NearbyFlings.com. This dating site is just another rip-off operated by Meteor Interactive BV. Chatting is expensive. But the attractive and interesting members on the site make up for that. However, users are not supposed to find out that the other profiles are fake and part of a phony scam.
Let us know your NearbyFlings.com experience in the comments as well.