The result of our NaughtyLuck.com review: Our test on NaughtyLuck.com turned out to be an insufficient dating website.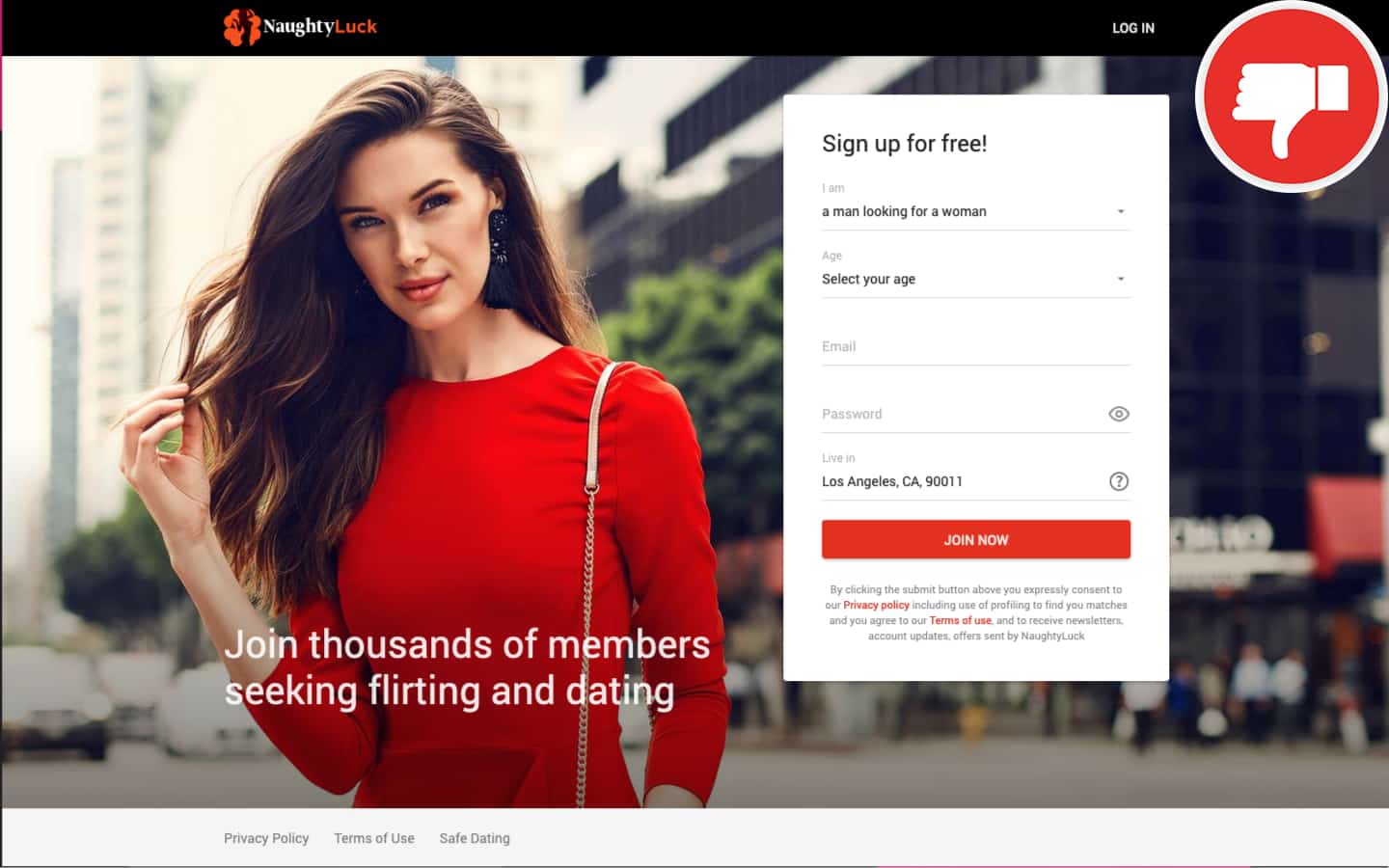 Report for NaughtyLuck.com review
The dating site NaughtyLuck.com advertises with free registration and thousands of members who are looking for a flirt. At first sight, we fail to find anything suspicious. However, as soon as we find out who is in charge here, we suspect a scam. AriemGroup Limited, is a company based in Hong Kong which runs several scam dating sites, including this one.
At first, NaughtyLuck.com seems like any other dating site. We noticed that many of the other members are strikingly beautiful, which makes using the site seem even more exciting. AriemGroup Limited, quickly makes us aware of the fact that a paid membership is a requirement to use the chat. The short trial membership turns out to be the most tempting one, but it is a trap. On top of that, this site is a fake chat scam as well.
Scroll down to read the details of our NaughtyLuck.com review.
Details on the NaughtyLuck.com review
The front page of NaughtyLuck.com looks appealing. The dating site does not strike us as a rip-off. However, we know from experience that scam dating sites often come with well-designed front pages. The visitors to the page are supposed to believe that this dating site is secure and legit. So, they decide to sign up. This is exactly the case here. This dating site is a scam, but it takes more than just looking at the front page to find out.
Nobody seems to know this site
Before we sign up, we browse the internet to find user reviews. Apparently, this site is not that well-known. The lack of user reviews makes us believe that NaughtyLuck.com is not as active as it claims to be. After finishing the registration, it does not take long for the first messages to arrive. In the terms and conditions, we find a statement which explains the sudden activity on the dating site.
In the terms and conditions, it is stated
We may from time to time offer our users the ability to promote their profile. This function can be activated in their profile settings. When activated, this service enables us to provide computer aided distribution of customized messages that may be created by you or chosen from a ready-made list.
Fake messages from fake members
You do not even have to activate any function in your profile, you will receive several messages anyway. The operator admits that some profiles send computer generated messages. They do so to engage in several conversations with the users. You can only use the chat if you purchase a premium membership. By letting fake profiles send seductive messages, it becomes easier for the operator to sell the paid memberships.
Everything starts with a cheap trial
The other profiles probably do not only send computer generated messages. We suspect that fake chat operators use these profiles to successfully fake exciting conversations. However, this site is not only a fake chat scam. It is also a subscription rip-off. There is a 3-day trial membership which costs only a few dollars. This membership does not just expire, but it turns into an extremely expensive paid membership of more than 90 USD a month. The only way to avoid this is to submit a cancellation, or to not even sign up in the first place.
The operator of this dating site is AriemGroup Limited. This company, based in Hong Kong, clearly does not want us to do any research. If you copy the name "AriemGroup Limited" and paste it into the Google search, it gets mirrored.
The conclusion from our NaughtyLuck.com review
There is no luck to be had on NaughtyLuck.com. After doing sufficient research, we know what this dating site is all about. The operator admits that some member profiles send generated messages. This is done to advertise for the paid membership required to use the chat. The trial membership becomes extremely expensive. Therefore, we consider this an obvious subscription rip-off.
Let us know your NaughtyLuck.com experience in the comments as well.