MilfRoom.com review
December 9, 2022
The result of our MilfRoom.com review: Our test turned out to be an insufficient dating website.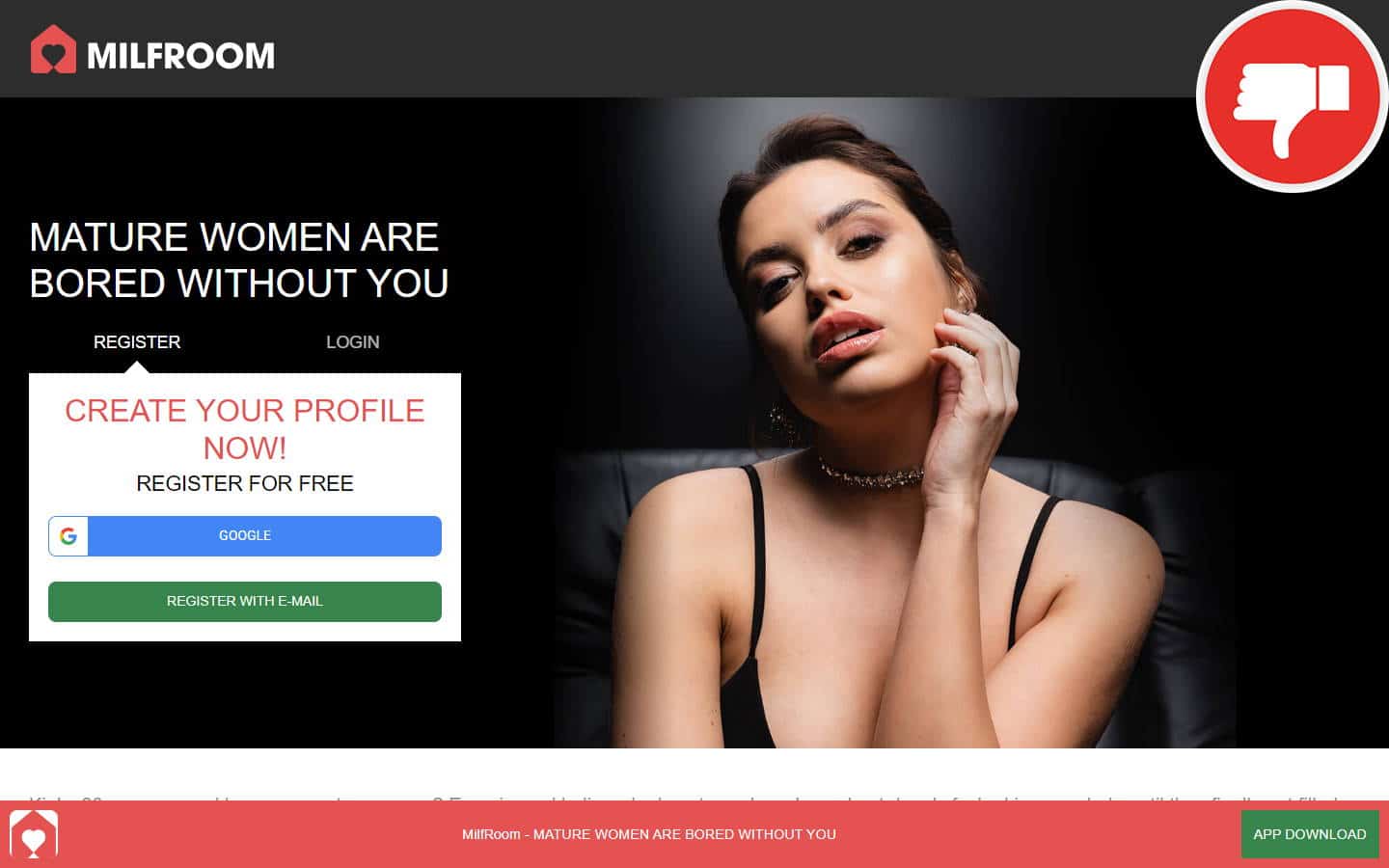 Report for MilfRoom.com review
MilfRoom.com claims to be a dating website where users can meet and chat with attractive older women. The homepage of the site advertises its members using very explicit, sexual language, making it seem like an ideal platform for finding hookups and casual sex with mature women. It advertises that the site contains members from all over the world, who are like-minded and want to have enticing conversations. The operator of this website is Abacus online Global KFT, from Budapest, in Hungary. We have given them a negative review in the past.
Though this platform looks good at first, we did some research and found that it is a fake chat scam. The fine print on the website states that it contains 'virtual online profiles' which cannot be met in real life. This is a common indication of a rip-off, so we investigated the site further. Unfortunately, we discovered that this website is full of fictitious profiles.
We read about numerous user experiences in their reviews. We also read through the Terms and Conditions of the site. As it turns out, this website uses fake chat operators, who lure users into spending money. Though registration for the site is free, users must purchase a virtual currency to send messages. Because many of the profiles appear to be fake, and the site admits to using fictitious profiles, this is a scam.
Scroll down to read the details of our MilfRoom.com review.
Details on the MilfRoom.com review
Despite seeming like a promising website for finding hookups and sexy chats with attractive older women, our review found that MilfRoom.com is another fake chat scam. We did some research on the internet and found multiple user reviews and experiences, which accuse the operator of running rip-off websites in the past. This operator is Abacus online Global KFT. This company is based in Budapest, in Hungary.
We performed some additional research, to see if MilfRoom.com was the same as the other scams from this operator. Sadly, our suspicions were confirmed. Our report revealed that this site is another fake chat scam.
Expensive virtual currency
Though it appears that this website is free to use, it is not. After registering, users will quickly notice that they must purchase bundles of an expensive virtual currency. Users must buy "coins" if they want to send messages and replies. Since this site uses 'virtual online profiles' it is likely that members will receive enticing messages from fake chat operators. This is a common trick, which is meant to lure users into spending money to reply to their suggestive invitations.
As there is no chance of meeting any of these fictitious profiles in real life, we consider this to be a fake chat scam, and a rip-off. Users could easily find themselves spending large amounts of money in just one conversation with a fake chat operator.
Fictitious profiles
The operator of MilfRoom.com has a poor reputation on the internet for its fake chat scams. Our research found that this site is no different. Though most users would assume that the profiles shown on the members' page are real, this is not the case. The Terms and Conditions state that the website contains 'virtual online profiles', which are used to enhance the entertainment of members. Despite admitting this fact, the website does not adequately inform users about fake profiles. For this reason, we still consider MilfRoom.com to be a rip-off.
Excerpt from the terms and conditions
In addition to the thousands of new registrations every day, you will have the opportunity to chat with virtual online profiles in our virtual entertainment world, although real meetings with them are not possible.
The conclusion from our MilfRoom.com review
Our review of MilfRoom.com, operated by Abacus Online Global KFT, from Hungary, found it to be another fake chat scam. The chance of meeting someone genuine here is too low for us to recommend it as a dating website. This is because the website contains fictitious accounts. Also, users must purchase an expensive virtual currency to send messages. Past customers of the website's operator have reported it to be a fake chat scam, which our research also confirms.
Let us know your MilfRoom.com experience in the comments as well.