MatureSpace.com review
January 4, 2023
The result of our MatureSpace.com review: Our test turned out to be an insufficient dating website.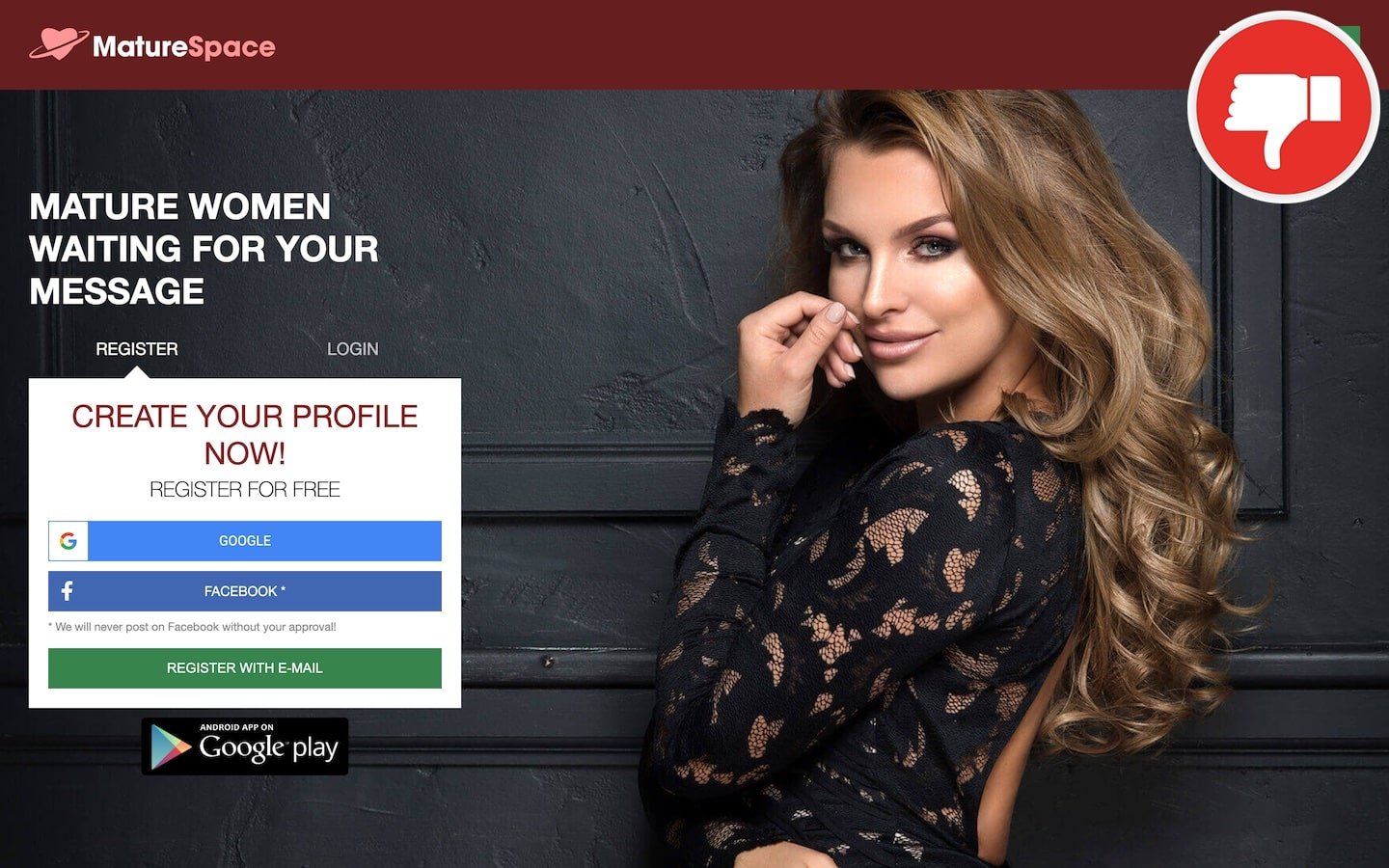 Report for MatureSpace.com review
On the surface, MatureSpace.com seems like the perfect dating site for middle-aged and older adults to meet attractive singles. The landing page shows an image of a beautiful woman, which suggests that this is who users can expect to chat with here. Registration is free, and the site claims that you can meet the woman of your dreams here. The operator of this website is Grandview AppCommunity GmbH, from Rüthi, in Switzerland.
We did some research into this website and found that it is not as great as it seems. Though it makes a nice first impression, it is a fake chat scam. We based this conclusion on our experience through creating an account on the site, and by scanning the Terms and Conditions.
Sadly, we discovered that this website uses fake profiles and fake chat operators. These entice users into spending large amounts of money. This is because MatureSpace.com is not entirely free. To send messages to other members, users must purchase expensive bundles of virtual "credits." Each message then costs credits to send. Overall, this website seems to be a rip-off scam. The chances of meeting someone genuine here are low.
Scroll down to read the details of our MatureSpace.com review.
Details on the MatureSpace.com review
MatureSpace.com makes a great first impression, however, our review concluded that it is a fake chat scam. The website advertises that it is free and easy to meet attractive older women and find meetups. In our experience, this is not true. We made a test account and reviewed the Terms and Conditions. Unfortunately, MatureSpace.com appears to be a fake chat scam and a rip-off. The operator of this site is Grandview AppCommunity GmbH, which is a company from Rüthi, in Switzerland.
Expensive virtual credits
Many people new to this site would assume that the services here are free, but this is false. Though you can browse and view profiles for free, chatting with other members requires the purchase of "coins," which is the virtual currency of the site. Coins are sold in bundles, and they are costly. Each message you send will cost you money, which, in our opinion, is a rip-off.
Fake profiles
In addition to how expensive this site is, we also found evidence of fake profiles on this site. The Terms and Conditions reveal that the website's operator uses "virtual online profiles," which is another way to say fictional accounts. These accounts will interact with users and appear to be genuine members. But they cannot be met in real life. The existence of fake accounts on this website means that there are fake chat operators. Fake chat operators are employed to entice users into spending money, via extended conversations.
From the Terms and Conditions
Grandview uses professional animators and operators for the entertainment of the Users, who are not identified separately in the system. This Service is provided in the highest quality. Real meetings are not possible with these operators. Users can only send them messages within the portal.
Test account
In our experience of creating a test account, we found more evidence of fake profiles. Immediately after setting up our account, we were sent suggestive and flirty messages, from multiple profiles. Because our profile was new and completely blank, this is quite unusual. In our opinion, this is a sign which indicates MatureSpace.com is a fake chat scam. This tactic is often used by rip-off websites because new users will probably be excited by these messages and spend money to reply.
The conclusion from our MatureSpace.com review
Though we had high hopes for MatureSpace.com, our review concluded that it is a fake chat scam. This website is not free. Users must purchase expensive virtual coins, which they then spend to send messages. Furthermore, the profiles in the members' pool are quite suspicious looking, and the terms confirm that there are fake profiles on this website. In our experience, this website appears to be a classic fake chat scam, and a rip-off.
Let us know your MatureSpace.com experience in the comments as well.