Kinky-Dates.com review
October 13, 2022
The result of our Kinky-Dates.com review: Our test turned out to be an insufficient dating website.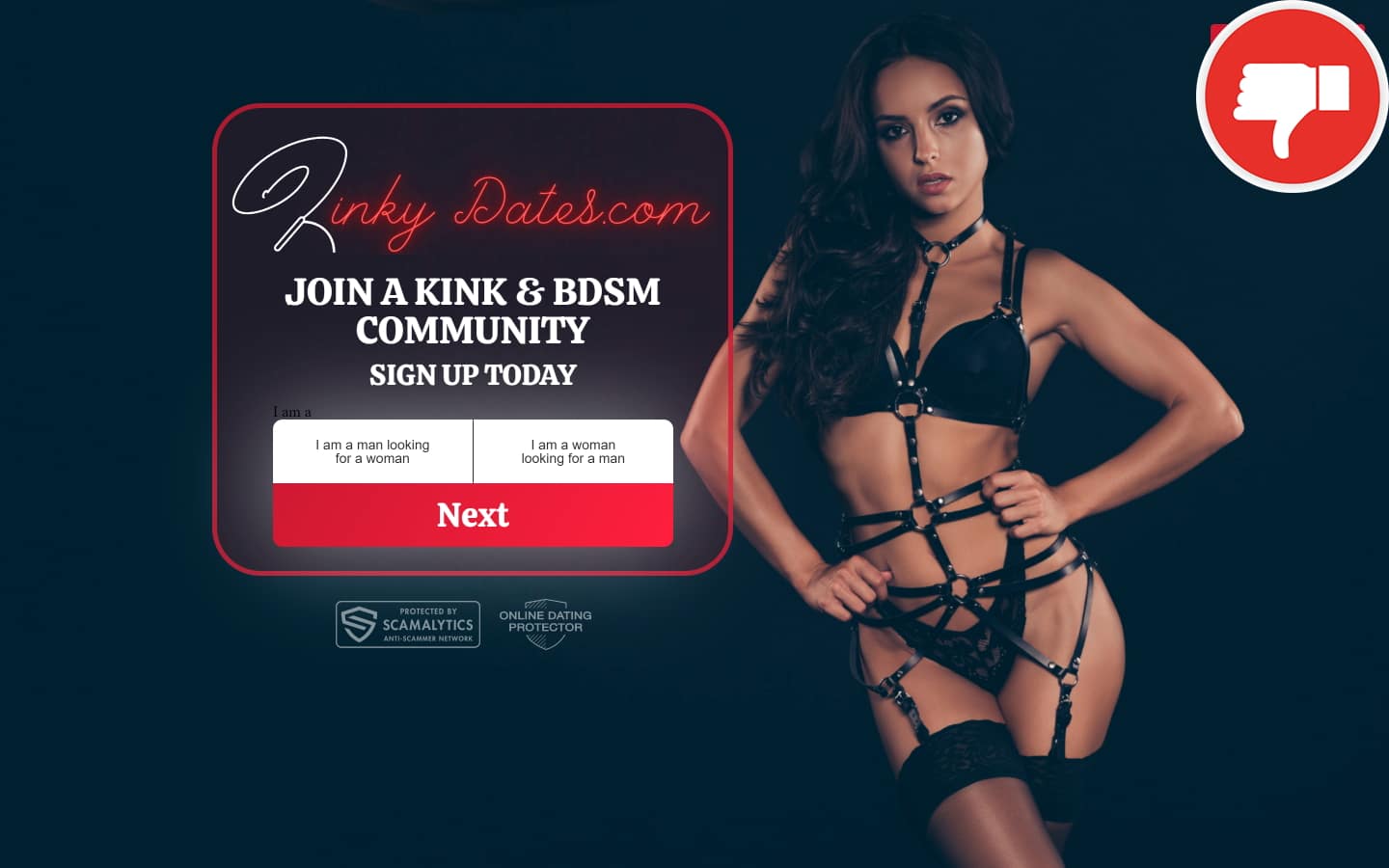 Report for Kinky-Dates.com review
The online dating platform Kinky-Dates.com appears to be a great choice for anyone into BDSM and kinky sex, who are looking for new partners. This website is managed by Venntro Media Group Ltd, who are a company based in Slough, in the United Kingdom. We know them very well, as we have written many reviews about them. Our experience was negative each time. So, it was hardly surprising, when we figured out this is another subscription rip-off based on a fake chat. Furthermore, your personal data will be seriously compromised if you become a member of this platform.
The landing page invites us to join their BDSM community for free. They guarantee that we will be able to find local members, so we can make our fantasies come true. The company targets different, and very specific niches, on their online dating network. Ironically, the landing page displays a label which reassures us that this portal is part of an anti-scam network. However, this label means absolutely nothing since this is clearly a rip-off. Furthermore, the website declares that they use "Premium fraud software, so you can play safe". We cannot help wondering if this is a Freudian slip.
For this review of Kinky-Dates.com, we created an account where we wrote nothing, and uploaded no pictures. The goal is to hopefully go unnoticed unless there are automated profiles. We also read the Terms of Use thoroughly. The conclusion was clear. This website is full of fake accounts, and any date in the real world is naturally impossible. Furthermore, the experiences shared by other users of this network, were revealing. There is a great chance of getting stuck in a mess of automatic renewals if you sign up for a subscription.
Scroll down to read the details of our Kinky-Dates.com review.
Details on the Kinky-Dates.com review
Kinky-Dates.com may have been the optimal solution for anyone into kinky sex and BDSM, if only this was not a total scam. Our research revealed that nothing is real on this website, starting with their fake chat. As you can read below, Venntro Media Group Ltd from Slough, in the United Kingdom, have created yet another rip-off.
Subscription rip-off
Soon after logging in for the first time, our inbox became crowded, despite our efforts to go unnoticed. Therefore, whoever is contacting us is either an operator hired by the website, or an automated profile. Either way, it does not appear that there is anyone real on this website. The messages function as bait. Since you cannot read their messages at all, so you are tempted to buy a premium subscription. This would be a great mistake, since numerous former clients have complained in their reviews that the membership was a nightmare to cancel.
The following excerpts are taken from the Terms and Conditions
The Site is an entertainment service. Your use of this Service is entirely at your own risk. You should exercise caution in evaluating what you see when involved in internet communication with people who are unknown to you (such as when you are using message services) and be aware that people may not necessarily be who they say they are and that people may provide information or behave in a way that is unreliable, misleading or illegal. By using this Service you accept that any member profiles, messages and communication may not be genuine.

To improve the opportunity to find a dating partner, the Service is offered and accessible through a number of other websites in addition to the Site, which are in the same network as the Site. By registering with the Site, you acknowledge and accept that all content that you post to the Site will be searchable and available to users of the Service who access it via different websites in the same network as the Site.
Privacy issues
Upon examining the Terms of Use, we discovered that Venntro Media Group Ltd chooses to share whatever you expose on this platform, with other websites in their network. They claim this will help you find better matches. The truth is that you, or your face, will become another fake profile populating their multiple websites. Consequently, whoever you find on this website may not be real, and if they are, they may not be into the same kind of kinks that you were hoping for.
Furthermore, you will be granting them unlimited access to use whatever content you share or create, for their own purposes. So, they may choose to post a picture of you in an extremely compromising situation as an advertisement, for anyone to see. This is what nightmares are made of. If the subscription rip-off is not enough by itself, this is a very good reason to stay away.
The conclusion from our Kinky-Dates.com review
Kinky-Dates.com is an online dating platform for people into BDSM and kinky sex. The portal is managed by Venntro Media Group Ltd, who are a company based in Slough, in the United Kingdom. Our experience was rather underwhelming. We soon realized that this platform hosts a fake chat where its fantasy characters lure you into purchasing a membership. However, many former members of their network have warned about this scam. You will probably end up in a maze of recurring payments and renewals.
Let us know your Kinky-Dates.com experience in the comments as well.