HoneyBBW.com review
January 12, 2023
The result of our HoneyBBW.com review: Our test turned out to be an insufficient dating website.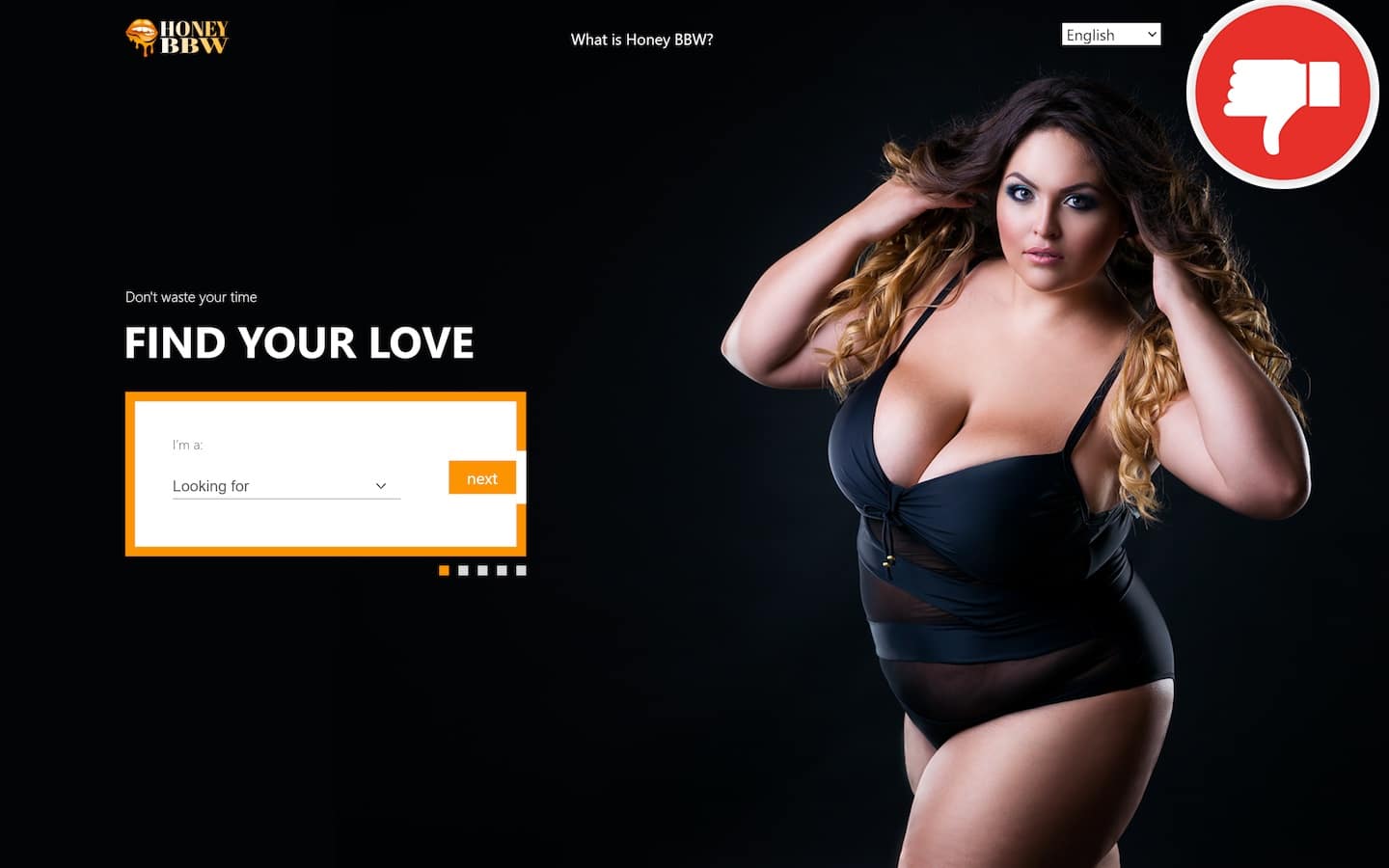 Report for HoneyBBW.com review
HoneyBBW.com is a website for those who love BBW, which means Big Beautiful Women. The landing site features a plus-size model wearing black lingerie. They claim to have gathered thousands of single people on their platform, who are actively looking for a date. They insist that profiles are manually moderated, and they allegedly wish to prioritize the safety of their members. The website has been created by Estival GmbH, which is a company based in Hong Kong.
According to this company, it will be as easy as pie, to find a date here. However, in our experience, this sounds suspicious, and too much for any dating site to promise. Apparently, their customer service is available 24/7 to handle any problems or complaints. They offer the visitors the opportunity to participate in an affiliate program, which we suspect may relate to fake chat operators on the website.
For this review, we created a simple profile, and read the Terms and Conditions thoroughly. It turns out that the users will receive automated messages which encourage a conversation. But you do not know if they come from someone who is genuinely interested in you. Our suspicions about the fake operators were also confirmed. They call them "Live Model Profiles". Real or not, you need a risky premium membership, if you want to interact with anyone on this platform. So, it is an absolute scam.
Scroll down to read the details of our HoneyBBW.com review.
Details on the HoneyBBW.com review
HoneyBBW.com turns out to be a rip-off created by Estival GmbH, which is a company based in Hong Kong, in China. The platform contains a fake chat populated by operators who are probably hired by the company. If you want to respond to their messages, you must sign up for a membership. In our experience, this move might end up being far too risky.
No

big women

The first thing that surprised us, was that many of the women on the platform were not even plus size. It seems that many of the accounts may have been cloned from other platforms belonging to Estival GmbH. This is a very common practice among companies which operate dating rip-offs. Furthermore, at the very least, the skinny people on the platform probably do not know that they are there. They are present only to give the appearance of a popular dating platform. However, it is useless for members to participate in a fake chat.
From the Terms and Conditions
Once in a while, we may invite members to use 'Promote My Profile' service through Account Settings. After the activation of this ability, we will automatically get permission to broadcast custom messages created by any user or select any random message from the template list. It is our right and responsibility to choose members for the 'Promote My Account' service. The process of sending messages through this service will be free, still, the member who sees and wants to reply to the messages, needs to have an upgraded and valid Paid Membership.

You take all the responsibilities for communication with any Live Model. This type of profiles is not created by our Service and we are not in charge to monitor them. If you receive the message from this type of profile, there will be an indication that this is a Live Model Profile and thus you may consider it as a promotional mail. We do not take responsibility for any interaction or cooperation between any of our users and Live Model Profile (or Cam Provider) whether or not such actions take place on our platform.
Live Models
Moreover, the Terms and Conditions state that you may interact with so-called Live Models, at some point. These will contact new members, but they are supposed to be regarded as promotional email. The company takes no responsibility for any interaction with them. They claim the models are not connected to the company at all, and they cannot monitor their activity.
In theory, the models reaching out, will announce they are fictional characters, with whom you cannot arrange a real date. We have written many reviews about similar websites. In our experience, they rarely reveal their virtual entertainer status. However, you will still need to access a premium membership, to reply to any message, whether they come from a real woman or not. Either way, we suspect there are no authentic users on this scam site.
The conclusion from our HoneyBBW.com review
HoneyBBW.com is a fake chat service managed by Estival GmbH, which is a company registered in Hong Kong, in China. This platform is full of fictitious profiles, and many of them are not even plus size. There are virtual operators who contact users. They tempt them to access a paid subscription. This membership may be quite risky, since the whole website raises many red flags. We believe that there are probably no real users on this platform.
Let us know your HoneyBBW.com experience in the comments as well.