FunChatt.com review
August 19, 2022
The result of our FunChatt.com review: Our test turned out to be an insufficient dating website.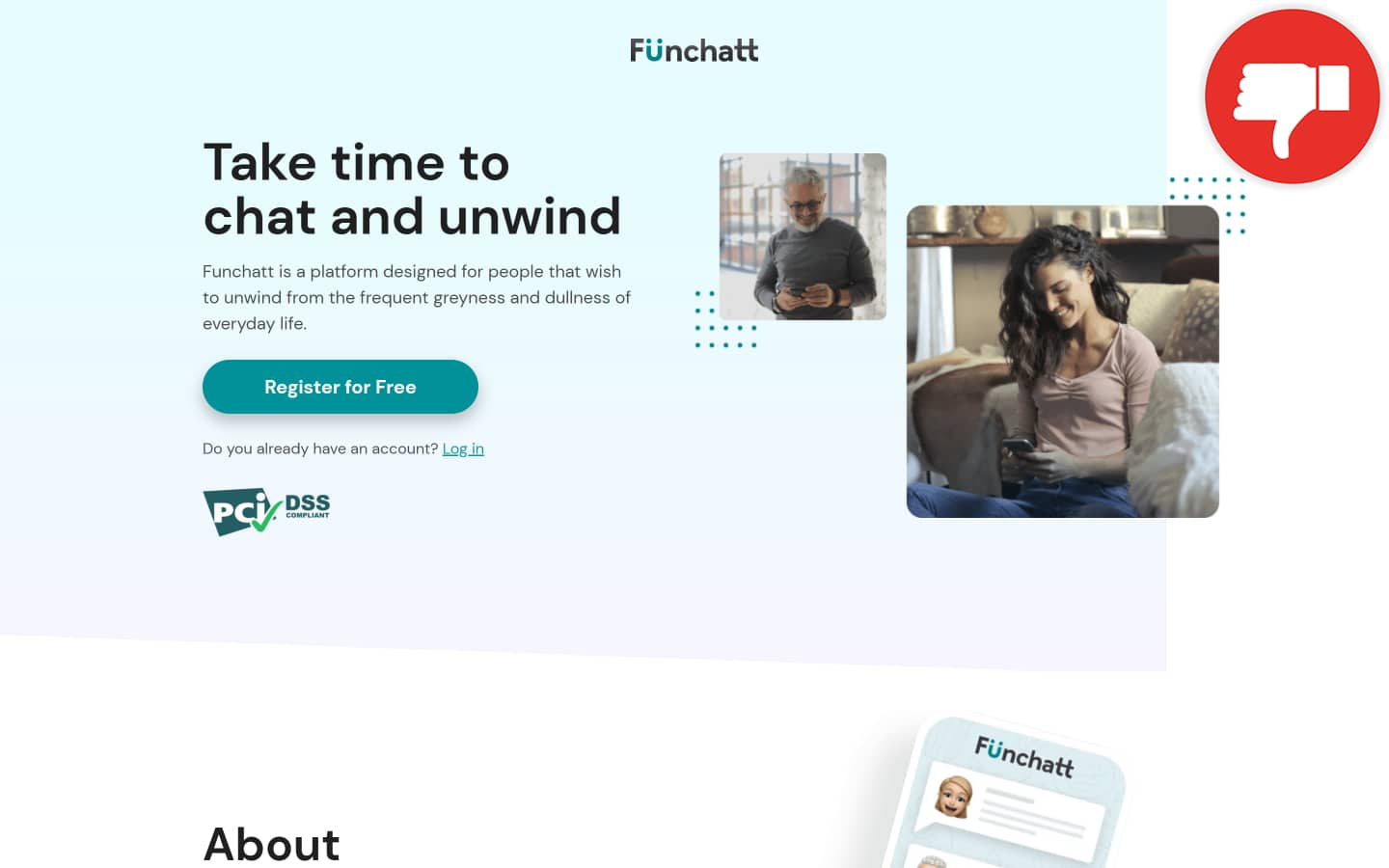 Report on FunChatt.com review
FunChatt.com claims to be the best place for users to take their time to chat and unwind. The landing page addresses everyone who loves to have fun online, whilst connecting with interesting people, and forgetting the monotony of everyday life. Apparently, becoming part of the FunChatt community is a piece of cake. A quick and free registration is all that you need to get in touch with thousands of people from all around the world who are available for chatting, flirting, and eventually meeting.
We did some research and we found out that the reality might be a lot different from what it looks like. Contrary to what users are led to believe, FunChatt.com is not a free platform. In order to communicate with other members, users are required to purchase expensive credits. Moreover, the profiles that users will interact with are not real members. Fake profiles are created by the dating website's company, with the sole purpose of tricking users into spending more and more money. Therefore, this website is just a scam with fake chats.
The company responsible for this rip-off is named Orania Ltd, and they are based in Gibraltar. We have already written several reviews about other websites that they run. As far as we can tell, they use the same fake chat scams to deceive their customers on all their online platforms.
Is FunChatt.com a rip-off?
FunChatt.com is a fake chat scam. Even though they never claimed to have been a dating website, they promise that users will be able to chat with real people. Sadly, this promise will not happen for anyone on this platform. A large number of profiles that users will find in the member's area will be fake. They impersonate members that don't actually exist in real life. As clearly stated in the terms and conditions, these accounts were created for entertainment purposes only.
The people who hide behind fake profiles are "fake chat" operators who follow a precise script for dealing with new members. Sometimes, it is not even a real person who controls these fake profiles. The messages that you receive might have originated from a piece of software, knows as the so-called "chatbot." Since these accounts do not disclose that fact that they are fake, there is no way to distinguish them from genuine ones, until it is too late. The whole point of joining a website where you can connect with real people is so that you can eventually meet.
On FunChatt.com, this is impossible. The goal of professional operators is to keep new users entertained for as long as possible. Every activity that users perform on the platform, such as sending messages, pictures, or watching videos, must be paid for separately by using credits. Therefore, chatting can quickly turn into a very expensive experience. The more messages that users send, the higher the profit for the company.
Scroll down to read the details of our FunChatt.com review.
Registration on FunChatt.com
Registration on FunChatt.com is advertised as free, but this is misleading. The free registration for this site only allows creation a profile and being able to browse the member's area. For everything else, you need to purchase credits. All you need to do to register is to provide your name, birthday, email, and password. After that, you need to briefly describe yourself and complete a short test with a few multiple-choice questions. Uploading a picture is optional. Confirming your email address is not mandatory, but if you decide to do that, you'll be granted 20 free credits.
The sign-up module doesn't say anything about fake profiles, or costs. These important pieces of information can only be found in the terms and conditions.
Members' area on FunChatt.com
The member's area of FunChatt.com looks clean and professional. The first impression is certainly positive. The profiles that are currently online are marked with a green dot. The search box allows you to apply several filters to restrict your search to those who live in your country. Public pictures of each profile can be seen for free, while private pictures require permission from the profile owner and must be paid with credits.
In order to communicate with other members, users can either use the live chat or email. Both options are available only upon payment. Within a few minutes after registration, we had already received quite a lot of enticing messages from hot-looking girls. Since we didn't upload any pictures, this was quite strange. Chances are that all these messages came from fake profiles.
Terms and conditions of FunChatt.com
Extract from the terms and conditions from the FunChatt.com website. Current status of the terms and conditions as of August 19, 2022.
For the avoidance of any doubts, Funchatt is an entertainment service offered for amusement purposes. You understand, acknowledge and agree that some profiles appearing on Funchatt may be created or operated by Funchatt or third-party contractors. The purpose of these types of profiles is to stimulate conversation with Users and encourage further and broader participation in all of Funchatt services. In addition, these types of profiles serve to sample User activities and communications to ensure compliance with these Terms.

You understand, acknowledge, and agree that said profiles do not pertain to any actual person, but are included in Funchatt for the reasons stated herein above. You further understand, acknowledge and agree that Funchatt personnel or contractors may contact Users, from time to time, via computer-generated instant messages or emails for purposes of encouraging further or broader participation in Funchatt.
Costs on FunChatt.com
Costs on FunChatt.com have to do with credits. A package of 20 credits costs $2.99. Every service for this site must be paid for separately. The price varies depending on the activity. Using the live chat costs 2 credits per minute. Sending 1 picture cost 10 credits and opening a video cost 50 credits. Sending mails doesn't come any cheaper: the first one is 10 credits, each following 30.
The only good news is that the company doesn't operate any automatic top-up. When a user from this site runs out of credits, they need to actively buy more. At least, we can be sure that this is not a subscription rip-off. Payments can be made with all major credit cards or with Google Pay.
Conclusion from our FunChatt.com experience
FunChatt.com defines itself as the best place to chat and flirt online with interesting people from anywhere in the world. Our review has proved that this is just a fake chat service where most of the profiles are controlled by professional operators and chatbots. Ultimately, FunChatt.com is a very expensive virtual entertainment platform where you will only interact with fictional characters.
Orania Ltd is the Gibraltar-based company that runs this website. We had already come across this name a few times and all our previous experiences with them have been disappointing. They also have a bad reputation online, where many former users complained about the fake chat scam.
Contact data of the operator of FunChatt.com
Orania Ltd
5-9 Main Street
GX1 11AA
Gibraltar
support@funchatt.com
FAQs for FunChatt.com
Here you can find the FAQ (Questions and Answers) for the dating website FunChatt.com
What has attracted positive attention to FunChatt.com ?
The landing page of FunChatt.com presents itself with a nice and professional design. They advertise with free registration and a huge member's pool with thousands of members ready to chat.
What has attracted negative attention to FunChatt.com ?
FunChatt.com is an entertainment service offered for virtual amusement purposes. The profiles in the member's area aren't controlled by a genuine person.
What can I do on FunChatt.com with a free account?
A free account allows you to create a profile and browse the member's area. If you confirm your email address, you will get 20 credits that you can use to send a few messages for free.
Can I really meet someone on FunChatt.com ?
Since most of the profiles are fake, it's impossible to meet someone on FunChatt.com.
Is there moderators or bots on FunChatt.com ?
In the terms and conditions, you can read how FunChatt.com maintains fictional profiles that are controlled by professional moderators and/or bots.
How can I cancel my account on FunChatt.com ?
To delete your profile on FunChatt.com, please contact the customer support team.
Let us know your FunChatt.com experience in the comments as well.