FetishAlt.com review
November 25, 2022
The result of our FetishAlt.com review: Our test turned out to be an insufficient dating website.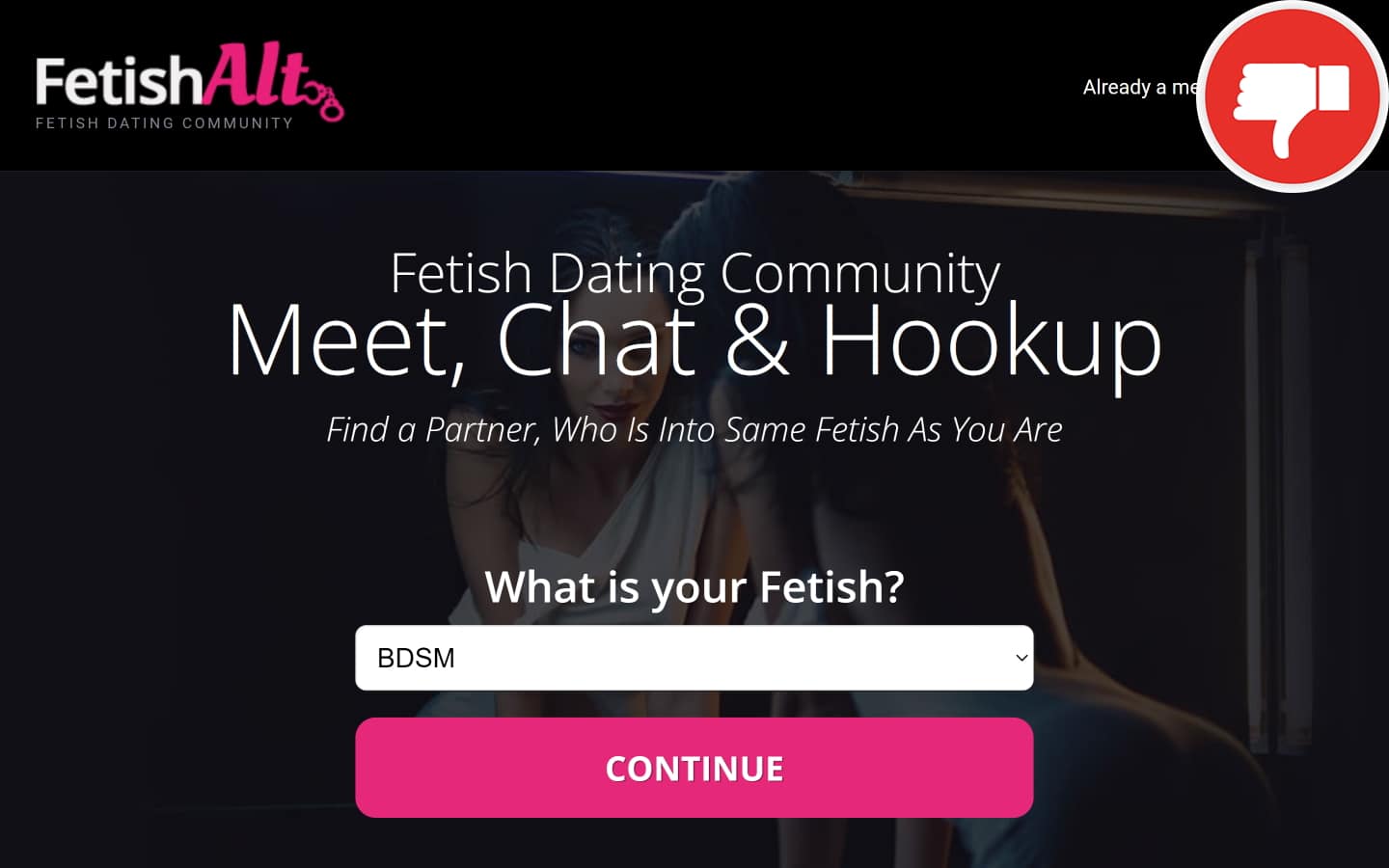 Report for FetishAlt.com review
FetishAlt.com is a dating platform specifically designed to help BDSM lovers find a new partner. The landing page invites you to join, and meet someone who is into the same fetish as you are. Thanks to their multiple innovative features, they can guarantee the best fetish experience. Moreover, this website allows you to contact people from your local community, and join in for fun and kinky, real-world events. Let us find out together if FetishAlt.com is a safe dating portal.
At first sight, FetishAlt.com looks like a great choice for everyone who is into extravagant experiences. Regardless of what your fetish is, this platform seems to be the ideal place to find exactly what you are looking for. According to what we read on the initial page, this is an open-minded place, where you can learn about, share, and explore, your predilections.
After extensive research, however, we cannot recommend you join FetishAlt.com. This platform is nothing more than a scam, with a subscription rip-off. Moreover, there are rumors that most of the profiles are fake. The site's operator is Infinite Connections Inc. They are based in Weston, in Florida. The internet is full of reviews from former users. They accuse this company of making the cancellation of premium memberships nearly impossible.
Scroll down to read the details of our FetishAlt.com review.
Details on the FetishAlt.com review
FetishAlt.com presents itself with a well-designed landing page, which looks really promising. A simple and modern layout, an appealing choice of colors, and a few intriguing pictures, are powerful weapons to immediately grab the attention of any BDSM enthusiast. A few excellent reasons to join the platform are listed in the center of the page. At the bottom, you can find some links to additional interesting sections, among which the most notable is labelled, "Internet Dating Safety Tips".
Here, you will find useful suggestions on how to navigate safely on a dating platform, without the risk of becoming a victim of some sort of scam. It is remarkable that FetishAlt.com is trying to warn you about the dangers connected with online dating. However, because of our previous experiences with this company, we cannot help but question their real intentions.
Their reputation speaks for itself
Besides FetishAlt.com, Infinite Connections Inc runs a huge number of similar dating platforms. We have already written several reviews about other websites managed by this American operator, which is based in Weston, in Florida. It always turns out that signing up for one of the premium memberships is extremely dangerous.
All paid subscriptions are subject to automatic renewal. Therefore, they keep extending until cancelled by you. According to first-hand experiences from former users, this company makes the termination unnecessarily complicated. Many people opt for the cheap 5-day trial plan, hoping to cancel it before the expiration date. But when they try to do that, their request is inevitably ignored.
Are the profiles real?
If the subscription rip-off is not enough, we give you one more reason to refrain from joining FetishAlt.com. On the internet, we came across some reports which suggest that the profiles in the member's area might be fake. In fairness, we must point out, that we do not have any clear evidence to confirm these allegations. However, during our test, we received some suspicious messages, that an empty profile like ours does not normally receive. Therefore, we cannot rule out the possibility that FetishAlt.com contains fictional profiles, which are controlled by chat moderators.
The conclusion from our FetishAlt.com review
FetishAlt.com, run by Infinite Connections Inc, from Florida, makes a great first impression. On the surface, it looks like a legit and safe dating platform. Upon further inspection, however, it turns out to be a scam with a dangerous subscription trap. The company which runs this portal is already known for several other similar websites. According to many past users' testimonials, they have the bad habit of rejecting any cancellation request, without even trying to provide a valid explanation. 
Let us know your FetishAlt.com experience in the comments as well.