BootyAffairs.com review
August 12, 2022
The result of our BootyAffairs.com review: Our test turned out to be an insufficient dating website.
Report on BootyAffairs.com review
BootyAffairs.com claims to be the best place to find new people, flirt, socialize, chat, and have fun. The landing page shows a promising list of the latest members. They all look like genuine people willing to meet somebody for an exciting date. A quick registration is all that stands between you and your fantasies from coming true. Or at least, this is what BootyAffairs.com wants new visitors to believe. If you keep reading our review, you'll soon learn that none of this will ever happen. All the profiles displayed on the initial page are fictitious.
BootyAffairs.com is in fact just a scam with a fake chat scam. The site's company acknowledges that users may encounter fictitious profiles or automated accounts. None of the communications or the actions of these profiles are the result of a genuine member. Therefore, it's almost impossible to arrange a real-life date on this platform. The purpose of fake accounts is to lure users into purchasing a premium membership that, according to first-hand experiences from former users, could be a trap.
The company responsible for this rip-off is Force Vision Ltd. This company, which is based in Ashford, UK, has a nasty reputation online. It looks like they implement a fake chat service on each one of the dating websites that they run.
Is BootyAffairs.com a rip-off?
BootyAffairs.com presents itself with a clean and simple design that gives the impression of being a legit dating platform. However, after extensive research, we can guarantee that this platform is just a scam with fake chats and a possible subscription rip-off. In the terms and conditions, you can read that the member's area contains fictional profiles that are controlled by either professional operators who work for the company or by bots. Bots are computer programs designed to simulate a human conversation. In either case, this is a scam.
None of the people portrayed in the profile pictures on BootyAffairs.com actually run their own account. They may have never even been a member on this site to begin with. Users are tricked into thinking that they are chatting with someone available for a real date. In reality, all communication resulted from automated scripts, or by the imagination of a "fake chat" operator. Since it's impossible to date a fictional character, your chances of meeting someone from this site in real life are close to zero.
Deceived by the enticing messages that they receive from these fake accounts, new subscribers are more likely to sign up for a premium membership. Since all subscriptions renew automatically, users need to cancel them to avoid recurring charges. According to some reviews that we have found online, the site's company makes termination very difficult. Even though we don't have definitive proof that this site is a subscription rip-off, we strongly advise our readers from spending any money on BootyAffairs.com.
Scroll down to read the details of our BootyAffairs.com review.
Registration on BootyAffairs.com
To register on BootyAffairs.com, you would need to create a profile. To do this, you would have to input a few basic information in the registration module that you find on the landing page. Email, password, and birthday are all that you must provide. After that, there is just one more mandatory step, which is a short description of yourself (minimum 5 words). Uploading a profile picture is optional. To access the member's area, you don't even have to verify your email address.
The whole procedure takes less than 2 minutes. The registration form informs potential subscribers that they will interact with computer-generated profiles. However, this is still a scam because it says that such profiles will be used only for promotional purposes, which is untrue. Fantasy characters are used to make users spend money on meaningless fake conversations.
Members' area on BootyAffairs.com
The member's area of BootyAffairs.com makes a good first impression thanks to its easy-to-use interface and pleasant design. All the most important features are grouped together on the same page. By using the search tools, users can find out who lives nearby, who is currently online, and who had just joined the platform. The news feed allows users to see other people's updates and for users to post theirs. On the right side of the page, users can see who visited their profile and who likes them.
The majority of users have detailed profiles filled with personal information and pictures that you can see for free. Unfortunately, to be able to send messages, users must purchase a premium membership. The fact that the chat is fake becomes obvious immediately after the registration when you start to receive way too many sexy messages from attractive ladies. This is a clear indicator that most of the profiles are fictitious.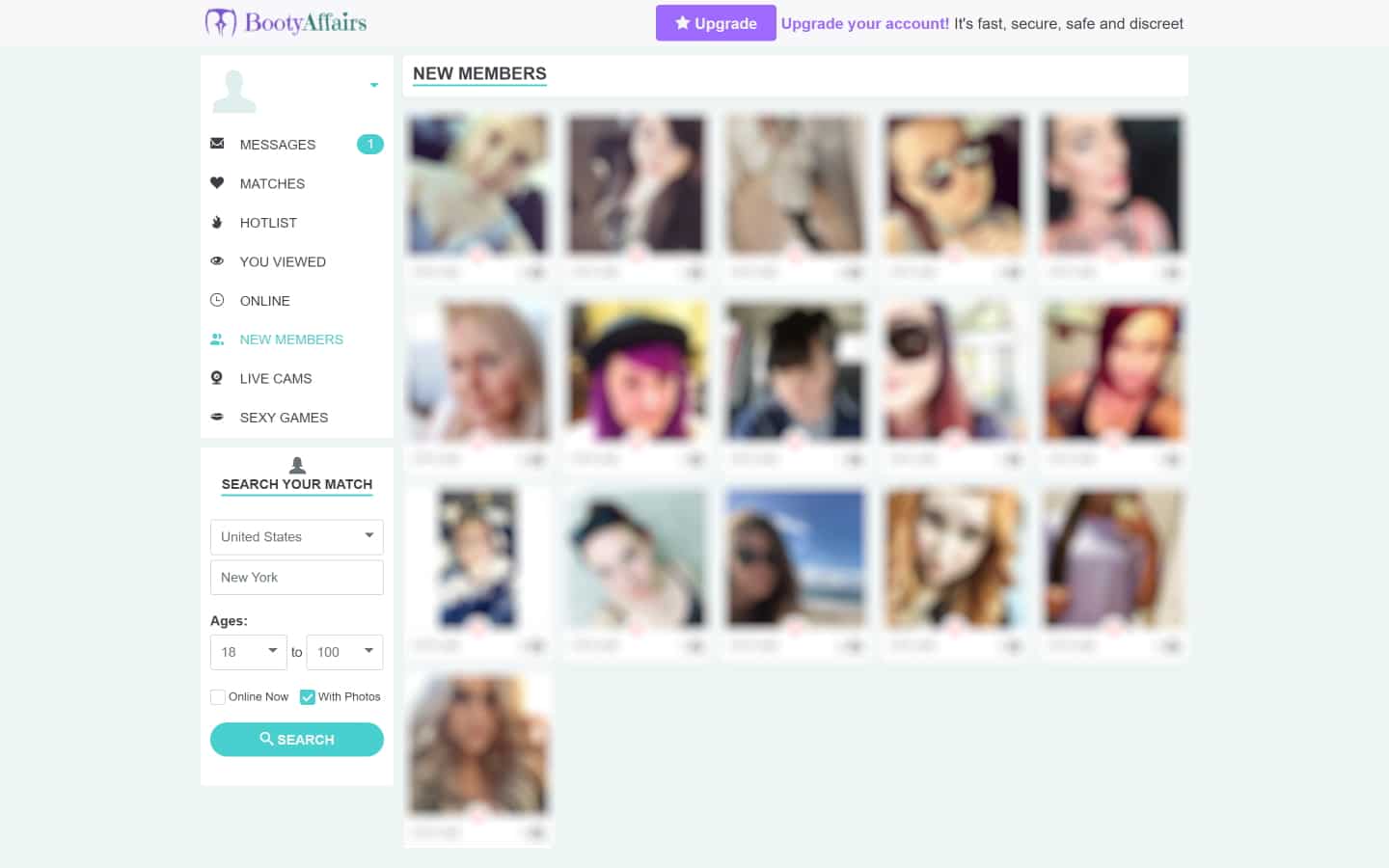 Terms and conditions of BootyAffairs.com
Extract from the terms and conditions from the BootyAffairs.com website. Current status of the terms and conditions as of August 12, 2022.
16.1. Please, note that while using Our Services You may sometimes interact with automated online accounts and/or fictitious profiles, which its interactions have been generated by or with the assistance of automated programs or scripts, or by real persons that have been contracted or employed by Us (hereinafter, referred to as "Bots", "Automated Profiles" or "Fictitious profiles"). [...]

16.2. Bear in mind that none of the content or actions made by Automated Profiles are the result of, or arise in connection with, a natural person's profile or otherwise Member's Content. None of the dialogues with the Automated Profiles really exist and have been generated exclusively by programming.
Costs on BootyAffairs.com
To unlock the chat features, you need to become a premium member. BootyAffairs.com offers 3 options: 1 month at $29.95, 3 months at $19.98/month, and 6 months at $16.66/month. Payments can be made with all major credit cards. All premium memberships will extend automatically unless cancelled by the user. Some former users suggest that this is a trap. According to their experience, the site's dating service provider ignores any cancellation request. In fairness, we must admit that we weren't able to find clear evidence of the rip-off.
Conclusion from our BootyAffairs.com experience
BootyAffairs.com attracts new users by promising them hot dates with open-minded people living in their local area. As we have proved beyond any reasonable doubt, these are just false claims. The platform contains mostly fictional profiles that don't have any real connection to genuine members. Therefore, chances of meeting somebody in real life through this site is virtually non-existent. Moreover, users are required to buy a premium membership to use the chat. There are strong suspicions that this could be a trap.
Force Vision Ltd is a UK-based company that runs this website and many other similar platforms. This company from Ashford is known for using the same dirty tricks every time.
Contact data of the operator of BootyAffairs.com
Force Vision Ltd
Second Floor
Rear Right Office
18 North Street
Ashford, TN24 8JR
United Kingdom
support@bootyaffairs.com
FAQs for BootyAffairs.com
Here you can find the FAQ (Questions and Answers) for the dating website BootyAffairs.com
What has attracted positive attention to BootyAffairs.com ?
BootyAffairs.com presents itself with a promising landing page. They claim to be the best dating website to chat, flirt, and meet.
What has attracted negative attention to BootyAffairs.com ?
BootyAffairs.com is just a fake chat scam and a possible subscription rip-off.
What can I do on BootyAffairs.com with a free account?
The free registration allows users to create a profile, upload a picture, and browse the member's area.
Can I really meet someone on BootyAffairs.com ?
Since most of the profiles are fake, it's almost impossible to meet someone in real life.
Is there moderators or bots on BootyAffairs.com ?
The member's area contains fictional profiles controlled by professional moderators and/or bots. Proof of the scam can be found in the terms and conditions.
How can I cancel my account on BootyAffairs.com ?
You can delete your account using the appropriate form that you will find in the 'Help' section of BootyAffairs.com.
Let us know your BootyAffairs.com experience in the comments as well.