ArousingAffairs.com review
July 13, 2022
The result of our ArousingAffairs.com review: Our test turned out to be an insufficient dating website.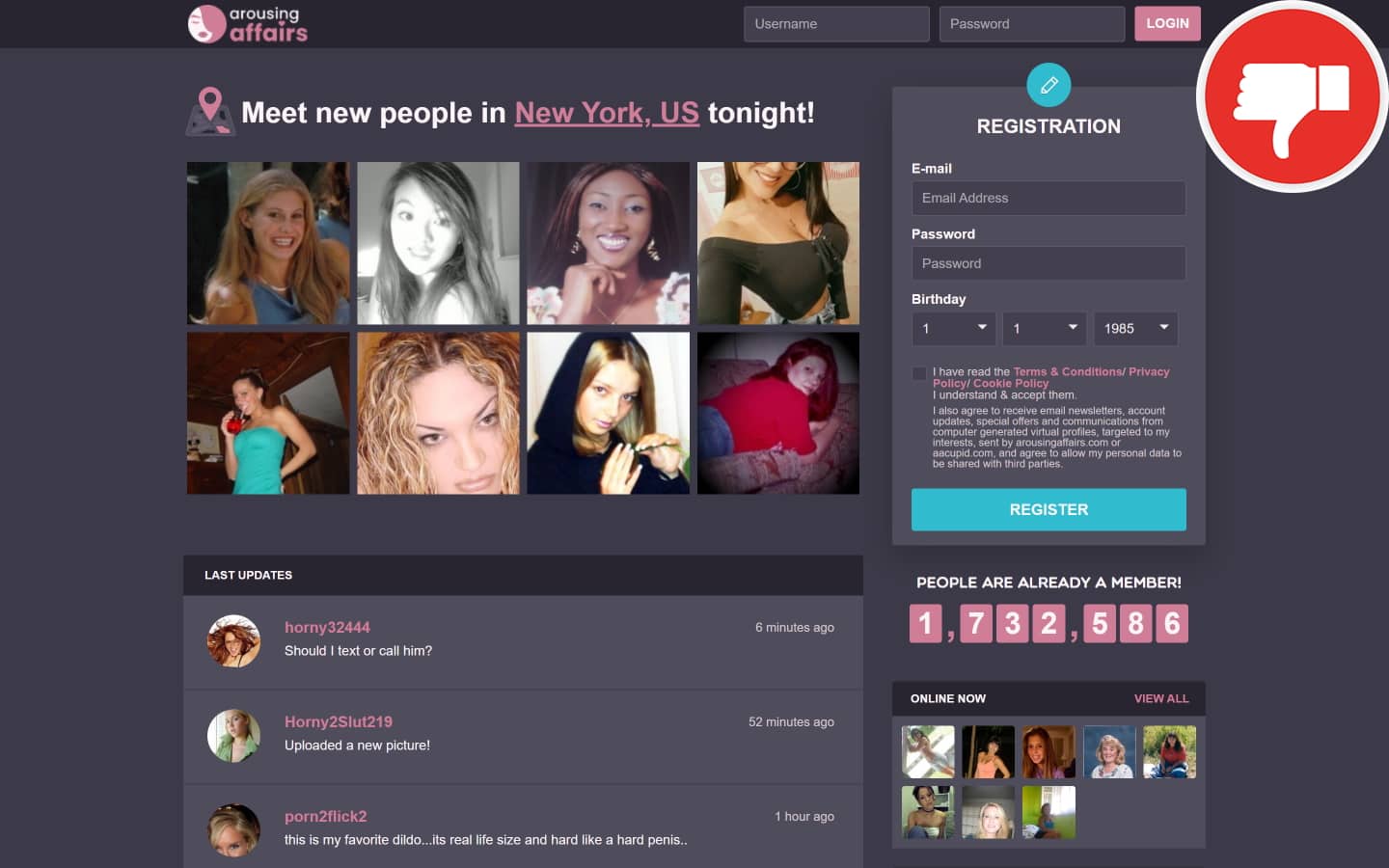 Report for ArousingAffairs.com review
The dating site ArousingAffairs.com has close to 2 million registered members and offers free registration in its advertising. Evidently, most of these members are actually good-looking women. But we doubt this site is really that popular. We try to find user reviews online but fail to have any success. In an attempt to find the whole truth, we create our own profile. Soon we start to realize that nothing here is real. ArousingAffairs.com is a rip-off.
We quickly find someone to chat with. The main problem is that we are only allowed to send two messages free of charge. If we want to send more messages, we need to purchase paid membership, which is extended automatically. The operator wants us to sign up for an expensive subscription just so we can chat with moderated fake profiles. This site is a scam operated by Safe Escape Ltd. This company is headquartered in Essex, UK.
ArousingAffairs.com is a seemingly normal online dating site. You can flirt with members from all over the world here. The site has its own newsfeed which keeps you informed about the most recent activities of various people. There is also a chat facility enabling you to exchange messages with other members. However, you can also choose a more fun approach: you can swipe through the photos of selected members and rate them from 1 to 5. If you like what you see, you can also view the relevant member's profile and start chatting.
Scroll down to read the details of our ArousingAffairs.com review.
Details on the ArousingAffairs.com review
The landing page of ArousingAffairs.com isn't all that special. However, the high number of registered members stated here sounds quite impressive. According to this page, more than 1.7 million people have signed up. We can view new members, active members and recent updates without having to sign up. Interestingly enough, all members shown on the landing page are female. The other profiles are however not to be trusted. This site is a rip-off full of moderated fake profiles.
The lack of online reviews leads us to assume that ArousingAffairs.com is not a popular site. Nonetheless, we quickly find someone to chat with right after completing our registration. A rather attractive woman starts asking us questions. Unfortunately, we can't answer them all. We can only send two messages free of charge. If we upgrade our free membership to a paid version, we can chat as much as we want.
The trick used here is quite clever
The woman we have been talking to does not exist in real life. In reality, we are chatting with a fictitious member. Fake profiles like this one are controlled by so-called fake chat operators. Using them is to the financial advantage of the company that runs this site. We get more and more messages from pushy members but can't send any more replies. Based on our experience, many users won't see this fake attention for what it is and will upgrade their membership.
The following statement from the Terms and Conditions says it all
9.1. From time to time, while You use Our Services, You may interact with automated online accounts and/or false profiles, which all its content has been generated by either: a) real persons that have been only contracted or employed by Us for the purposes set-forth below; or/and b) by automated programs or scripts, which dialogues none really exist and have been generated exclusively by programming (Hereinafter, collectively referred to as Automated Profiles).
Membership options
You can choose from three different types of membership on ArousingAffairs.com. All come with the same benefits, such as unlimited chatting and the opportunity to view all photos and profiles. The membership options only differ in their length and price. The longest membership option costs less per month. However, all these memberships options are also subscriptions. You need to cancel them. Otherwise, they keep on being extended.
This dating site is operated by Safe Escape Ltd. We know this English company from our previous reviews. The operator is headquartered in Essex. So far, our experience with this company from the United Kingdom has always been negative.
The conclusion from our ArousingAffairs.com review
You shouldn't expect anything from ArousingAffairs.com. If you want to have an affair, this scam site is certainly not the right option. You start with two free messages, which is obviously not enough to arrange dates. The paid membership option is however not the right solution. Most other members are fake. They have been invented by Safe Escape Ltd. This company from England employs fake chat operators. It is their task to provide real users with numerous messages. This is a clever way to make paid membership seem more interesting.
Let us know your ArousingAffairs.com experience in the comments as well.