AfricanDate.com review
May 22, 2022
The result of our AfricanDate.com review: Our test turned out to be an insufficient dating website.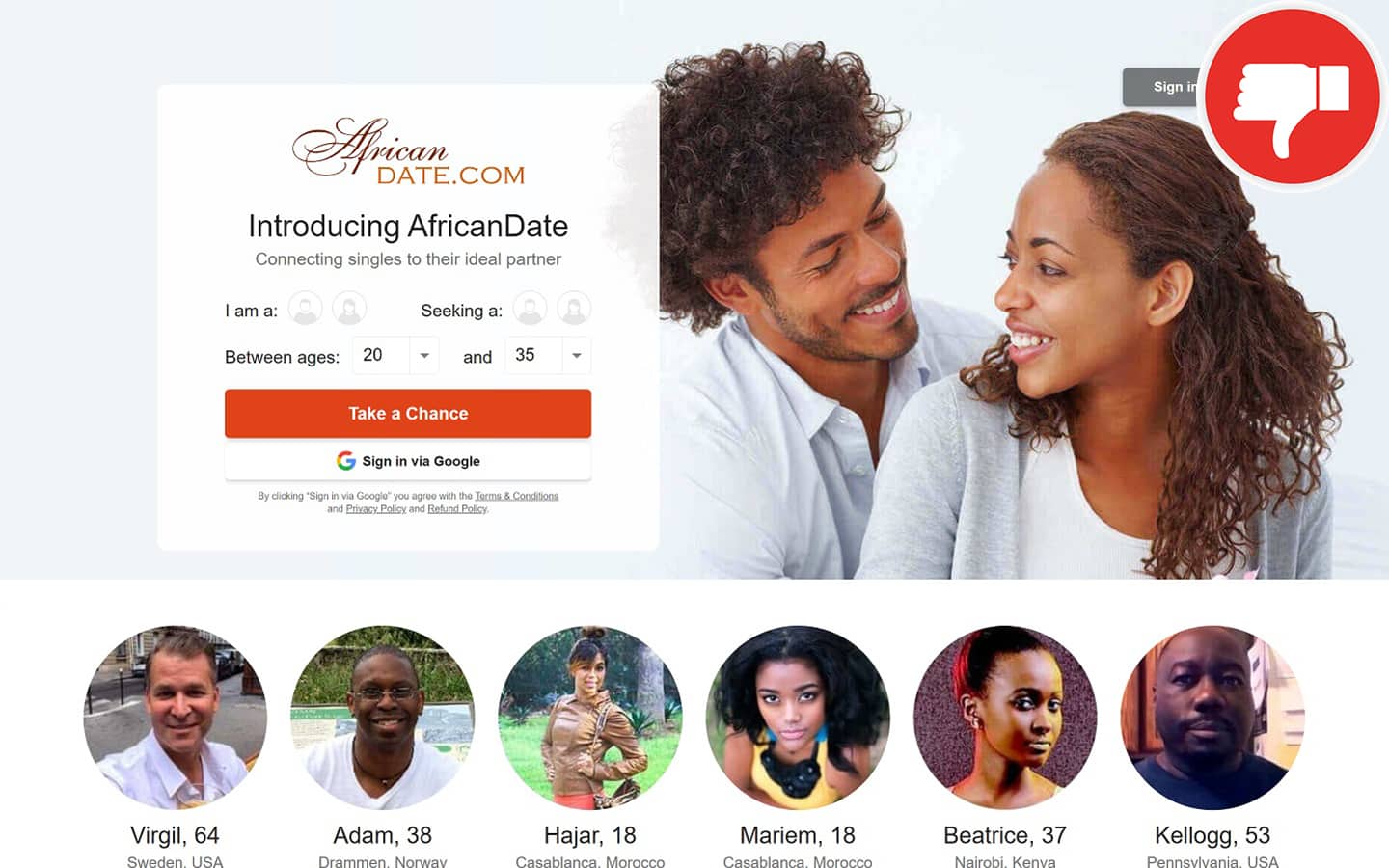 Report on AfricanDate.com review
The online dating platform AfricanDate.com looks good and promising. On the landing page we see the registration screen and the image of an attractive young couple. This image shows the website's target group. Singles with African heritage can register here to find matches. The website offers a matchmaking service. At least we assume this site is a matchmaker. General information about the site is completely missing completely from the landing page.
Although this page looks nice and appealing., it doesn't contain any substantive information. We know nothing about whether costs will develop, how membership is organised or how many users have registered. Nor is it clear whether this website is available just in the US or internationally. In short, visitors to the platform are kept in the dark.
Generally speaking, the extent of a website's transparency offers a fundamental clue as to how reliable a choice it is. From this point of view, this portal makes a bad impression. Based on our experience, this website does not seem reliable in the least. And there's more to mention. On the landing page, we read about meeting matches on the site. But there's no reference at all to actual dates. It seems this portal doesn't offer a routine dating service.
The platform operator is SOL Networks Ltd, which is based in Sliema, Malta. We know this company already. And there are a lot of negative reviews on the internet.
Is AfricanDate.com a rip-off?
The online dating portal AfricanDate.com shows all the signs of being a cheeky rip-off. In the first place, the site's initial appearance is bad. The platform admittedly looks great. But the quality of the site's services is terrible. It uses misleading information in its advertising. On the landing page, we read about free registration. However, high costs will arise once registration is over. Although this site is supposed to be a matchmaker, it shows all the signs of being a fake chat scam. This is not just our impression. A lot of internet reviews concur.
Former users were not satisfied with the site's services. They complain that the profiles in the members´ area are fake. These profiles also appear to be moderated. Well, we had the very same feeling. However, legal proof is missing. The operator does not admit anything about moderation in the site's terms and conditions. Neither fake chat operators nor fictitious profiles are mentioned there. Nor is the purpose of 'entertainment' referred to in any way. These omissions naturally present us with a problem. But we found enough proof to justify our suspicions anyway.
After registration, we received a lot of messages. Generally speaking, this is a clear sign of the use of fake chat. It's obvious this is what it means here for two reasons. First, we didn't provide a single item of personal information about ourselves. So other members have no reason to contact us. The second reason is that this portal claims to be a matchmaker. Users of a matchmaking website are generally looking for serious commitments. But this doesn't seem to be the case with this site.
The messages we receive contain erotic content right from the start. And the sheer volume of these messages we received just isn't plausible on a normal matchmaker.
The signs are clear to us. Fake chat operators control the site profiles. These profiles are fake and show fictitious people with whom dates in real life aren't possible. But the fake profiles are not marked as fake. And the fake chat operators actively encourage members to join conversations without identifying themselves as fake. So they won't mention anything about moderation. Their goal is to generate as many messages as possible from members. Users have to pay to send messages. So the real goal of moderation is to increase the operator's income.
Costs will develop for credits needed to send messages. But such credits are available in the form of a subscription. So they will be automatically topped up after each month. This sounds like a subscription rip-off to us. And this is hinted at by several signs. We read reviews about a scam of this kind on the internet. Plus, the operator is well-known for exactly this kind of thing. In general, this website is a waste of time and money.
Scroll down to read the details of our AfricanDate.com review.
Registration on AfricanDate.com
Registration is simple and over within a few minutes. This website doesn't ask for much personal information, which is actually a bit suspicious. We have the impression that this site is a matchmaker aimed at a certain target group. A matchmaking algorithm needs a lot of information to find accurate matches. But here, users don't have to provide extensive details. The website doesn't request a profile picture or details of personal characteristics while new members register. As we see things, this cavalier attitude to personal information isn't consistent with the nature of the service the site offers.
And other details also make this portal seem suspicious. Just for now, however, we'd like to focus on the process of creating a new profile. The registration screen is displayed on the landing page. We enter our gender, the one we're seeking and the age range for our matches.
This is all the information needed. Further personal details are simply not required. Such a registration process is patently too cursory and doesn't allow an extensive profile to be created. It does of course make registering straightforward and easy without demanding too much effort. But its only truly positive aspect we feel obliged to mention is the obligatory verification. New members have to verify their accounts via e-mail. This enables fake profiles to be avoided. Users' privacy can be guaranteed at least to a certain degree.
Members' area on AfricanDate.com
The members´ area is our first stop. We are automatically redirected to this section after verifying our account. Our first impression of the site isn't too bad. Its portal has a modern design which is appealing and ensures smooth surfing. All site areas are easy to locate. Plus, it's great fun exploring this platform. This website doesn't offer too many different sections or features. So within a few minutes we become fully familiar with all its various areas.
The interface is just great. At the top of the site, we see its various areas. The payment section to upgrade our account to premium membership is present there together with the inbox and search function. Actually, this is the only function the site offers. Various alternative methods for making preliminary contact are available. The last section we can visit is the newsfeed, where we can upload brief posts about how we are feeling today.
We also view our profile settings. At the top of the site, we see three bars. By clicking these, we see the details of our profile. We can add further details to our profile there. And we also see more links to the site's legal information. On the left, we see another section that shows quick notifications, various types of 'likes' and messages. We receive a great deal of attention after registering.
Within a few minutes, our inbox starts to fill with messages. This might all seem promising, but it can only be fake. This site appears to be a rip-off with fake chat. Our profile does not contain one single piece of useful information or a picture either. There is no reason for anyone to contact us. And the messages we receive soon disappear after a short time. This is a clear sign of fake chat. In this way new members are encouraged to chat. But it's hard to prove fake chat's being used.
Anyway, we know this site and its tricks. And we're quite familiar with the platform operator. The company that runs this portal operates a lot of other platforms too. This is one reason that indicates it's an unreliable choice. Second, the profiles in the members´ area look great. We didn't find a single person who looks like an average woman. The profiles look too good to be true. And the nature of the messages we received wasn't compatible with the site's target group.
This platform claims to be a matchmaker. Usually, members of such a site take things nice and slow. But here we receive too much attention. The use of fake chat is quite obvious. Fake chat operators manage the fake profiles. They encourage us to join conversations for which costs will develop. The goal of moderation is to generate more income for the operator. To achieve this, fake chat operators take the first step in proactively instigating chatting, but they will not identify themselves as fictitious people.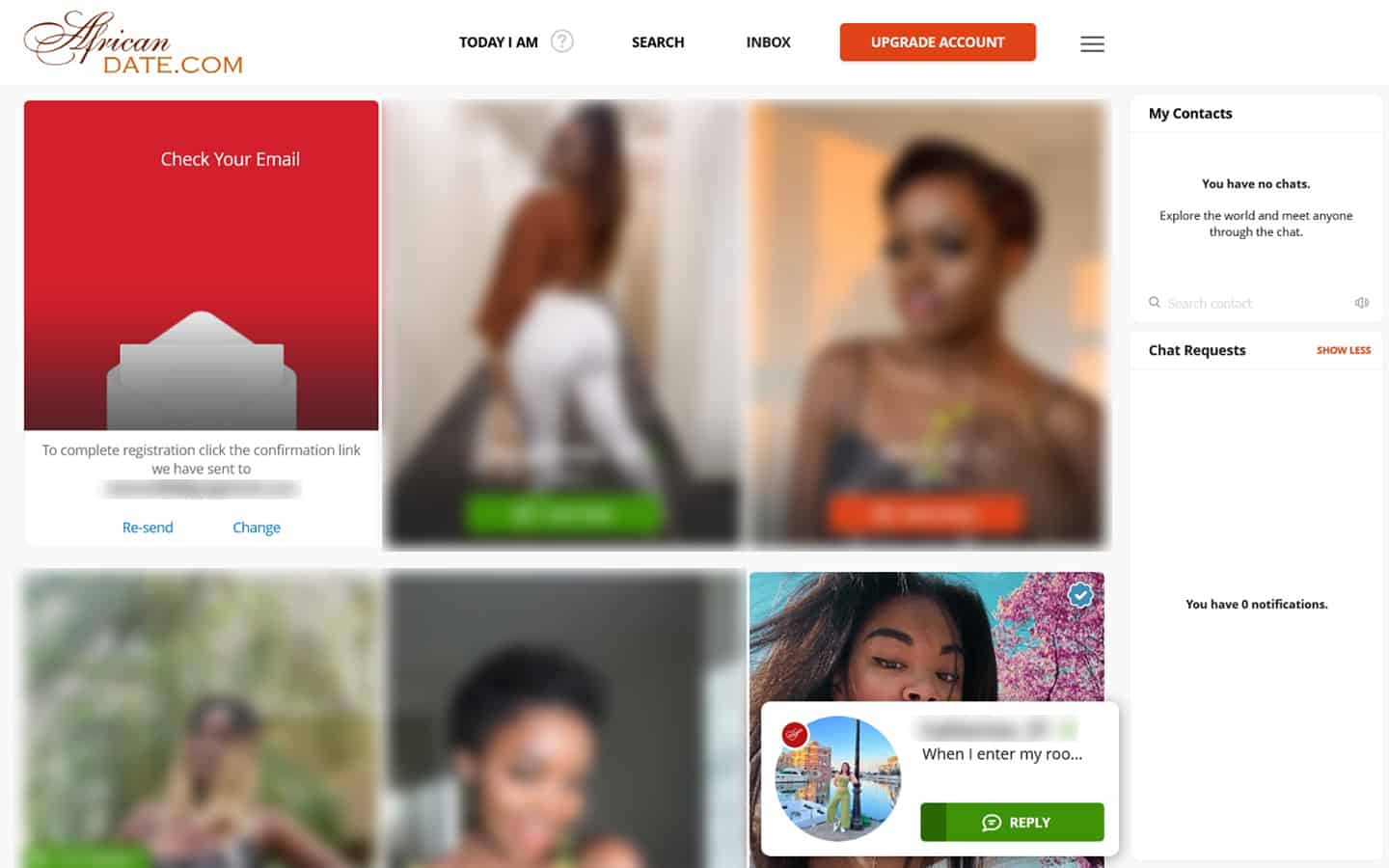 Terms and conditions of AfricanDate.com
Extract from the terms and conditions from the AfricanDate.com website. Current status of the terms and conditions as of May 22, 2022.
After Your initial purchase of membership, and again after any subsequent membership period, Your membership will automatically renew for an additional equivalent period, at the price you agreed to when initially purchasing the membership. You agree that your account will be subject to this automatic renewal feature.
Costs on AfricanDate.com
Registering on this website is not just completed quickly; it is free too. After registration, costs will develop sooner or later. Actually, we assumed costs would arise for premium membership in form of a subscription. But we were wrong. In the legal information, we read about the subscription's automatic renewal. And there are some notes about premium membership. But premium membership comes automatically from buying credits.
Credits are needed for sending messages. This is the only form of cost. There is no subscription for premium membership and no difference from free basic membership. However, the operator still makes it possible for users to fall for a rip-off with a subscription trap. The credits are offered in different packages. We'd normally assume payments are one-time purchases. But they recur at least every month.
The credits are needed for sending messages. One message costs two credits. More credits are needed for sending images or stickers. The smallest package with credits costs 49.99 USD and contains 150 credits. If your balance runs out before the 1-month term ends, you can buy more credits at any time. And you will definitely receive 150 new credits after 30 days. And two further credit packages are available.
The middle-priced package contains 600 credits and costs 149.99 USD. The biggest package contains 1,500 credits and costs 299.99 USD. In general, the use of this site is quite expensive. Compared to other sites in the same category, this website charges high prices, especially since it claims to be a matchmaker. But this portal doesn't have a matchmaking system. All members are potential partners.
The process of finding whether a certain member is an authentic match is left completely up to you. So the costs of using this site will rise very rapidly. We received quite a few messages immediately after registration. To reply to all these members would cost quite a lot of credits. Even after this, you'd have to chat for a long time to see whether a match really worked. Purchasing credits is therefore clearly a waste of money since this site shows all the signs of using fake chat.
Conclusion from our AfricanDate.com experience
The online dating platform AfricanDate.com is a scam. This website shows all the signs of using fake chat. The profiles in the members´ area look too good to be true. Plus, we received too many messages right after we registered, which is a clear hint that things are amiss. Additionally, the site operator has a bad reputation on the internet, just as the site itself does. Former users were very disappointed. We found many reviews alleging fake chat. And there's a strong risk of users falling into a subscription trap.
Costs will develop after registration. Users need credits to send messages. At first, it doesn't sound as though a subscription rip-off is possible. But credits are offered in the form of a subscription. Each month new credits will automatically be purchased. Additionally, the use of the site is quite expensive. So you will need a lot more credits in between your monthly boundaries.
The site operator is SOL Networks Ltd, which is based in Sliema, Malta. This company has a bad image on the internet. By the way, we have already reported on this company previously. It operates numerous other sites, all of which are in our experience highly unreliable.
Contact data of the operator of AfricanDate.com
SOL Networks Ltd
71, Tower Road, SLM
1609 Sliema
Malta.
support@africandate.com
FAQs for AfricanDate.com
Here you can find the FAQ (Questions and Answers) for the dating website AfricanDate.com
What has attracted positive attention to AfricanDate.com ?
This website has a modern appearance.
What has attracted negative attention to AfricanDate.com ?
This site shows all signs of using fake chat and subjecting users to a subscription trap.
What can I do on AfricanDate.com with a free account?
Costs only arise for sending messages. The credits are offered as a form of subscription which entails premium membership. But there is no difference between paid and unpaid membership. Credits are the only way of meeting costs.
Can I really meet someone on AfricanDate.com ?
In our experience, no. The profiles in the members´ area look fake to us. Reviews on the internet agree with us here.
Is there moderators or bots on AfricanDate.com ?
Yes, this website shows all signs of using fake chat. However, legal proof of this is missing.
How can I cancel my account on AfricanDate.com ?
You can delete your account at any time in your profile settings. To terminate your running subscription for credits, please contact customer support.
Let us know your AfricanDate.com experience in the comments as well.