WannaHookup.com review
May 22, 2022
The result of our WannaHookup.com review: Our test turned out to be an insufficient dating website.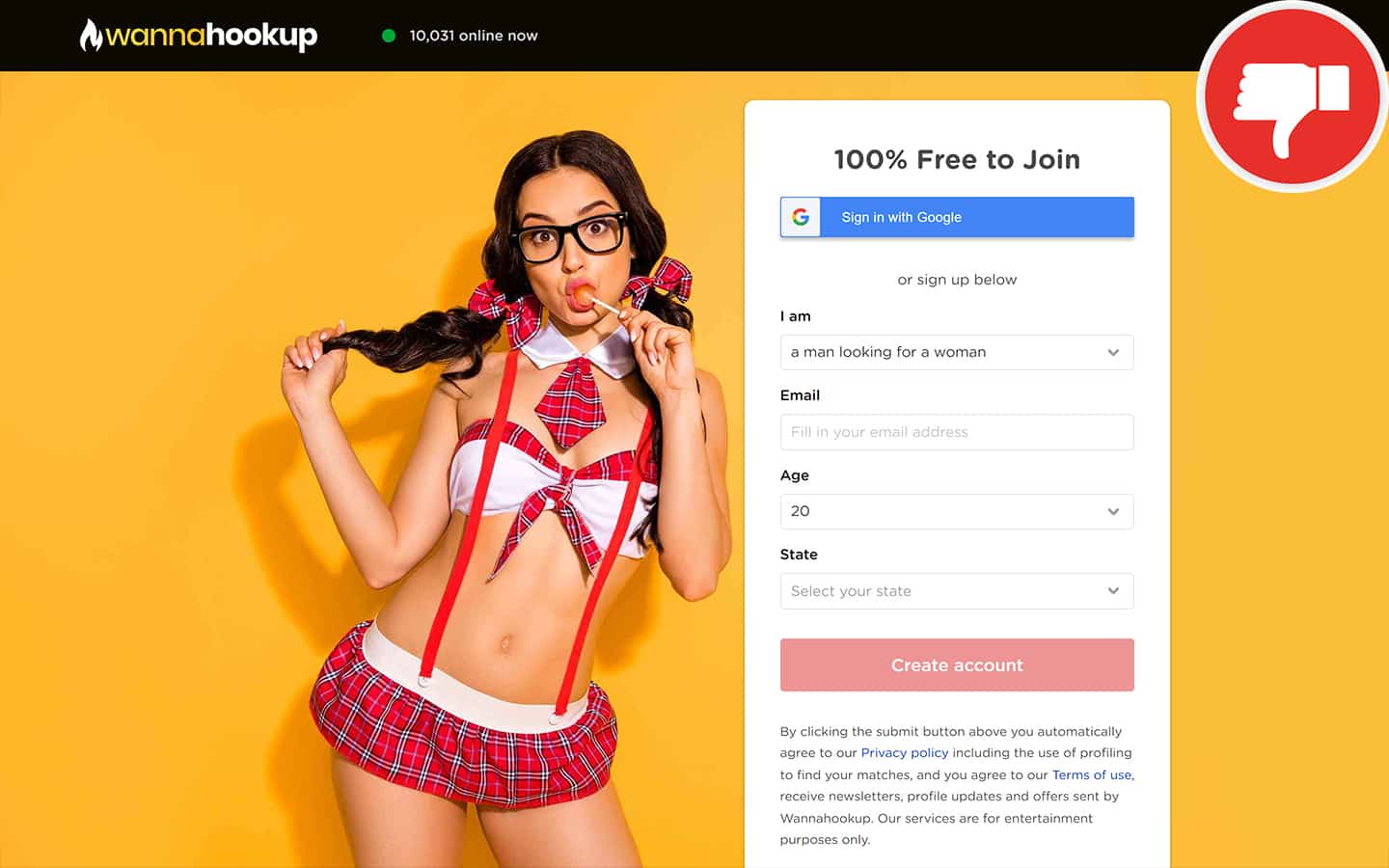 Report for WannaHookup.com review
Apparently, WannaHookup.com makes online dating quite easy. All you need to do is sign up to get free unlimited access to a huge members' area and start chatting. Finding a hot partner for a casual experience shouldn't be too difficult. Unfortunately, this is not what is going to happen. WannaHookup.com is just a scam with a fake chat. The company that runs this website is infamous for using fake profiles on all their platforms.
The dating service we're referring to is named TRF Networks Co Ltd and is based in Wan Chai, Hong Kong. We have already written several reviews about them. It turns out that they always use a fake chat to lure their members into spending a lot of money. They also have a bad reputation on the internet. A lot of former users recommend staying away from their websites, which are nothing more than a rip-off.
WannaHookup.com is a dating website specifically designed for those living in the United States who are looking for open-minded people available for chats, flirts, and/or hook-ups. On their landing page, they invite all potential users to register and immediately start chatting with thousands of interesting profiles. They promise that joining the community is 100% free. At first sight, WannaHookup.com seemed like a solid choice if you're searching for new, exciting experiences.
Scroll down to read the details of our WannaHookup.com review.
Details on the WannaHookup.com review
The landing page of WannaHookup.com displays a sexy picture of a young and playful girl. The purpose of the website appears to be obvious even if they don't provide many details about their customer target. The domain's name speaks for itself. This is not the right place for those that are looking for serious relationships and romantic experiences. They claim that there are thousands of active users at any given time. All these people are searching for the same thing, a sexual partner to fulfill their wildest fantasies.
We already know TRF Networks Co Ltd, the dating operator of WannaHookup.com which runs a huge network of untrustworthy dating websites. On the legal documents, they provide contradictory information. In the terms and conditions, we can read that they are based in Seychelles, while the privacy policy states that they are registered in Hong Kong. The exact location is not clear. Also, they don't provide any physical address or a telephone number. It looks like they are trying to confuse their customers, making it very difficult for them to get in touch with the company if any problem should arise.
A well-deserved nasty reputation
The internet is full of negative reviews from former users that suggest that the profiles in the members' area are not real. It looks like they are controlled by "fake chat" operatos whose job is to encourage members to buy expensive credits. As opposed to what we read on the initial page, WannaHookup.com is not free. To communicate with other members, it is necessary to spend money. Every message requires 100 credits, which equals roughly $2. We did some additional research and we found evidence of the fake chat.
The following note is from the terms and conditions
TRF Networks Co., Ltd. clearly reserves the right to communicate with WannaHookUp.com in regards to self-created profiles. These are fictional profiles where physical bonds are not available.
Real-life meetings are impossible
Someone could argue that this is not a scam, because WannaHookup.com admits to using professional operators. In our opinion, it remains a rip-off because these fake profiles cannot be distinguished from real ones. Users can never be sure whether they are chatting with somebody genuinely interested in an actual date or not. Therefore, nobody can be trusted on this platform.
The conclusion from our WannaHookup.com review
WannaHookup.com attracts new users by offering them a free dating experience. However, nothing that they promise came close to the truth. Users have to spend a ridiculous amount of money even to send only one message. The worst part is that this is just a complete waste of time and money. People sign up here looking for real-life hookups, but this will never happen because most of the profiles on this platform are fake.
Let us know your WannaHookup.com experience in the comments as well.