UniversalHookups.com review
October 13, 2022
The result of our UniversalHookups.com review: Our test turned out to be an insufficient dating website.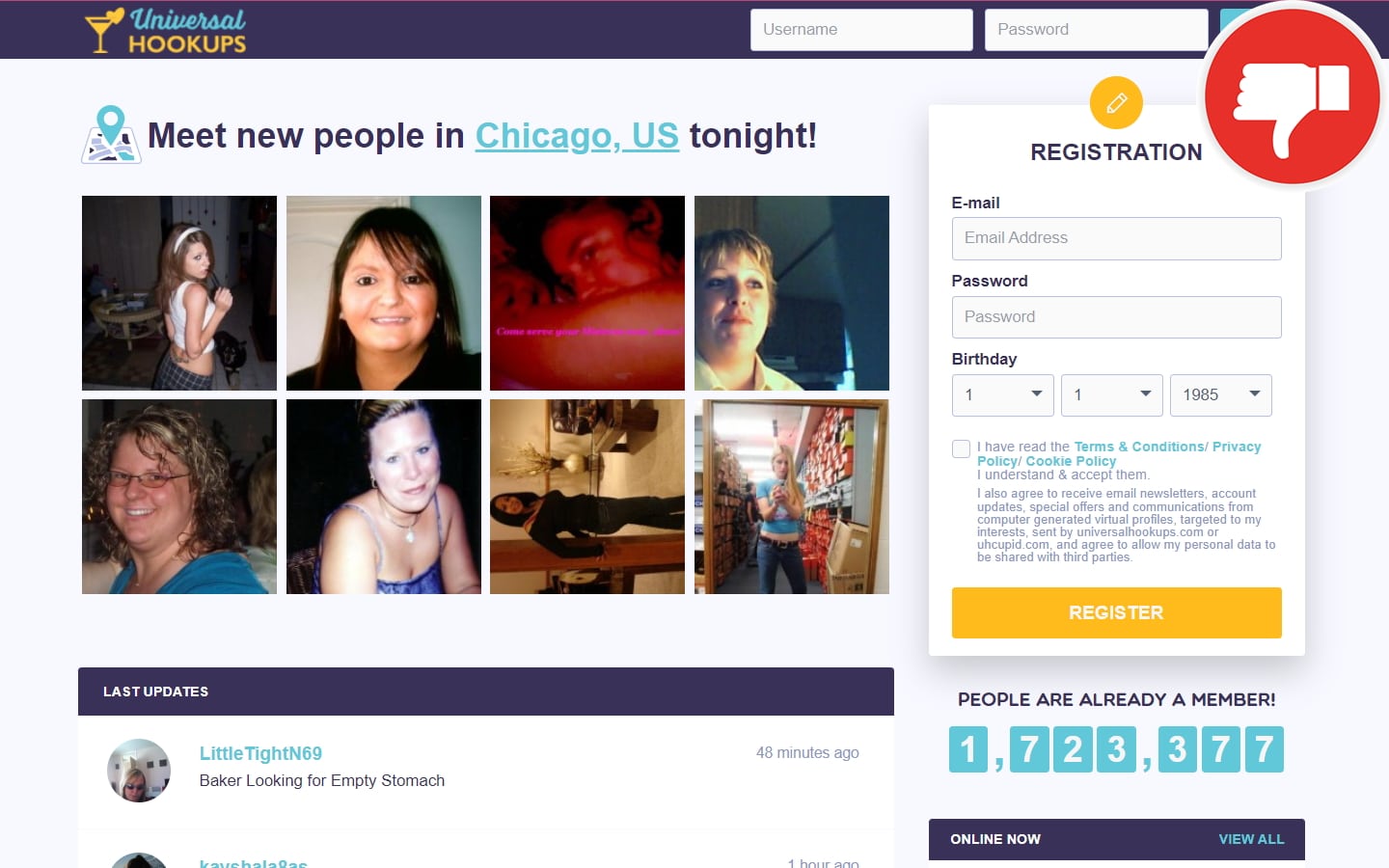 Report for UniversalHookups.com review
The online dating platform UniversalHookups.com, seems like a great choice for anyone looking for a hot casual flirt, in their local area. This portal is managed by Niretio Ltd, who are based in Nicosia, in Cyprus. We have not written any reviews about this company in the past. However, we do know that Cyprus is a well-known hub for online dating scams. This was the first red flag that we could identify. Furthermore, we noticed that they claim to have almost 1.8 million users, which we find rather hard to believe.
The landing page looks quite crowded and has very little visual appeal. No matter where you are browsing from, the website always seems to have plenty of members nearby. Apparently, they are ready to "sext," or even meet up with you. Considering this website is not very well known, and does not give a very professional image, this all sounds extremely unlikely. We see the registration form, and many photos of alleged users. These pictures look at least believable, they could easily be the person next door.
For our review of UniversalHookups.com, we created a bare profile. We also analyzed the Terms and Conditions, in great detail. It soon became obvious that this website is primarily managed by bots. Any physical contact with a real person is impossible. Furthermore, the Terms and Conditions show a deceitful and abusive, cancellation policy. This is clearly a subscription rip-off. So, you will most likely end up in trouble if you sign up for a VIP membership, and later, if you want to terminate your contract.
Scroll down to read the details of our UniversalHookups.com review.
Details on the UniversalHookups.com review
UniversalHookups.com is an online dating portal where you can, supposedly, find a steamy flirt near you. The website makes wild claims, such as having almost 1.8 million users. According to our experience in this industry, this is hard to believe. The website is managed by an unknown operator in the field, who are, Niretio Ltd, from Nicosia, in Cyprus.
Fake profiles
It did not take long to understand that this platform runs a fake chat scam, where probably all characters are completely fictional. We received many nudes we could not see properly, and explicit messages, which we could not reply to, unless we purchase a premium membership. If it was not already obvious, the Terms of Use confirm that the website creates fake accounts, controlled by either automated profiles, or company employees. Naturally, it is impossible to arrange a date in real life with these characters.
The following excerpts are taken from the Terms and Conditions
3.5. Bots and Automated Profiles. From time to time, while You use Our Services, You may interact with automated online accounts and/or false profiles, which all its content has been generated by either: a) real persons that have been only contracted or employed by Us for the purposes set-forth below; or/and b) by automated programs or scripts, which dialogues none really exist and have been generated exclusively by programming (Hereinafter, referred to as "Automated Profiles").

12.3. You have the right to terminate the automatic renewal of Your Paid Membership twenty-four (24) hours after purchase and at least forty-eight (48) hours before Your Paid Membership is due to renew again, either by sending an email at https://www.universalhookups.com/help or by clicking on the cancellation button found in the settings section of Your account. In such case, the termination will have effect on the expiry date of the Paid Membership. Termination of the Paid Membership will be confirmed to You by email.
Abusive subscription terms
It is an important part of our job to carefully analyze the Terms of Use. In this case, we found some surprising conditions, when it comes to cancelling your premium membership. As often happens with shady companies like this one, you risk being trapped in a never-ending loop of automatic membership renewals. On UniversalHookups.com, you will be charged concurrently, unless you cancel your subscription within the first 24 hours.
Although we do not have definite proof here, it is very common among these online dating subscription rip-offs, to make it extremely difficult to communicate with the company. So, they can say that they did not receive your cancellation on time. Therefore, you can be charged indefinitely. Many users will remain quiet, instead of asking for help. They may be embarrassed by the type of content on these websites. These scammers take full advantage of the situation and will most likely milk the cow, for as long as possible.
The conclusion from our UniversalHookups.com review
UniversalHookups.com is an online dating platform for those who are looking for a local, no-strings-attached, relationship. The portal is controlled by Niretio Ltd, who are based in Nicosia, in Cyprus. Our experience was extremely disappointing. We identified a fake chat. Their fantasy characters entice you to purchase a membership. However, this is a dangerous scam. You will most likely end up stuck in a labyrinth of automatic renewals. Furthermore, you will be unable to reach the company, to terminate your contract.
Let us know your UniversalHookups.com experience in the comments as well.