The result of our WildScrew.com review: Our test on WildScrew.com turned out to be an insufficient dating website.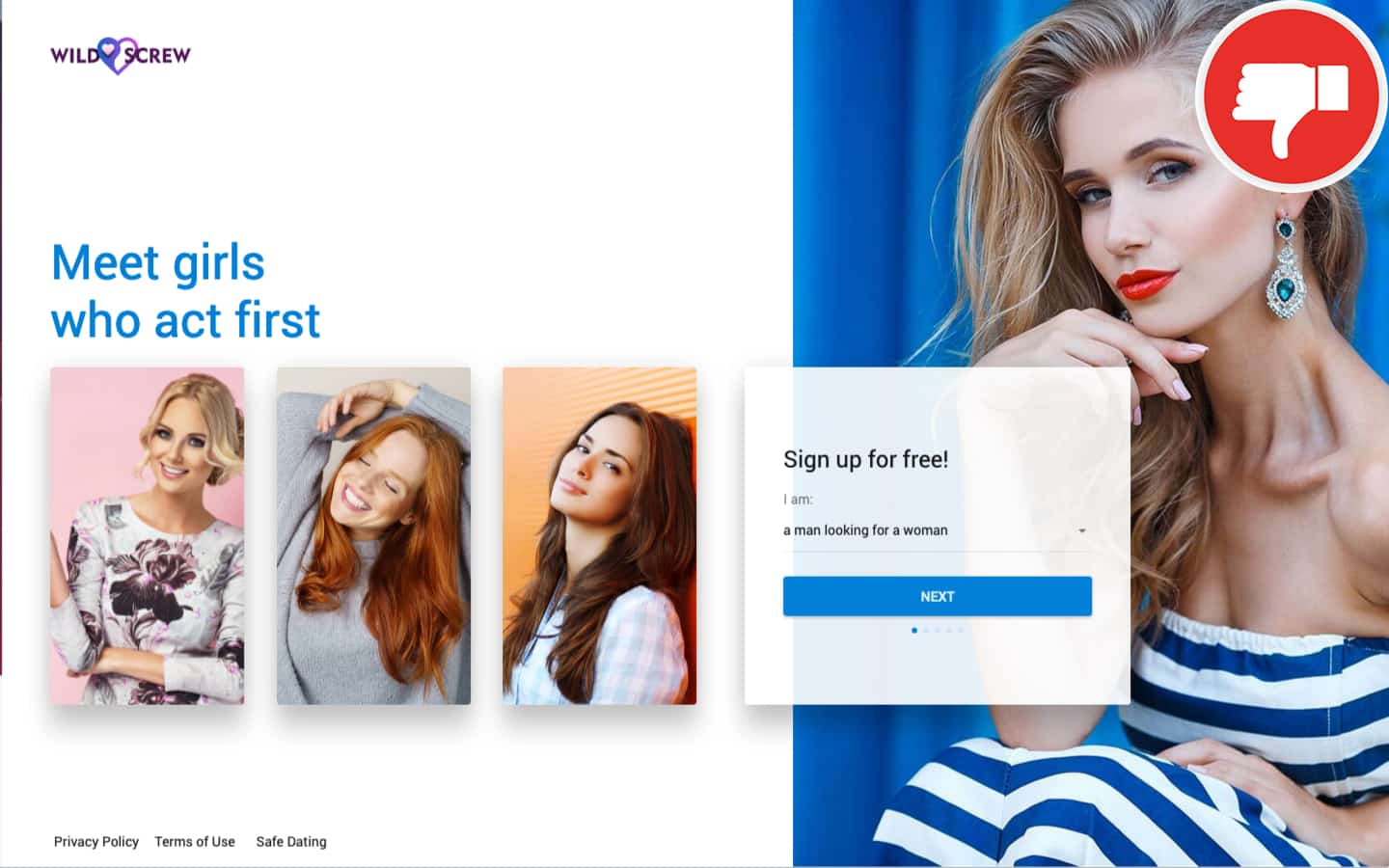 Report for WildScrew.com review
WildScrew.com claims to be a great place to meet girls who act first to make a date. The site advertises with free registration and offers many useful tips for a safe and successful dating experience. However, after reading the terms and conditions of the site, we cannot recommend anyone to register here. It turns out that WildScrew.com is a rip-off.
Without a paid membership subscription, the chat feature cannot be used. Therefore, users who are willing to get in touch with other members, are forced to sign up for an expensive subscription first. But all subscriptions renew automatically. So, they can easily lead to a subscription trap. Moreover, the site uses fake messages to lure new users into these cheeky traps as quickly as possible.
The site's operator is Hungary-based Cyberence Kft. This company is responsible for numerous online dating scams and has many negative customer reviews on the internet.
Scroll down to read the details of our WildScrew.com review.
Details on the WildScrew.com review
At first sight, the online dating platform WildScrew.com seems to be an ideal place to meet confident women, who are searching for new experiences and exciting dating adventures. As the website provides many useful tips on dating safety, it appears to be trustworthy and legitimate. Furthermore, the registration is free and can be done quickly.
As always, we dig a little deeper and do some research. First, we carefully study the site's terms and conditions. Then, we search the internet for user reviews, complaints, and success stories. Unfortunately, we quickly find out that WildScrew.com is a rip-off.
Subscription scam
WildScrew.com is not free at all, only the registration is. To be able to use the chat feature, a paid membership subscription is needed. During our research, we find some interesting facts regarding these subscriptions. Apparently, they unavoidably end in a costly trap. All subscriptions renew automatically and seem to be difficult to cancel. Therefore, they can easily become a long-lasting problem and cause horrendous costs.
Fake messages
Shortly after the free registration, new users receive plenty of messages from alleged members. If users want to reply, they must purchase an upgraded membership subscription first. In the terms and conditions, we find out that these messages are fake. They are sent by an automated system which uses so-called "chatbots". Their sole purpose is to lure users into becoming paying subscribers as quickly as possible. We consider this a fake message scam.
The following note is from the terms and conditions
We may from time to time offer users the ability to "Promote My Account" through Account Settings. Activation this service will mean that we will automatically broadcast custom messages created by any user, or selected from a default list of template messages, to other users. We reserve the right to select members to use the Promote My Account service. Sending of messages through this service will be free, however, recipients who view and choose to reply to a Promote My Account message, will require to have an upgraded Paid Membership in order to reply to the sender.
Bad experience with the operator
The operator of WildScrew.com is already known for their scams. Cyberence Kft, who are based in Csomad, Hungary, operate a whole network of online dating platforms. They all use the same tricks to rip-off their users. As a result, the internet is already filled with negative reviews about this company and their websites.
The conclusion from our WildScrew.com review
Unfortunately, WildScrew.com turns out to be a rip-off. The site uses fake messages to trick new users into quickly becoming paying subscribers. Moreover, all paid membership subscriptions renew automatically and can easily lead to long and costly subscription traps. The site's operator is well-known for their online dating scams. They have many negative customer reviews online. Therefore, we cannot recommend anyone to register here.
Let us know your WildScrew.com experience in the comments as well.