WhatsYourPrice.com review
October 14, 2022
The result of our WhatsYourPrice.com review: Our test turned out to be an insufficient dating website.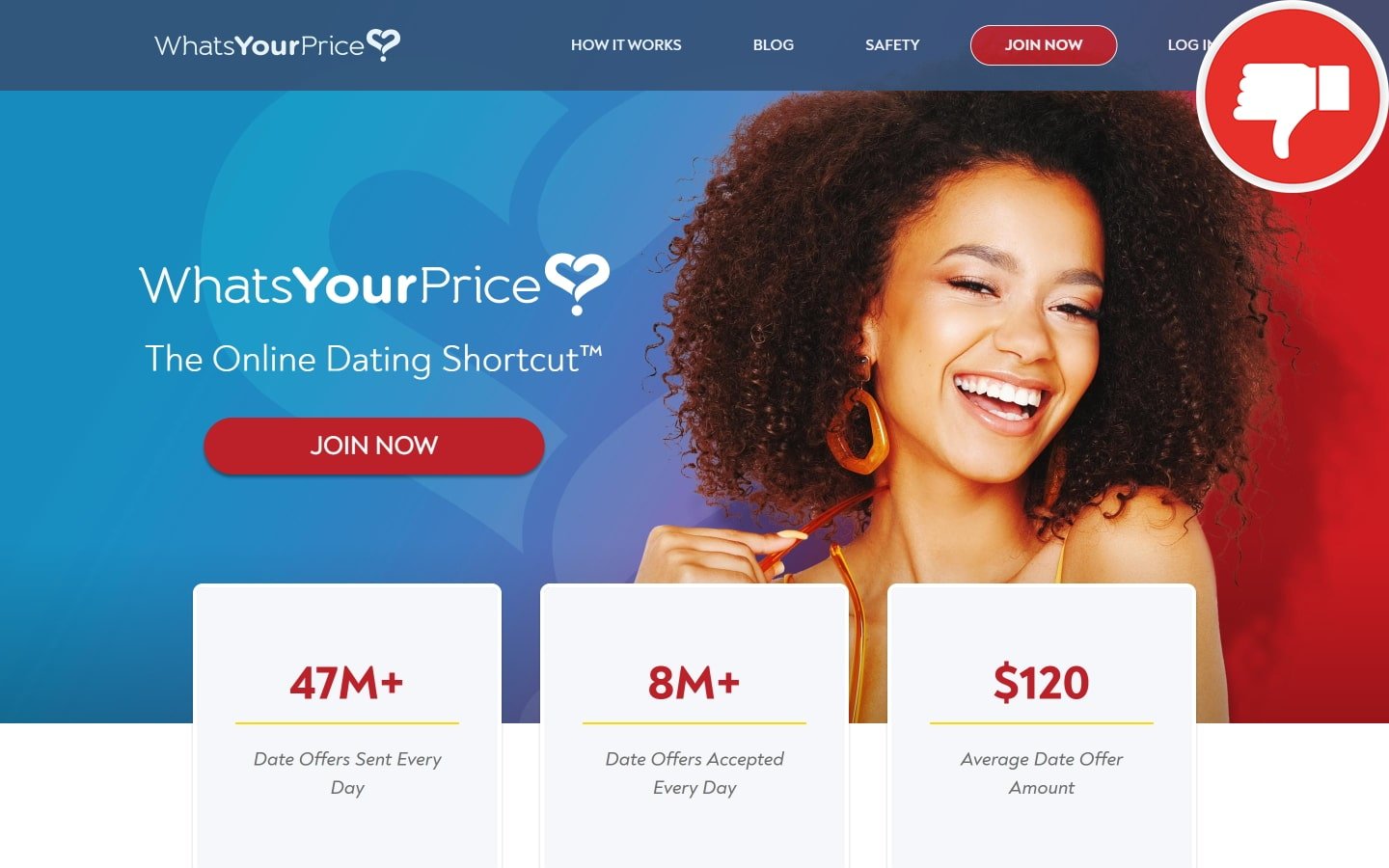 Report on WhatsYourPrice.com review
WhatsYourPrice.com has a modern appearance and the design is appealing. The name of the portal was attention-grabbing, and it had a very special offer. On the landing page, users are notified that it is not an escort service, but a typical online dating website. However, it is a site for women and men to find a sugar daddy or a sugar mama.
It is not a typical online dating platform. The landing page contains some information about what the site offers. We also did some extensive research to fully understand this website. However, during our research, we found a lot of reviews about the website. This website does not have a good reputation. Former users did not have a good experience with it. We wanted to find the reasons why this site has a bad image.
The landing page has basic information about the site and includes the registration screen, which you can supposedly sign up for free. Plus, the website provides its very own infographic. It appears that more than 47 million date offers are sent every day. More than eight million date offers are accepted every day, and the average date offer is $120. However, hard facts to prove these claims are missing. If more than 47 million date offers are made every day, then this website must have a lot of members.
Due to our experience with countless dating sites, we believed that something didn't smell right with this site. The advertisement sounded too good to be true, and the site did not disclose enough information. In combination with the high number of negative reviews, this website appeared to be untrustworthy. The site operator is Reflex Media, Inc, which is based in Las Vegas, Nevada, USA. They also have offices in Hong Kong and Cyprus. This company does not have a good image either. We found some negative reports about them online.
Is WhatsYourPrice.com a rip-off?
The online dating platform WhatsYourPrice.com shows all signs of a scam. It is not a normal dating platform, and it looks more like a portal for an escort site. However, at the bottom of the landing page, it states that escorts are not welcome on this site. To use the services of this website, users would have to pay, and additional costs will be charged once a date is realized. What's different about this site is that it is an auction-style dating platform. After further research, we concluded that the site is an actual rip-off.
There are many negative aspects to mention about this site. We wanted to start with a notification of the terms and conditions. This website appears to be an entertainment service. Entertainment usually stands for fake profiles and fake chats. Consumers of the site have left behind negative reviews of this site and have all complained about fake profiles. From the beginning, we knew this site was a fake chat scam. It is an entertainment service with fake profiles, and it is unlike most dating platforms.
Another negative aspect to mention is the high prices that are charged to users. The chat feature is not free, and additional costs will be added through bids. WhatYourPrice.com is a site where users put bids on a profile and the highest bidder gets to date the person in the profile. Since it is a bid, there is no exact rate, so prices will vary.
This site isn't a matchmaking system. Basically, users choose a profile they like and bid on the one they want. Unfortunately, it is a rip-off. According to former user reviews, the site is a scam and the website's operator is orchestrating the scam. If there are genuine people on this site, the number of multiple scammers exceeds the number of real users. The site operator wants users to believe that this is a real dating auction site so that users will spend a lot of money. However, in the end, users will just lose money and not get a date.
Scroll down to read the details of our WhatsYourPrice.com review.
Registration on WhatsYourPrice.com
WhatsYourPrice.com offers free registration for women and men. The process of creating a profile is easy. Users can register on the landing page, and it only takes a few minutes to create a profile. The first step to registering here is to provide a valid e-mail address and a password. We also had to agree to the terms and conditions of the website and select our sexual orientation.
It is possible to look for people of both genders at the same time. Moreover, we had to choose if we wanted to make offers or receive offers. Additional information that we included was our age, our current location, and a username. We were also asked to verify our account, but this step was optional. The platform can be entered without verification. This does not make a good first impression.
However, if users want to use the website's features, user verification must be done first. The site may appear safe because it requires users to verify, but it couldn't be further from the truth. The site claims to be legit, but it supports the use of scammers. It is not even a matchmaking site. To find accurate matches, the matchmaking system needs a lot of information about the user. This dating site does not require that much information from users.
Members' area on WhatsYourPrice.com
We entered the platform after registering and were asked to verify our account, but this wasn't mandatory. WhatsYourPrice.com claimed to have millions of members, so we checked the members´ pool to see the website's community. The number of members was high, but not as high as they claimed to have had. There might be a few thousand members, but not millions. In New York alone, we found 660 potential matches who were offline and online.
The advertisement on the landing page is very misleading. This is of course a negative aspect, but we need to mention that it is not a normal dating website. On the landing page, users are notified that the site is not an escort service. Even though it is not an escort service, it is still not a safe website due to the many scammers on this site. Even if users need to verify their accounts to use the features, it is still not a safe site.
After registering, it is possible to receive offers or to make offers. We wanted to actively find dates, so we created an account to make offers. In the members´ pool, we saw members who offered dates. We couldn't get in touch with all the members after we verified our account. Personal data protection is poor on this, and account verification is not necessary. Users can view all other member profiles for free.
Before entering the website, we checked the legal information, where we found text mentioning the use of entertainment. We don't see what is so entertaining about tricking users into spending so much money for dates that were not possible from the beginning. Whenever a website claims to be an entertainment service, it is usually a cover-up for fake profiles and chats.
We found many online negative reviews about the site. The platform has a very low customer satisfaction rate. Most of the former users had a bad experience. Even if genuine users do exist, the sheer number of scammers outnumbers them. The website's operator also has no interest in removing scammers or aiding real customers.
Additionally, the profiles on the platform are not very detailed. There are a few images and some short personal information. Based on the little information that is provided, users would have to evaluate whether the person is worth the money for a date. Well, it is possible to chat with all members of course before the first date, but costs will develop for chatting as well.
It is not a typical fake dating site, and it is filled with scammers. Despite having unique features and an auction style, it is not worth it. The site describes itself as a sugar daddy or sugar mommy platform, but that's just a cover. We recommend that our readers avoid this site at all costs.
Terms and conditions of WhatsYourPrice.com
Extract from the terms and conditions from the WhatsYourPrice.com website. Current status of the terms and conditions as of October 14, 2022.
THIS SITE IS FOR ENTERTAINMENT AND INFORMATIONAL PURPOSES ONLY.
Costs on WhatsYourPrice.com
After registering, users will be charged high prices for using the platform. Credits are needed to chat, and extra costs will ensue for dates. To use all the features, users must verify their accounts. The verification process is based on different levels. The first step of verification is to activate the account via a link received by e-mail. Then, users need to upload a profile picture and an image of their ID card.
The only way to see all the rates on this website is to complete all the verification steps. Only members with a complete verified account can see the price list for credits. Then the prices for dates will appear on the website. During our evaluation of this site, we were not able to see the rates, but we did some extensive research on the internet.
This website is a rip-off, and there are many signs that speak of that. According to the text on the terms and conditions, the website is an entertainment service. This usually stands for fake chat and fake profiles. Also, this website's reputation is not good at all. This site is not worth the time, and online reviews from former users show just how bad this site is. The online reviews talk about the user experience and explain the terrible service provided by the company.
According to the information on the internet, credits are needed to send messages. The rate per sent message is high. 100 credits cost 50.00 USD, 500 credits cost 150.00 USD and 1,000 credits cost 250.00 USD. The use of this website is very expensive.
This platform does not have a normal matchmaking system and the profiles are not very detailed. Users need to bid and contact other members to see try to get a date. This means a lot of messages will be sent on the site. In the end, this leads to a lot of money that will be spent and no date in the end.
Extra costs will be charged to users for dates. The average rate for a first date is 120 USD on this site, which is what the website claims. Reviews on the internet speak of much higher costs. According to the information on the internet, a date costs between 200.00 USD and 500.00 USD. The rates on the website might be very high and can only be seen after completing the verification process. The website is not reliable and overpriced. On the landing page, information about the cost of dating is usually around 120 USD.
Conclusion from our WhatsYourPrice.com experience
WhatsYourPrice.com is a rip-off and is filled with scammers. Information on the landing page stated that it is not a normal dating website. It is a dating auction site where users must bid to get a date. Users are tricked into spending money by outbidding other users for a date they like and when the highest bidder supposedly earns the date, the person they were bidding for disappears with the money.
There are a lot of scammers on this site, and you shouldn't risk your money here. After users register and verify an account, users can then contact all members. Costs will develop for sending messages. According to reviews from former users, the rates for chatting are very high. Additional high costs will develop for realizing a date.
The site is unreliable and unsafe and has many negative aspects. The main problems are the misleading information on the landing page, the high costs, and scammers. Online reviews talk about how the website's operator is fully aware of scammers, but does nothing to prevent it. It may even be possible that the operator also earns a share of what the scammers earn.
Do not use this site, for you will regret it. The site operator is Reflex Media, Inc, which is based in Las Vegas, Nevada, USA. The location of the operator is not very sketchy.
Contact data of the operator of WhatsYourPrice.com
Reflex Media, Inc
3250 Pepper Ln
Las Vegas, NV 89120
USA
support@whatsyourprice.com
FAQs for WhatsYourPrice.com
Here you can find the FAQ (Questions and Answers) for the dating website WhatsYourPrice.com
What has attracted positive attention to WhatsYourPrice.com ?
The offer of the website is unreliable.
What has attracted negative attention to WhatsYourPrice.com ?
The advertisement contains misleading information. The reputation of the site is bad and users will be charged high prices.
What can I do on WhatsYourPrice.com with a free account?
A free account allows seeing all sections of the website. Costs will develop for sending messages and for dates.
Can I really meet someone on WhatsYourPrice.com ?
The chance of finding a genuine date here is low, for the number of scammers are high on this dating site.
Is there moderators or bots on WhatsYourPrice.com ?
The purpose of entertainment is stated in the legal information, which means there is a huge possibility of this website being a fake chat scam.
How can I cancel my account on WhatsYourPrice.com ?
There is no premium membership to terminate. In the profile settings is the option to either deactivate or delete your account.
Let us know your WhatsYourPrice.com experience in the comments as well.