UptownDate.com review
October 28, 2022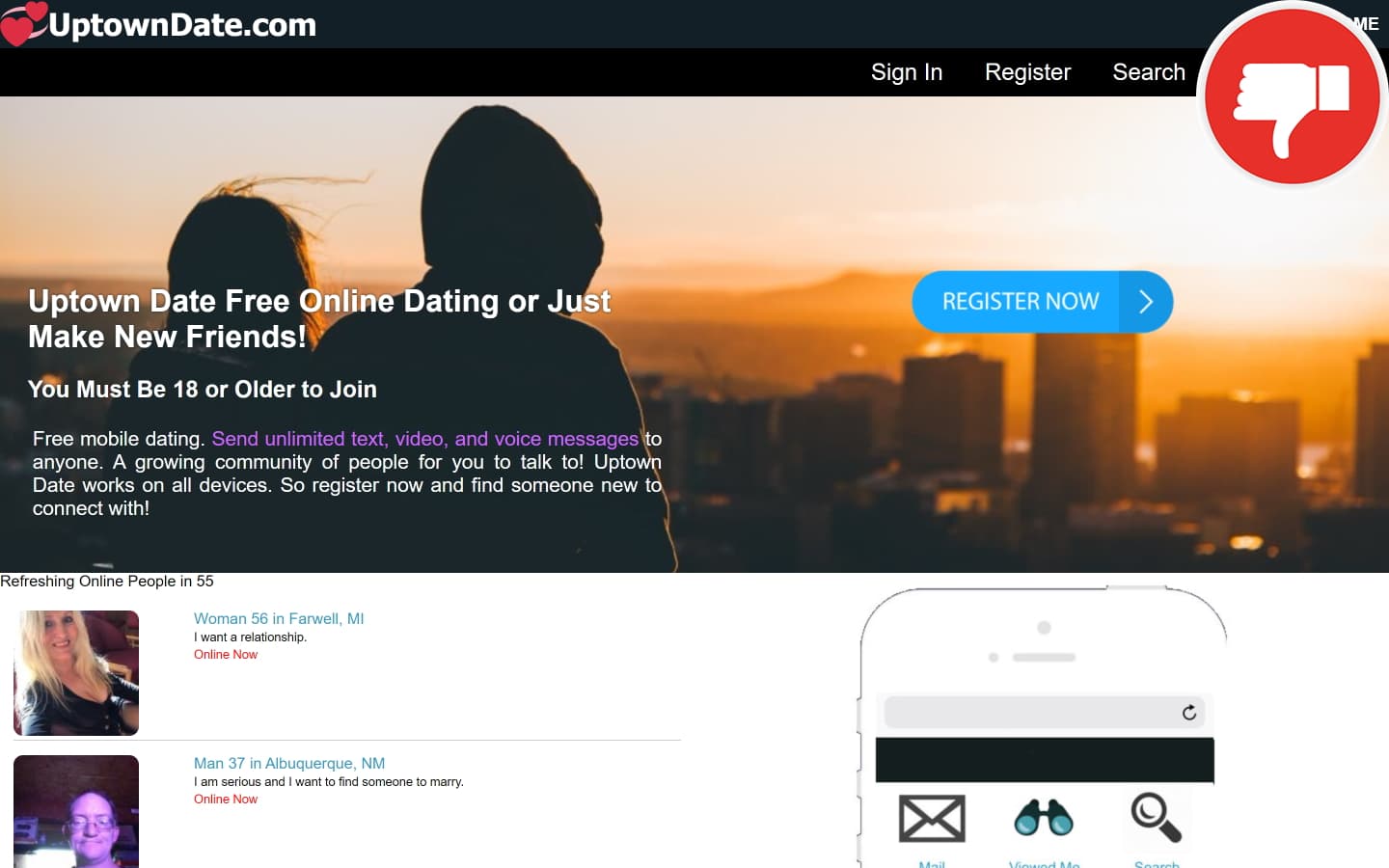 Report for UptownDate.com review
UptownDate.com defines itself as a free online dating platform, where you can contact people who are interested in chatting, meeting, dating, or just making new friends. On the landing page, we read that a quick and free registration is all that you need, to send unlimited texts, videos, and voice messages to anyone. They promote themselves as the simplest, most advanced dating site on the internet. Since UptownDate.com works on all devices, there is no need to download any mobile app.
UptownDate.com claims to be the perfect place for everyone who is looking for a free dating portal. Here, they can send messages, videos, and pictures, without limitations. The site has been up and running for a few years already, which is always a good indicator that it is probably not a scam. However, UptownDate.com does not seem too popular. On the internet, we could not find reviews and first-hand experiences, from past users.
The company that runs UptownDate.com does not disclose its real identity. We checked everywhere on the website, and online, but we were unable to find anything about their name, or location. This is highly suspicious. However, since UptownDate.com can be used completely for free, we tend to believe that it is not a rip-off.
Scroll down to read the details of our UptownDate.com review.
Details on the UptownDate.com review
At first sight, UptownDate.com does not look too impressive. The landing page has a quite outdated design. This does not encourage occasional visitors to keep exploring the site. However, the promise that this is a space where you can send unlimited messages for free, is quite convincing. After all, there is nothing to lose in signing up.
Creating a profile is a quick and simple procedure, that can be completed in just a few seconds. The registration form only requires your email, password, gender, and birthdate. After that, you can provide additional information, and upload up to 10 pictures. However, these steps are not mandatory, and can be skipped with just a click.
Is it really free?
We are always a bit skeptical when we read that a website is free. Most of the time, it simply means that you can register for free, but then, you must pay to communicate with other members. UptownDate.com does not lie about that. Immediately after signing up, new members can fully access all the chat features, without any limitations. Unfortunately, the user experience is somewhat compromised, by the presence of excessively many annoying ads.
No reason to pay
UptownDate.com offers the possibility of upgrading your account, at a cheap price. The benefits include removing the ads, appearing first in other members' searches, and generally gaining more visibility on the platform. We recommend that you not spend any money. First, it is not necessary, to fully enjoy the service. Second, we dislike the fact that premium memberships renew automatically.
UptownDate.com does not use fake profiles to encourage you to upgrade, so we do not think it is a subscription rip-off. Still, the potential benefits are not worth the risk. We do not understand why the site's operator hides its identity. This is quite a common behavior for companies that run scam dating websites. But in this case, we do not see a valid reason behind it.
The conclusion from our UptownDate.com review
UptownDate.com is a safe dating platform where users can send messages, pictures, and videos, for free. Unfortunately, the overall impression is anything but enjoyable. On the internet, we couldn't find any reviews from past users, neither positive nor negative, which means that the site is not popular. Potential subscribers are put off by the poor design of the landing page, and the abundance of external ads. This makes the navigation experience unpleasant.
Let us know your UptownDate.com experience in the comments as well.