TurnOnChats.com review
December 26, 2022
The result of our TurnOnChats.com review: Our test turned out to be an insufficient dating website.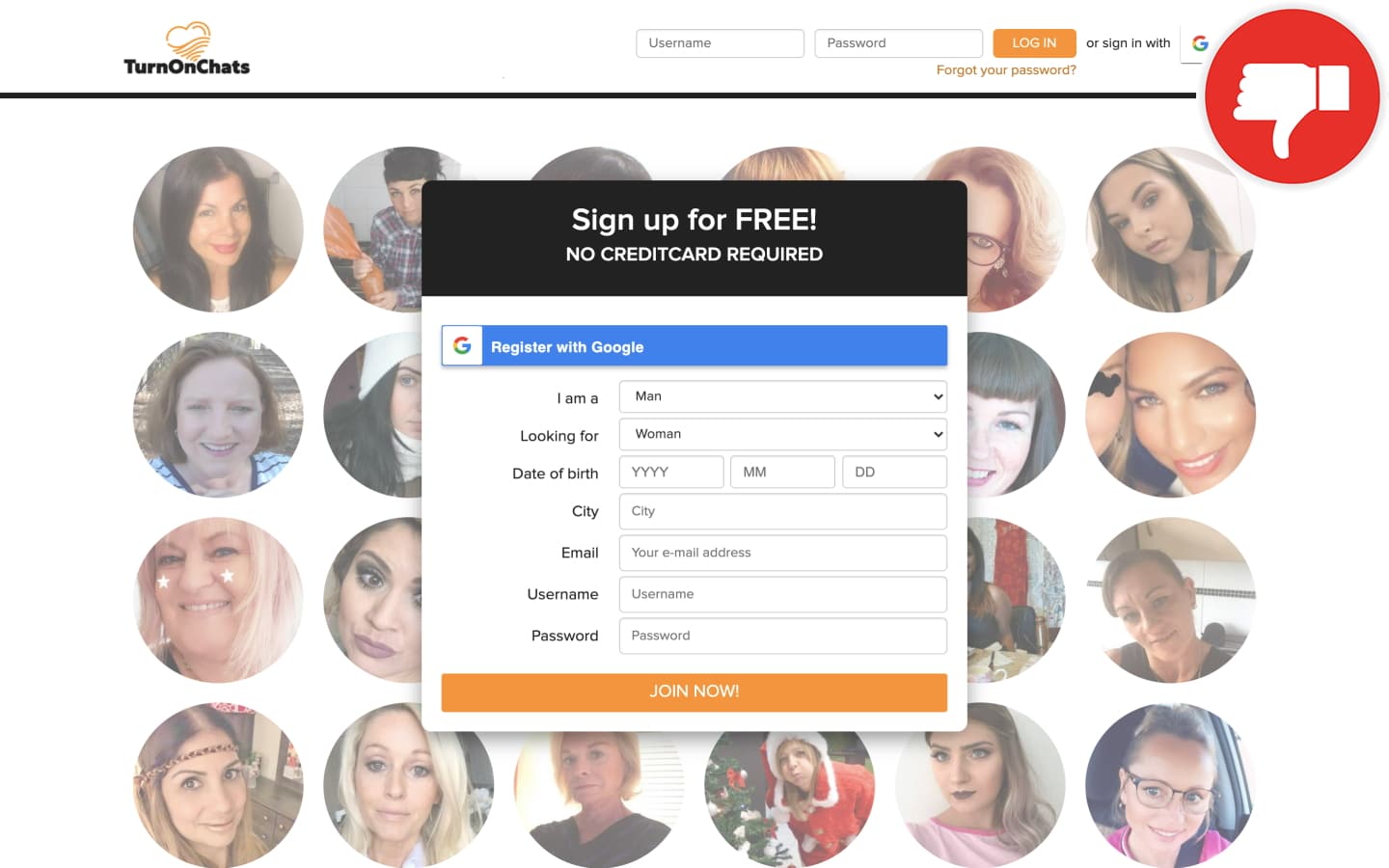 Report for TurnOnChats.com review
TurnOnChats.com makes a nice first impression. The clean layout of the website, and numerous member photos, make it seem like a promising place to chat and find dates with local singles. It claims to offer its users free registration and a secure dating environment.
Though TurnOnChats.com looked great at first, our review found that it is a fake chat scam. Not only that, but it is also quite pricey. We took a thorough look at the Terms and Conditions, and made an account of our own, to fully experience this website. Sadly, we discovered that the operator of the site uses fictional profiles and fake chat operators. It is extremely expensive to send messages to others, as each message must be paid for with virtual "credits."
The operator of this site is White Castle Design BV. This company is from Groot-Ammers, in The Netherlands. Given the poor reputation that this operator has gained online, it is not surprising to us that this website is also a rip-off scam.
Scroll down to read the details of our TurnOnChats.com review.
Details on the TurnOnChats.com review
A quick look at TurnOnChats.com, would lead most people to believe that it is a convenient and fun dating website. The homepage contains countless pictures of attractive women, who users can supposedly interact with on the site. In addition, it seems to be free to sign up and easy to use.
Unfortunately, our experience using TurnOnChats.com revealed that it is another fake chat scam, and a rip-off, from White Castle Design BV, which is a Dutch company. Overall, it is quite unlikely that you will never encounter any genuine members here.
Full of fake profiles
TurnOnChats.com claims that it is a social networking platform, where adults can meet and chat with attractive singles in their area. However, the Terms of Service contradict this, by stating that it is a "pleasure and entertainment" site, which uses fictional profiles. Supposedly, these fake accounts are marked with a heart icon, so that users can identify them.
After logging into our test account, we noticed that every single profile we clicked on, had this heart icon. Therefore, all the accounts we looked at were fake. These profiles use attractive photos, but the beautiful people in the pictures are not who you will be talking to. Instead, these accounts are run by fake chat operators, who cannot be contacted or met outside the website. Because users are not adequately informed that this site is full of fictional profiles, we consider this to be a scam.
From the Terms and Conditions
The Website is the platform for users to chat with fictitious Profiles. The Website, Service and Content are being provided for entertainment purposes only and are not intended to be used for establishing meetings with other users. Profiles marked with a heart icon are fictitious Profiles with which physical contact is not possible.
Expensive fantasy service
The presence of fake accounts is not the only issue we found with TurnOnChats.com. We also discovered that it is expensive to use the chatting feature. For each message you send, you must first purchase a pricey bundle of virtual credits. These credits are then used to send messages. All profiles we saw on the members' page were marked by a heart icon, so, they are run by fake chat operators. This is a dangerous scam.
The conclusion from our TurnOnChats.com review
In our experience, we found that TurnOnChats.com is nothing but a fake chat scam. The chances of meeting someone genuine here are incredibly low, and it is expensive to send messages. Our review revealed that this site uses fake chat operators and is full of fictional profiles. For these reasons, we consider this site to be a rip-off. From the outset, this site looked too good to be true. You will waste time and money chatting to fake profiles.
Let us know your TurnOnChats.com experience in the comments as well.