TrannyBook.com review
November 20, 2023
The result of our TrannyBook.com review: Our test turned out to be an insufficient dating website.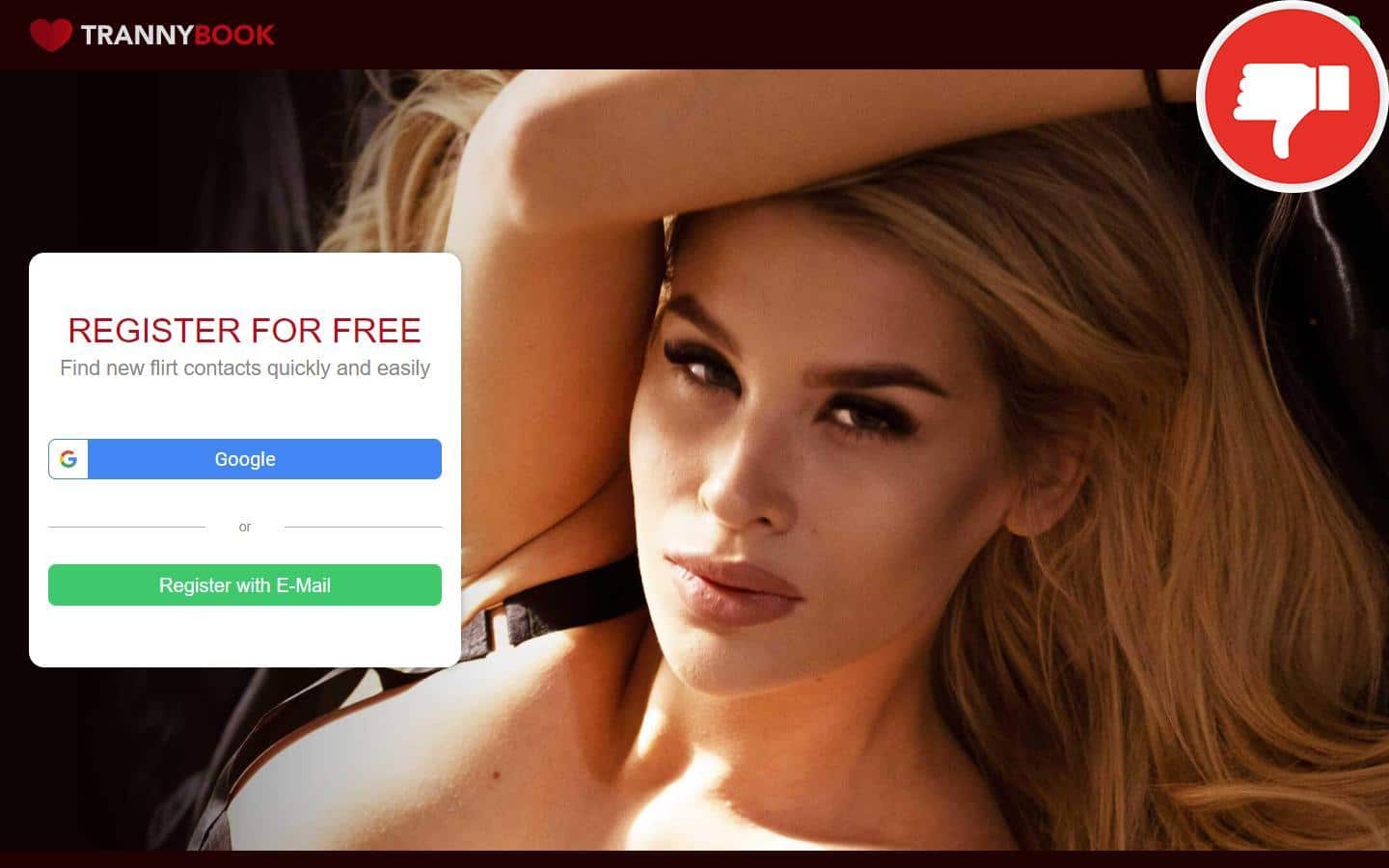 Report for TrannyBook.com review
TrannyBook.com welcomes visitors of the site with a picture of a beautiful transgender. The naughty look she gives on her face says it all. The registration module states that users will be able to find exciting new contacts quickly and easily. The absence of any additional information on the landing page is quite disappointing. However, the domain's name doesn't leave room for any misunderstanding. As far as we know, this is a dating platform that addresses all those people looking for transgression and passionate experiences with hot trannies.
We did some research on TrannyBook.com and its operator, and we must warn you not to raise your expectations too high. With our review, we will prove that this website is nothing more than a scam with a fake chat service. All the profiles that users can exchange messages with are fictitious. The reason why TrannyBook.com can guarantee that users will find someone to chat within no time is because they created fake profiles that are controlled by professional chat partners.
The purpose of this rip-off is to lure users into endless conversations, for which they must be a lot of money. The company that runs TrannyBook.com is named Creative Network Alliance sp zoo and is based in Bydgoszcz, Poland.
Scroll down to read the details of our TrannyBook.com review.
Details on the TrannyBook.com review
TrannyBook.com defines itself as a social network for women and men looking for fun. If users are looking to connect to a transgender community, signing up for this dating platform might be tempting. According to what is stated on the landing page, users don't need a paid subscription to use the service. Unfortunately, that doesn't mean it's free. It might sound counterintuitive, but in some ways the payment method used on TrannyBook.com is even worse.
Horrendous costs for nothing
Only the creation of the profile is free on TrannyBook.com. Everything else must be paid for. This can be done by using the so-called "coins." It is a virtual currency that allows access to all communication tools. Coins can be purchased in different packages. Everything users may want to do on this site is extremely expensive. Sending one single message costs 50 coins, which equals roughly $1.5.
Since users have to pay separately for any activity that they want to enjoy, it's very easy to end up spending hundreds of dollars within a short period. Even a single conversation can quickly turn into an expensive experience. The worst part is that this is a huge waste of money. Regardless of how much users are willing to spend, they will never get the chance to arrange a real date through this site. All the profiles on this website are controlled by professional chat moderators. TrannyBook.com is therefore a fake chat scam.
This is what we found in the footnotes
Chat partners are virtual profiles moderated by exciting real people. Real meetings with them are not possible
Fake chat service
Users are tricked into thinking that they are chatting with real people available for actual dates. Unfortunately, that is not true. All the messages that users would receive are coming from fantasy profiles that don't belong to any genuine user. The person hiding behind the screen is a professional chat partner employed by the company to rip off their customers. It doesn't matter how promising the conversation sounds. It is all fake, and it will never lead to real meetings.
As already mentioned at the beginning of our review, TrannyBook.com is operated by Creative Network Alliance sp zoo, a company based in Bydgoszcz, Poland.
The conclusion from our TrannyBook.com review
Thousands of people have already wasted their time and money signing up for TrannyBook.com hoping that they would be able to get in touch with hot trannies and have sex with them. As we have explained in our review, this will never happen. The member's area contains only fake profiles controlled by professional moderators. Their job is to deceive real users with empty promises. Not only is chatting with such profiles completely useless, but it is also extremely expensive.
Let us know your TrannyBook.com experience in the comments as well.