The result of our TheSwingerConnection.com review: Our test on TheSwingerConnection.com turned out to be an insufficient dating website.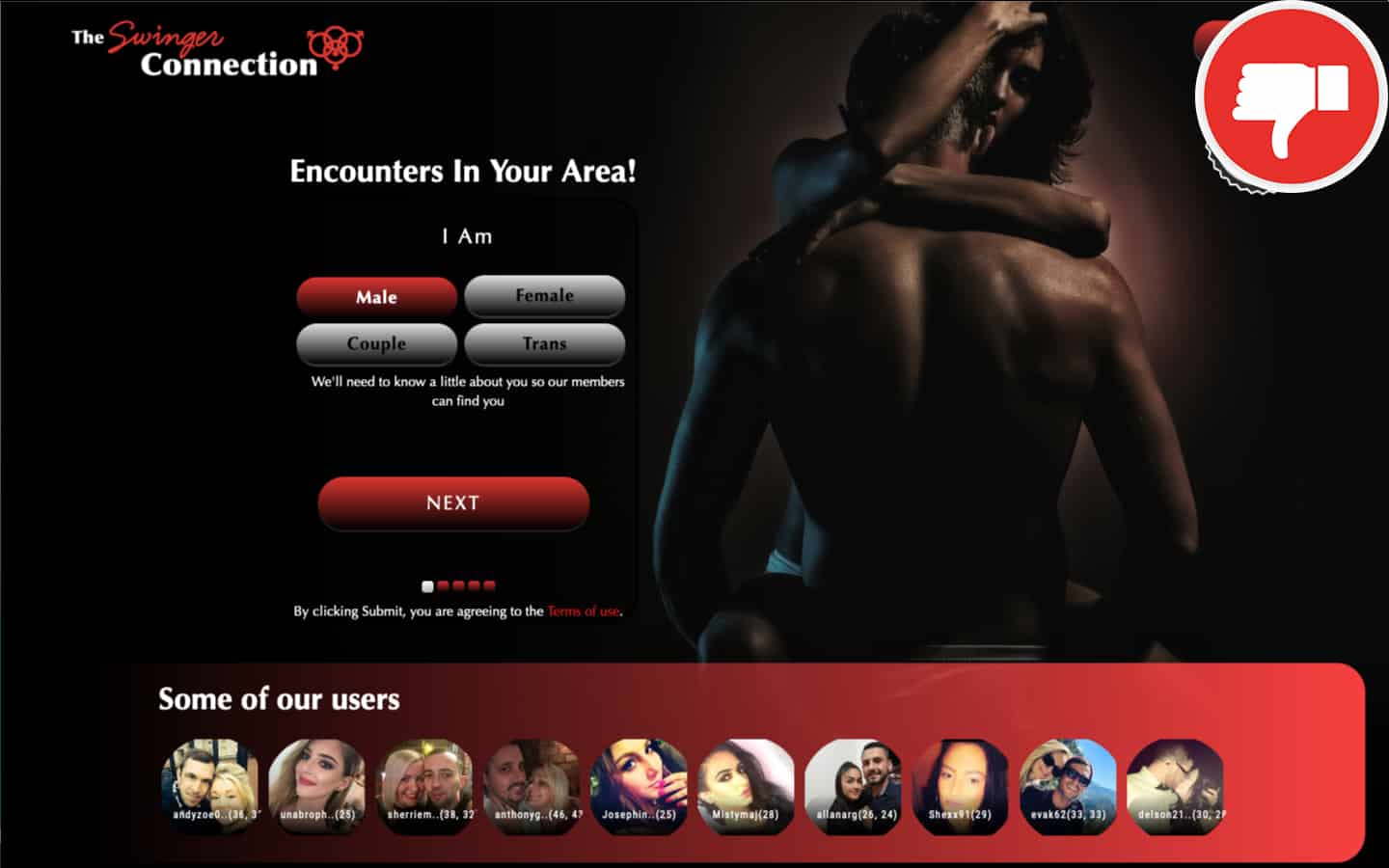 Report for TheSwingerConnection.com review
TheSwingerConnection.com seems to be an ideal place to get in touch with your local swinger community, and to arrange your next erotic adventure. But after some research, it turns out that the portal is a rip-off with a fake chat and a subscription trap.
The member's area contains fictional profiles, which are created by the site's employees. With the help of these profiles, new users are lured into signing up quickly for the expensive VIP membership subscriptions. These later turn out to be dangerous traps. The subscriptions extend automatically and are rather difficult to cancel.
The operator behind this rip-off is Ambiance Ltd, from Hong Kong. We have already had some bad experiences with this company and some of their other online dating websites. Also, numerous negative customer reviews about these websites can be found online.
Scroll down to read the details of our TheSwingerConnection.com review.
Details on the TheSwingerConnection.com review
At first sight, TheSwingerConnection.com seems trustworthy and legit. The site offers free registration and claims to be an ideal platform to connect with local singles and couples. Apparently, they are interested in new group sex experiences and dirty sex parties. Also, the portal advertises with interesting features, a big pool of genuine members, and a 24-hour customer service.
To find out if it is really worth it to register here, we search the internet for user reviews and study the site's terms and conditions. Unfortunately, we quickly find several hints that the portal is a rip-off. It is extremely unlikely to find real swingers for dirty adventures here.
Fake Chat
The members' area contains so-called "test dating profiles", which are created by employed fake chat operators. They are allegedly used to enhance the user experience and check the functionality of the services. As these fake profiles are not marked as such, they cannot be distinguished from regular member profiles. Consequently, it must be assumed that all profiles are fictional and cannot be met in real life. Therefore, chatting here seems entirely pointless to begin with.
New users receive numerous enticing chat messages shortly after the registration. To us, it seems rather obvious that these messages are sent by the site's employees, who hide behind the fake profiles. Users are lured into chat conversations, which require a paid VIP-membership subscription.
The following excerpt is from the terms and conditions
From time to time, the Company employees (or employees of its parent or affiliated companies) may create test dating profiles for the purpose of checking and testing the functionality of our Website and Service to improve the quality and user experience for its Users.
Subscription rip-off
TheSwingerConnection.com operates an automatic renewal billing policy. All subscriptions automatically extended at the same conditions initially chosen unless they are terminated. Since the site's operator is already known to make it rather difficult to terminate a subscription, users can easily find themselves stuck in a long and costly trap.
The operator behind this scam is Hong Kong-based Ambiance Ltd. They are already well known for several other online dating rip-offs. During our research, we find numerous negative customer reviews about this company and their websites.
The conclusion from our TheSwingerConnection.com review
Unfortunately, we cannot recommend anyone to register on TheSwingerConnection.com. The site is a rip-off with a subscription trap and a fake chat scam. The chances of finding real swingers for actual real-life encounters are basically zero. Moreover, all paid membership subscriptions renew automatically and are difficult to cancel. The internet is already filled with negative reviews about the site and the operator.
Let us know your TheSwingerConnection.com experience in the comments as well.