The result of our SwingersHeaven.com review: Our test on SwingersHeaven.com turned out to be an insufficient dating website.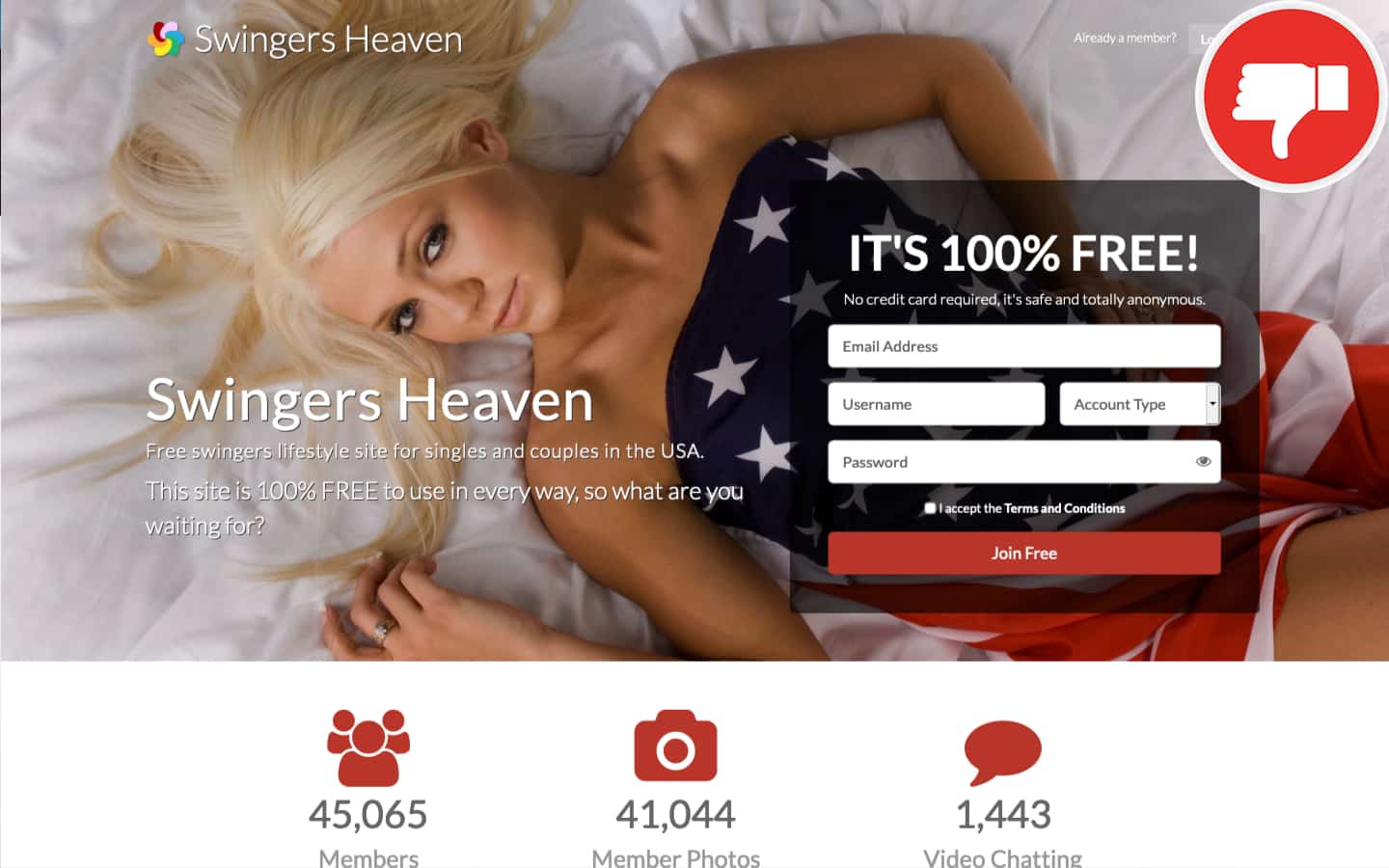 Report for SwingersHeaven.com review
The dating platform SwingersHeaven.com advertises with free registration and a search function to find swingers in your area. Everything on the front page makes you believe that SwingersHeaven.com is completely free. However, this is misleading. In fact, you can only chat with others if you pay for an expensive membership.
Symbios Solutions Limited, operates SwingersHeaven.com. This is not our first encounter with this company based in Hampshire, UK. There is a well-kept secret in the terms and conditions. SwingersHeaven.com is a moderated service. Fake chat operators try to entice the users into a chat. For this reason, SwingersHeaven.com is merely a fake chat scam.
Scroll down to read the details of our SwingersHeaven.com review.
Details of the SwingersHeaven.com review
On the front page, we read that SwingersHeaven.com is a free swingers' lifestyle platform for singles and couples, in the USA. Right beneath this statement it says that this platform is "100% free to use in every way". After doing sufficient research, we find out that this simply is not true. You can be on SwingersHeaven.com for free, but it just does not make much sense. Chatting with other users will cost you a lot of money.
As a newly registered user you immediately start receiving messages from different members. This makes it seem like SwingersHeaven.com is the right place to get to know other swingers. There is just one problem. You cannot use the chat to interact with other members as a normal user. But If you upgrade your basic membership to a paid membership, you can unlock the message function.
Here is why you should not pay to upgrade your membership
3.5 We may terminate or suspend your use of the Service at any time if you are found in breach of any of these terms. The Service is moderated by Moderators. Moderators and admin may modify, adapt or delete any postings made to any area of the Service.
Just a rip-off
You must understand the purpose of using moderators, also called fake chat operators. Keep in mind that sending messages to others necessitates a paid membership. The fake chat operators use fake profiles to hide their actual identity and flirt with the users in the chat. This way more users will consider upgrading their membership, hoping that they can arrange a real-life date.
We must point out that this membership extends automatically, as it is in fact a subscription. To prevent this, you must submit a cancellation before the final day. Symbios Solutions Limited is the company responsible for this rip-off. The operator is based in Hampshire, United Kingdom. They also run a few other dating platforms, which mostly work in the same. When it comes to online dating, SwingersHeaven.com is certainly not the right address.
The Conclusion from our SwingersHeaven.com review
Our experience with SwingersHeaven.com was not good at all. This dating platform is a phony fake chat scam. The promises on the front page are misleading. Finding a partner on SwingersHeaven.com is not free. Only a paid subscription makes it possible for the users to chat with others. The real users are not supposed to find out that most of the members are not real, they are in fact fake chat operators, who work for Symbios Solutions Limited.
Let us know your SwingersHeaven.com experience in the comments as well.