The result of our Swinger-Zone.com review: Our test on Swinger-Zone.com turned out to be an insufficient dating website.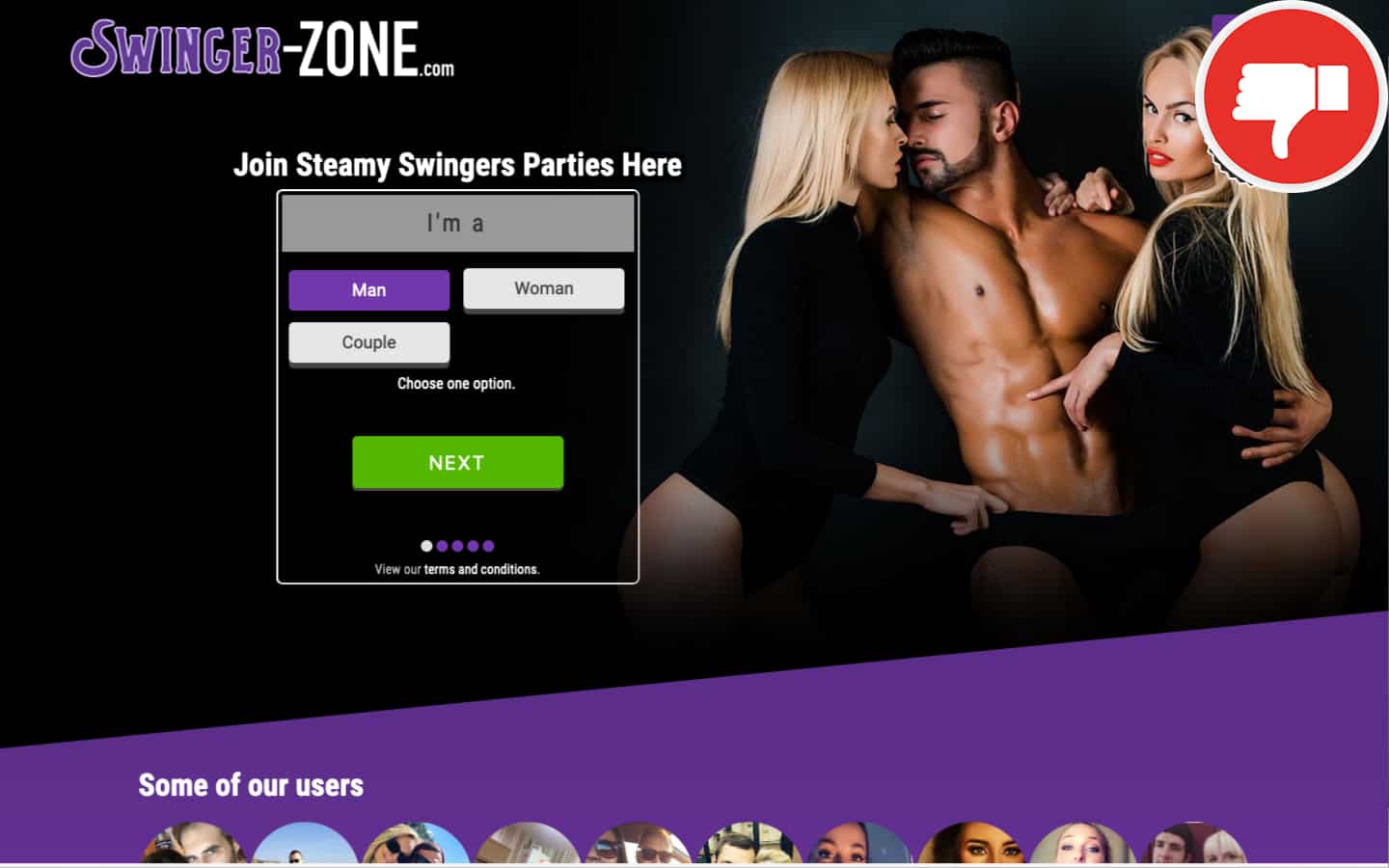 Report for Swinger-Zone.com review
Swinger-Zone.com is an online dating website offering users steamy swingers parties. They do not mention if registration is free. Also, there is no information about pricing on the landing page. They just show some users photos and explain how easy it is to connect with local swingers. Unfortunately, the website uses fake profiles created by the company managing the platform.
This company is VodFun Limited, located in Douglas, Isle of Man. Our experience, including our previous reviews about this company and their sites, shows that they always use the same kind of rip-offs. They use fake profiles and fake chats that are a waste of time and money for any customer.
Scroll down to read the details of our Swinger-Zone.com review.
Details of the Swinger-Zone.com review
The dating platform Swinger-Zone.com is operated by VodFun Limited, located in Douglas, Isle of Man. This company runs an extensive network of websites, which are all quite similar. Although each website targets a different segment of customers, they all have a scam in common. They also use the same kind of tricks. They use fake profiles who try to make customers join a fake chat.
The use of fake chat operators
The company hides the use of these fake operators by using a very subtle name for them. Here they are called "Test dating profiles". But these profiles are not used only to test the functionality of the website. They are also used to contact users of the website. The goal is that users become interested in chatting with these profiles. Because once they want to chat, they will find out that they must pay.
The price of chatting with these fake chat operators may vary from 17 to 35 USD per month, depending on the subscription. In any case, we consider this a rip-off, as nobody wants to pay for chatting with a fake profile. To see how the company justifies the use of these fake profiles, we carefully read the terms and conditions.
Here is an extract from the terms and conditions
From time to time, the Company employees (or employees of its parent or affiliated companies) may create test dating profiles for the purpose of checking and testing the functionality of our Website and Service to improve the quality and user experience for its Users.
As we mentioned before, the reality is that these test dating profiles are intended to attract the customers into fake chats. Because most customers are not aware of this, we consider this to be a scam.
Company with a bad reputation
We have already referred to this kind of scam in several previous reviews about the same company. But the company also has a bad reputation for the potential subscription rip-offs. The cancellation policy that they use is very confusing. It may easily lead to a subscription trap. Having to face recurring payments for services that are provided by fake chat operators, is a scam, and should be avoided.
The Conclusion from our Swinger-Zone.com review
We recommend you avoid subscribing to any website from this company. In our experience, all platforms from this company are scams. This includes Swinger-Zone.com; because the site uses fake profiles and fake chats. In fact, these are the kind of services for which nobody wants to pay.
Let us know your Swinger-Zone.com experience in the comments as well.