SugarSearch.com review
October 11, 2022
The result of our SugarSearch.com review: Our test turned out to be an insufficient dating website.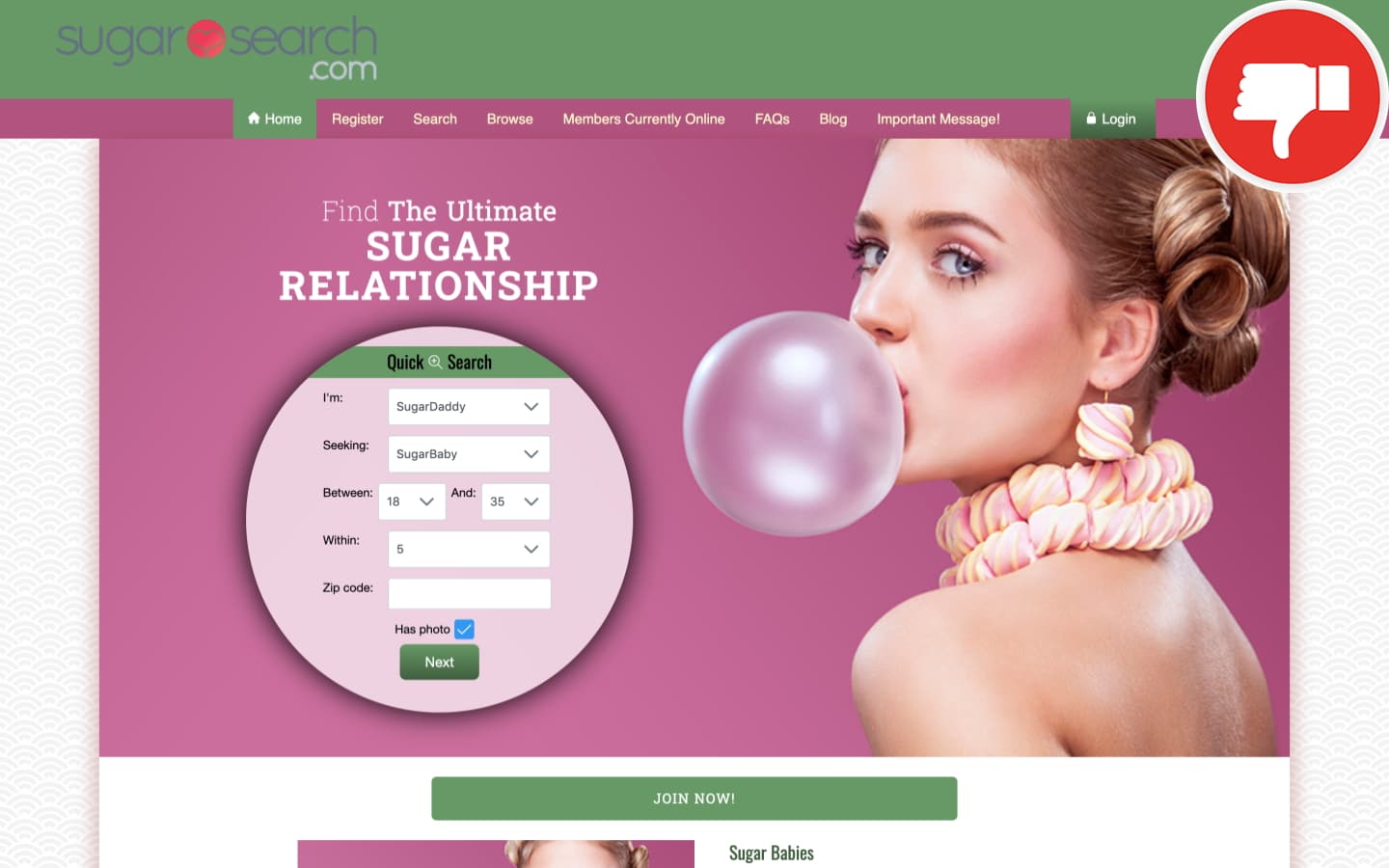 Report for SugarSearch.com review
SugarSearch.com initially looks to be a professionally designed, high quality, online dating platform. It is geared toward individuals who are interested in the "sugar dating" lifestyle. On the homepage, there are images of an attractive woman, which supposedly represents the type of member who use this website. Registration is free and all it takes is to fill out a simple form to get started. The operator of this website is Website Development Services LLC, who are based in Miami, in the USA. We are quite familiar with this company.
Since we know this operating company has managed rip-off dating sites in the past, we decided to do some research on SugarSearch.com. To formulate our review, we read through the terms of service, made an account to test the site. We also read about some user experiences, and reviews.
As we expected, this website is a scam. We found that they use fictional accounts to converse with users. Also, members must spend money to use the chatting feature. Many of the other dating features also require payment, via virtual currency bundles, or a premium subscription. Furthermore, some user reviews have accused this dating platform of being a fake chat scam. Overall, the chances of arranging real dates on this website are low.
Scroll down to read the details of our SugarSearch.com review.
Details on the SugarSearch.com review
SugarSearch.com homepage gives a great first impression. It is easy to navigate and has an inviting appearance. It is free to sign up and offers a promising sugar dating experience. However, upon a closer inspection, it became clear that SugarSearch.com is a fake chat scam, and likely to be a subscription rip-off as well. In our experience on the website, we found there to be many fake chat operators. Therefore, it is unlikely that you will find a real date on this portal.
Fictitious profiles
The Terms and Conditions of this site admit to the use of fictional accounts, and fake chat operators. It states that they create false user profiles. These are part of what they call their "Angel" service, which is supposedly intended to enhance the entertainment of users. Fake accounts, that belong to the Angel service, will send members automated messages. They may also engage users in conversations which are managed by a fake chat operator. For us, this is a major red flag.
Since the purpose of this website is supposedly for meeting up with other real members, it does not make much sense to include false accounts. During our time reviewing this portal, we noticed that many of the accounts which sent us messages were fake. Although, it is difficult to identify them. Considering that users must purchase a subscription, or tokens, to chat with fake accounts, this is a dangerous scam. The operator of this portal claims that they use fictional profiles to both entertain users, and for testing purposes. This operator is Website Development Services LLC, from Miami, in Florida.
From the Terms and Conditions
Some of the user profiles posted on this Website are fictitious and are associated with our "Angel" service. Our ANGEL service is part of our efforts to stimulate conversations with users to encourage further and broader participation in all of our Website's services, including the posting of additional information or pictures to our users' profiles.

Initial messages from our ANGEL service may be automatically generated with no human involvement, and third-party contractors hired or contracted by us may generate messages or correspondence from then on. The ANGEL service is also intended to proactively screen user actions and communications to ensure compliance with these terms.

You acknowledge that the information, text, and pictures contained in the ANGEL service profiles do not pertain to any authentic person but are included for entertainment purposes only. Nothing contained in any ANGEL service profile is intended to describe or resemble any real person—living or dead.
Subscription rip-off
We also discovered a subscription trap on this platform. There are multiple cheap trials for users who want to try out the various messaging features of the site. However, when we looked at the fine print, we noticed that the 3-Day trials will automatically renew as an expensive monthly subscription after 1 day. This is a classic subscription rip-off. In addition, previous user reviews have accused the operator of ignoring cancellation requests.
The conclusion from our SugarSearch.com review
Though SugarSearch.com has a well-designed and inviting exterior, after conducting thorough research, we discovered that it is a scam. The operator admits to employing fake chat operators to interact with users. Since members must buy an expensive membership subscription to use the chatting features, this is a rip-off. It is too difficult to tell which members are fake. Overall, it is unlikely that any real dates will result from using this platform.
Let us know your SugarSearch.com experience in the comments as well.