SteamySnaps.com review
July 1, 2022
The result of our SteamySnaps.com review: Our test turned out to be an insufficient dating website.
Report on SteamySnaps.com review
SteamySnaps.com presents itself as an online dating platform for meeting steamy singles. On the landing page, we can read that they have spent a lot of time and resources to make sure that this is the best place for singles to meet one another online. According to them, the member's area is full of thousands of profiles with beautiful, intriguing, and intelligent women and men who are looking for a suitable partner nearby. Their innovative features and their easy-to-use interface should guarantee a hassle-free online dating experience.
Everything looked legit on the surface, but our review will prove to you that SteamySnaps.com is not a safe or effective portal. Your chances to meet somebody in real life are almost non-existent for this site. The reason is that the platform contains a lot of fictional profiles that are created with the only purpose of luring members into buying a paid subscription. On top of that, these premium memberships are also a trap. The company responsible for this scam is InfraWeb Solution Ltd, which is based in Hong Kong.
Is SteamySnaps.com a rip-off?
SteamySnaps.com is just a scam with a fake chat and a subscription rip-off. The site's dating service is already known for using these questionable techniques on all their dating platforms. They have a nasty reputation online, which is the result of countless negative reviews that they constantly receive from former customers. SteamySnaps.com is the perfect example of how they work. On the terms and conditions, they admit to creating fictional profiles to communicate with genuine members. These accounts are not marked as fictitious. Therefore, you can never be sure whether or not you are chatting with a real member.
Consequently, it's impossible to arrange real-life dates on this website. The whole experience will be purely virtual. The purpose of "fake chat" operators hiding behind these fictional profiles is to encourage users into buying a paid membership. Among the various options, the most convenient is the 1-day trial plan which is sold at just $0.99. This is a trap, because it automatically converts into a much more expensive monthly subscription. To avoid the renewal, you should send a request 72 hours before the expiration of the membership, which is obviously impossible.
Scroll down to read the details of our SteamySnaps.com review.
Registration on SteamySnaps.com
The registration on SteamySnaps.com is very quick and easy. To gain access to the member's area, you have to set up a personal account by completing a simple sign-up form. All you need to do is to provide a username, a password, your age, and an email address. Contrary to what happens on the majority of the dating websites that we had visited, we didn't even have to verify your email. This opened the door to the possibility that many of the profiles could just be spam.
Moreover, you don't have to upload a picture to start browsing other profiles. SteamySnaps.com recommends you do that to maximize your chances of being noticed by other members. However, it is not mandatory. Up to this point, nothing is said about costs or subscriptions. Those who don't have any previous experience with this site might even think that using SteamySnaps.com could be free of charge.
Members' area on SteamySnaps.com
The first impression that we got after accessing the member's area is quite positive. These are all the most important searching tools that you would need on a dating platform. At the top of the page, you can apply various filters to only view the profiles that match your preferences. For example, you can decide to adjust your settings to choose from a certain age group or people that live near your current location.
A green dot is used to mark those who are online. A live chat is available, but to be able to use it you need to upgrade your account. After 5 minutes, we had already received 10 messages from attractive women willing to chat with us. This is a major hint that the chat on SteamySnaps.com is fake. Since our test profile doesn't have any pictures or personal information, there is no reason why we would be so popular. All these messages are coming from fictional profiles.
Terms and conditions of SteamySnaps.com
Extract from the terms and conditions from the SteamySnaps.com website. Current status of the terms and conditions as of July 1, 2022.
We do not guarantee that all the profiles found in search will belong to other users, as we reserve the right to create profiles which are maintained and managed by our employees.

You may cancel the auto-renew feature to avoid recurring charges, but you must act at least 3 days (that is, 72 hours) prior to the renewal date.
Costs on SteamySnaps.com
To be able to communicate with other members and to unlock all the other important features, you should buy a premium membership. The regular price of the monthly subscription is roughly $40, but at the moment of writing this review, it was reduced to $27. We don't know if this is the permanent price or not. Other available options are 1 week, 3 months, and the 1-day trial that we had already mentioned.
All the subscriptions renew automatically until canceled by the user. To avoid recurring charges, a 72-hour notice is required. Regrettably, it is impossible to meet this requirement for the 1-day trial plan, which will inevitably turn into a monthly full-price subscription. Premium memberships can only be purchased via credit card.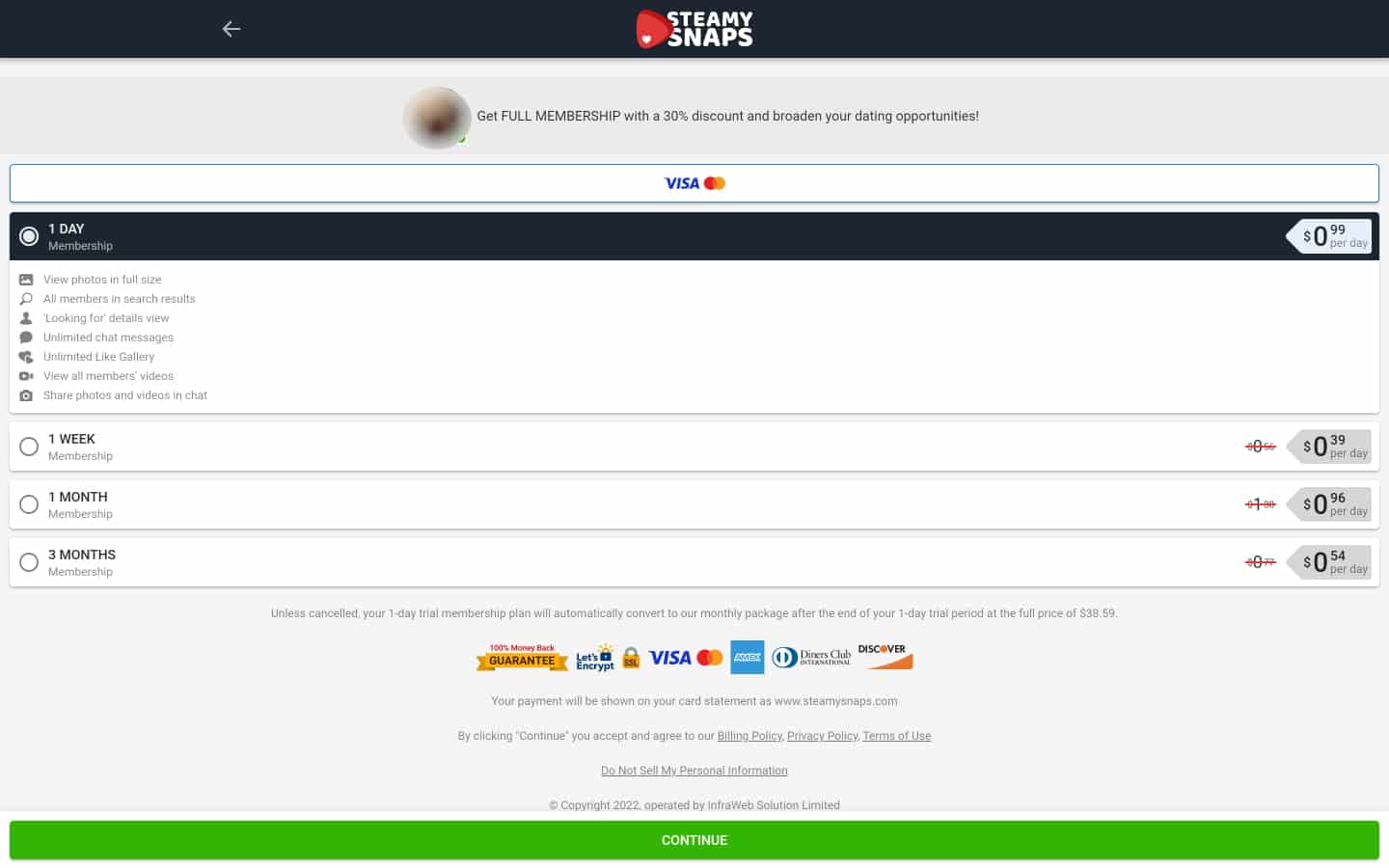 Conclusion from our SteamySnaps.com experience
We strongly advise from signing up on SteamySnaps.com. This dating platform is just a waste of time and money. The member's area is full of fictional profiles controlled by "fake chat" operators who are not genuine members. These profiles are not identified separately in the system. Therefore, no one can be trusted here. The purpose of this fake chat is to convince you to buy a premium membership that is subject to automatic renewal.
The company that runs SteamySnaps.com, which is InfraWeb Solution Ltd from Hong Kong, is infamous for making the cancellation very difficult or even impossible in some cases. We have already written several reviews to uncover their multiple rip-offs.
Contact data of the operator of SteamySnaps.com
InfraWeb Solution Ltd
Suite 1601
Kenwick Centre 32
Hollywood Road Central
Hong Kong
support@steamysnaps.com
Phone: +1 (800) 986 34790
FAQs for SteamySnaps.com
Here you can find the FAQ (Questions and Answers) for the dating website SteamySnaps.com
What has attracted positive attention to SteamySnaps.com ?
The landing page of SteamySnaps.com looks quite promising. The registration is quick and it's easy to navigate the member's area, even for people that are not accustomed to dating websites.
What has attracted negative attention to SteamySnaps.com ?
SteamySnaps.com is a scam with a fake chat and a subscription rip-off.
What can I do on SteamySnaps.com with a free account?
A free account allows only one to create a profile, upload a picture, and partially view other members. All the communication tools are disabled with the free basic membership.
Can I really meet someone on SteamySnaps.com ?
It's highly unlikely that you will be able to meet somebody on SteamySnaps.com.
Is there moderators or bots on SteamySnaps.com ?
SteamySnaps.com creates fake accounts controlled by professional operators. These profiles are not marked as fictitious.
How can I cancel my account on SteamySnaps.com ?
You can cancel your account on SteamySnaps.com from the profile settings. The procedure can be easily done online.
Let us know your SteamySnaps.com experience in the comments as well.