SpookChat.com review
November 3, 2022
The result of our SpookChat.com review: Our test turned out to be an insufficient dating website.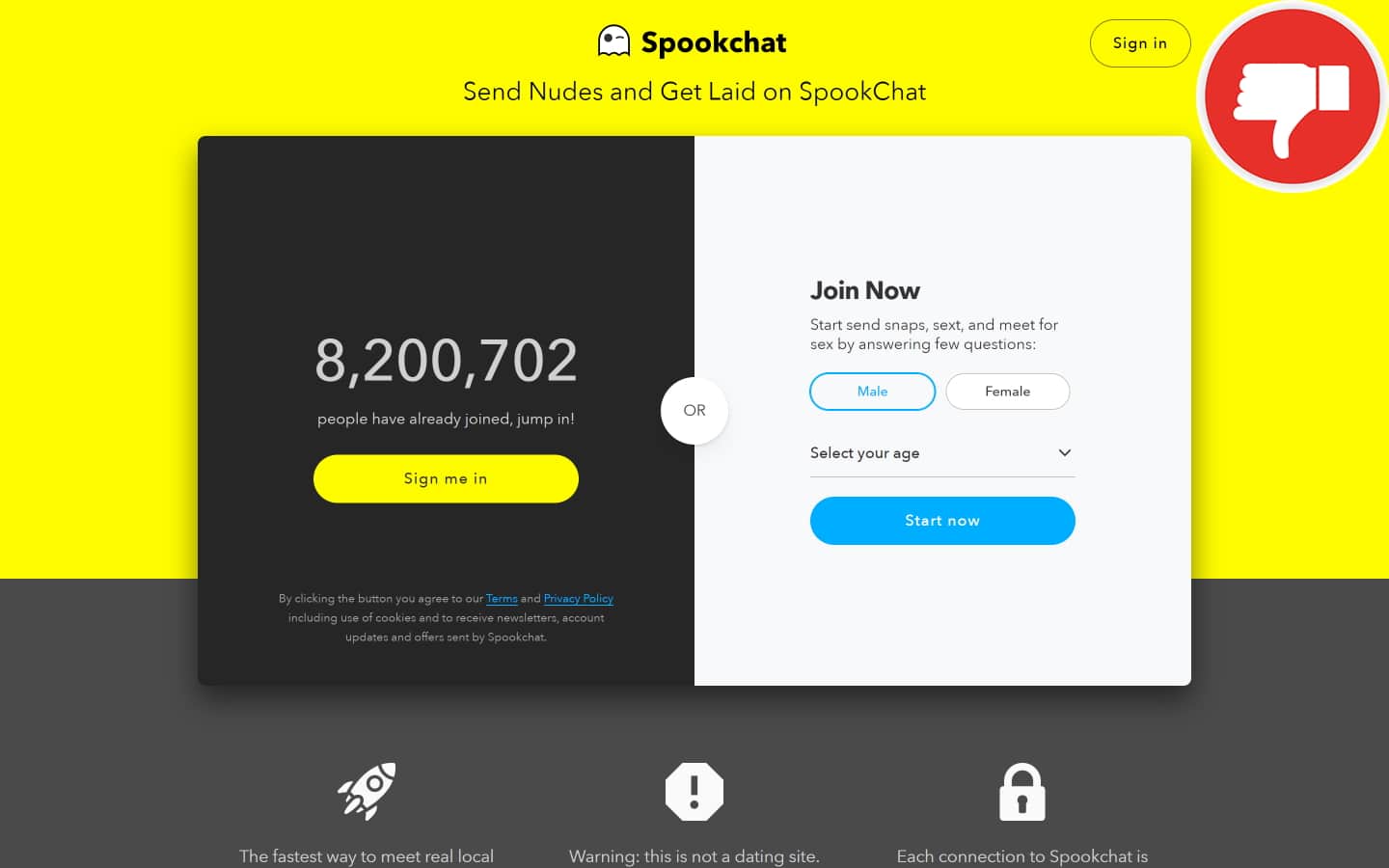 Report for SpookChat.com review
SpookChat.com claims to be the ideal dating website for exchanging nudes with complete strangers that can lead to sex. Supposedly, they guarantee that the fastest way to connect with real local girls who want to send nudes is by using their platform. Those who are worried about their privacy are reassured by the company's promise that they take great pride in keeping their members' personal data private. Each connection to SpookChat.com is secured with a highly effective encryption system. Now that we have seen their claims, let's find out if this platform is a scam or not!
SpookChat.com advertises itself as the lead dating platform for people who like to share their naughty pictures. However, this is not just a website for sexting. According to what we read on the landing page; this is the best site for anyone to get laid. To find out if these claims were real, we created a profile and evaluated SpookChat.com extensively. Moreover, we checked the terms and conditions, then searched the online reviews by former users.
It turns out that SpookChat.com is a fake chat scam. Based on our experience, all the profiles that we interacted with were operated by a piece of software. This software is designed to simulate an erotic conversation. What is not clear is how the company benefits from the rip-off. SpookChat.com is completely free of charge. SPOOKCHAT NETWORK is the operator of this website. We couldn't find any information about their location.
Scroll down to read the details of our SpookChat.com review.
Details on the SpookChat.com review
SpookChat.com might be one of the weirdest dating platforms that we have ever reviewed so far. This website is a fake chat scam. We will provide you with clear evidence that they use computer-generated virtual profiles to communicate with their members. This is obviously not the strangest part, since we have already visited thousands of untrustworthy dating websites that do the same thing. The difference is that in this case, nobody from this website makes any money from its fake chat scheme.
Where are the subscriptions?
According to what we read from the terms and conditions, signing up for SpookChat.com is completely free of charge. However, they clearly stated that to communicate with other members, users are required to become a premium member and pay the relevant fee. They also explained that all subscriptions are subject to automatic renewal, which means that they will keep extending for the same duration and at the same price. Furthermore, sufficient details are provided to illustrate how to cancel the subscription.
Therefore, we accessed the member's area expecting that we would not be able to use the chat feature. Instead, were we able to send several messages to multiple profiles without any limitation, but we also couldn't find any webpage related to payment. There was nothing about credit card information or any offer for upgrading to a premium membership. It looks as if SpookChat.com had changed its policy without updating the legal documents. Unfortunately, this doesn't mean that this is an effective dating platform.
The following text is from the Terms and Conditions
The portal may contain fake profiles created and controlled by the website with which it is not possible to arrange real encounters. The reason for such profiles being on the portal is therefore that of entertaining the user for promotional purposes and other reasons.
Nothing is real
SpookChat.com acknowledges that at least some of the profiles contained in the member's area are fake. It is not specified whether they are controlled by professional moderators or by a piece of software. However, we have a strong feeling that all the messages we received were automatically generated by a chatbot, which is a computer program that replicates human conversation.
In either case, there are no chances of arranging a real erotic encounter. The company that runs SpookChat.com is named SPOOKCHAT NETWORK. Their base of operations is unknown.
The conclusion from our SpookChat.com review
SpookChat.com promises its users exciting experiences on the chat page and with real hot dates. Since almost all the profiles are fake, the chances of meeting someone in person on this site are practically zero. Still, we're hesitant to declare this dating service as a blatant rip-off because users are not at risk of losing any money. This is the only dating website that we have ever visited that advertises a paid subscription, when it is actually completely free. Usually, the opposite happens.
Let us know your SpookChat.com experience in the comments as well.