The result of our SpankingAds.net review: Our test on SpankingAds.net turned out to be an insufficient dating website.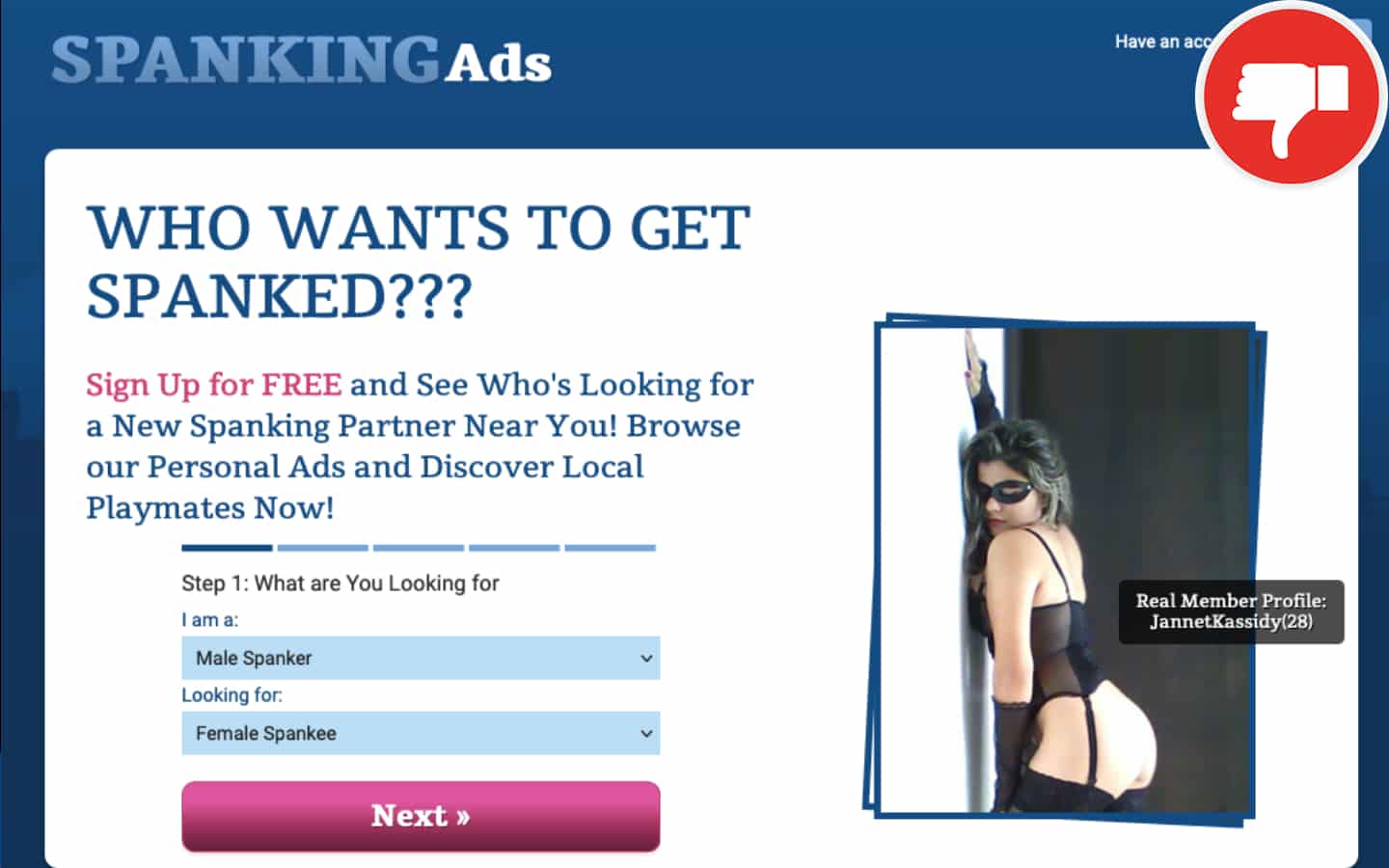 Report for SpankingAds.net review
The dating platform SpankingAds.net offers a spot for "all the naughty singles in need of hard spanking". This may be interesting for many potential users who want to have this experience. Unfortunately, the site is a rip-off.
The operator of this platform is Infinite Connections Inc, based in London, United Kingdom. This operator has a very bad reputation. We have written many reviews about other dating platforms from the same company. In all our reviews, we have uncovered different kinds of scams. This is also mentioned by former customers in reviews that we found about this operator on the internet.
Scroll down to read the details of our SpankingAds.net review.
Details on the SpankingAds.net review
The operator, Infinite Connections Inc, mentions on the landing page that the service is free of charge. That is not true. As soon as we registered on SpankingAds.net, we were redirected to a payment platform. The premium memberships are not cheap. Even with a promotion, the monthly membership costs 20 USD. Without a premium-membership, there is nothing you can do on this platform. Sending or reading messages is not possible without a membership subscription.
Tricky memberships
To entice the new users to subscribe, the operator offers a 5-day trial membership at a very low price. Less than a dollar per day. This may look like a good offer and the perfect chance to try the platform for a very affordable price. Together with the trial membership, the users will also get another subscription to a 3-days trial video pass, with an additional cost. But both memberships are tricky. They will renew automatically and both will become expensive monthly subscriptions.
According to the operator, the subscriptions can be cancelled easily. However, this is not what we have read in the reviews from former users. Many former customers mention that they could not terminate their subscriptions in time. If this is the case, this trial membership should be considered a subscription rip-off. This seems to happen often on all the dating sites run by this operator.
The profiles do not look real
Although we could not find evidence of a fake chat scam, the members' profiles do not seem to be real. This is something that many former customers suspect as well. We are not sure if these fake profiles are created by fake chat operators or by users of the platform. But the operator's bad reputation makes us suspect that these profiles may be part of a fake chat scam.
The conclusion from our SpankingAds.net review
SpankingAds.net is a new addition to the long list of fraudulent platforms run by this operator. Those who decide to pay for a trial membership will soon find out that terminating the subscription is not as easy as the operator says. Furthermore, most profiles on the platform appear to be fake, so the chances of finding someone real here are quite low.
Let us know your SpankingAds.net experience in the comments as well.