SilverSex.com review
March 28, 2022
The result of our SilverSex.com review: Our test turned out to be an insufficient dating website.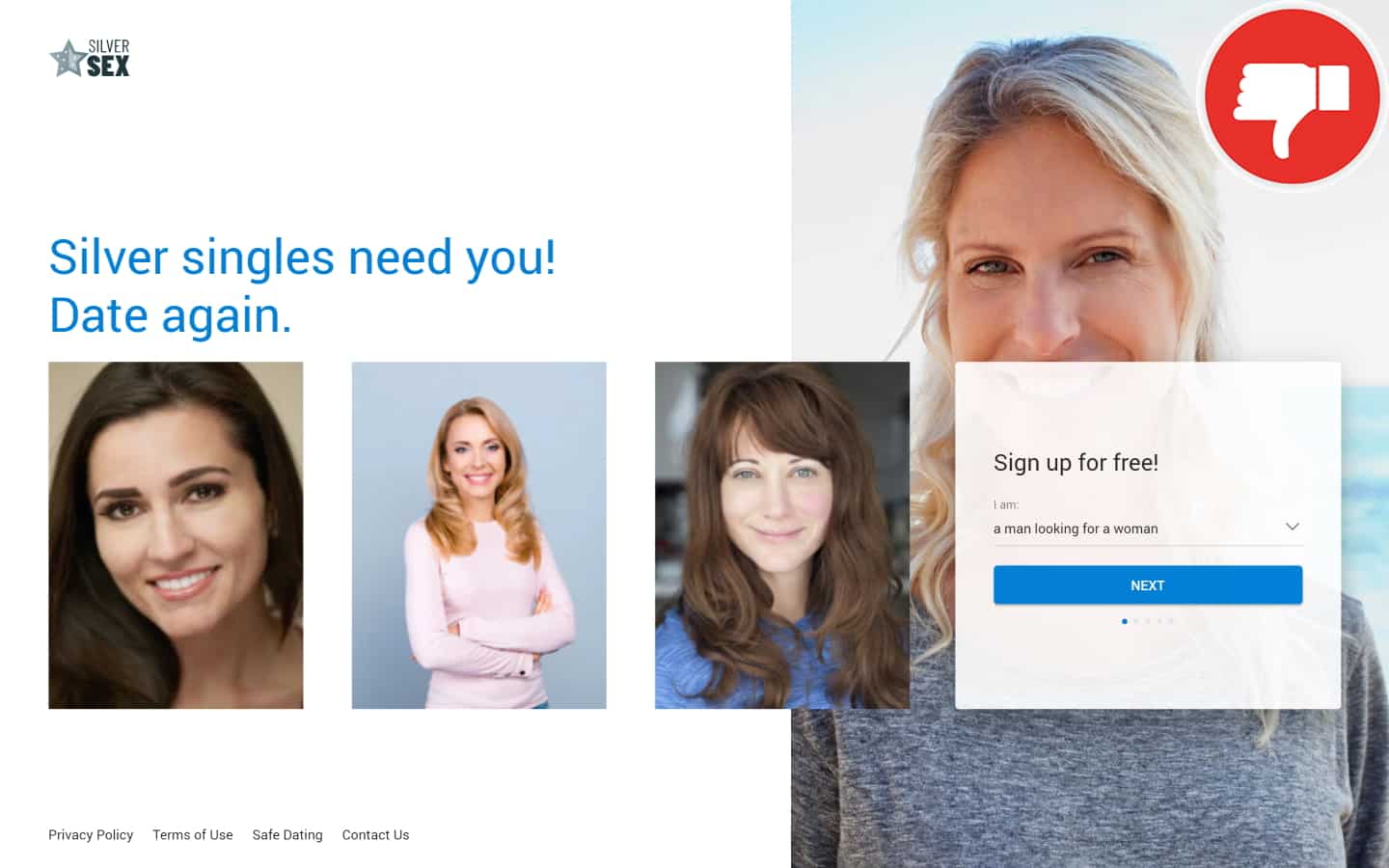 Report for SilverSex.com review
SilverSex.com is a dating platform that invites users to sign up and connect with mature singles ready to date again. Age should never be a limit, and it shouldn't prevent people from having healthy sexual lives. This website presents itself as the ultimate solution to this problem. Its members' area is supposedly full of mature women and men looking for hot experiences.
We already know the operator of SilverSex.com. It is Neosolut Web Services Ltd, a company based in Lamaca, Cyprus. It is infamous on the internet for a variety of scams that are always present on its dating platforms. According to many past users' reviews, these use fake profiles to lure members into buying paid membership, which turns out to be a rip-off.
Scroll down to read the details of our SilverSex.com review.
Details on the SilverSex.com review
SilverSex.com presents itself with a simple yet appealing landing page that doesn't show any erotic content. This is a winning strategy when you are addressing older people who might be put off by explicit images. Here we just found a few decent pictures that portray some of the latest smiling members of this website. They all look like genuine people interested in finding partners for friendships, relationships or casual experiences. Someone viewing this page might form the wrong impression that this is a reputable platform for meeting interesting and serious people.
Registration is advertised as free, but this is only partially true. Free guests can only gain limited access to some features of the website. These do not include any communication tools such as live chatting or the messaging system. To obtain full access to the entire service, users must upgrade to premium membership and pay the relevant fee.
Fake messages
Directly after signing up, a new member receives a lot of messages from good-looking women. This sounds very promising and can lead newcomers to purchase one of the paid options. Only by doing this will they be able to reply to these messages and eventually arrange a meeting. Unfortunately, this is a scam. These accounts are controlled by fake chat operators whose only interest is in promoting the sale of premium membership options. They are professional moderators who don't correspond to the people portrayed in profile pictures.
Moreover, these fake accounts are not marked as fictitious, and they cannot be distinguished from genuine profiles. Real-life meetings are accordingly impossible, since no-one on SilverSex.com can be trusted.
The following note is from the Terms and Conditions
We do not guarantee that all the profiles found in search belong to other users, as we reserve the right to create profiles which are maintained and managed by our employees ("Staff Profiles").
Dangerous subscriptions
Deceived by false promises from fake operators, users may decide to upgrade their accounts, hoping this will lead to what they're looking for. But this is just a subscription rip-off. Premium membership is extended automatically if not canceled at least 72 hours before the renewal date. According to many former users, Neosolut Web Services Ltd, the operating company from Lamaca, Cyprus, routinely rejects all cancellation requests without giving any valid reason.
It's sometimes physically impossible to comply with the cancellation deadline. This is the case with the trial packages that run for less than 3 days, but still require 72 hours' notice to be canceled.
The conclusion from our SilverSex.com review
SilverSex.com promises mature singles that they will be able to reclaim their sex lives. As we have shown with our review, this is just not going to happen. After registration, they will receive a lot of promising messages that will lure them into buying paid membership. But this is just a trap, since the profiles contacting them are fake. Moreover, a subscription will keep being extended indefinitely even after a cancellation request is made.
Let us know your SilverSex.com experience in the comments as well.