ShagMee.com review
August 19, 2022
The result of our ShagMee.com review: Our test turned out to be an insufficient dating website.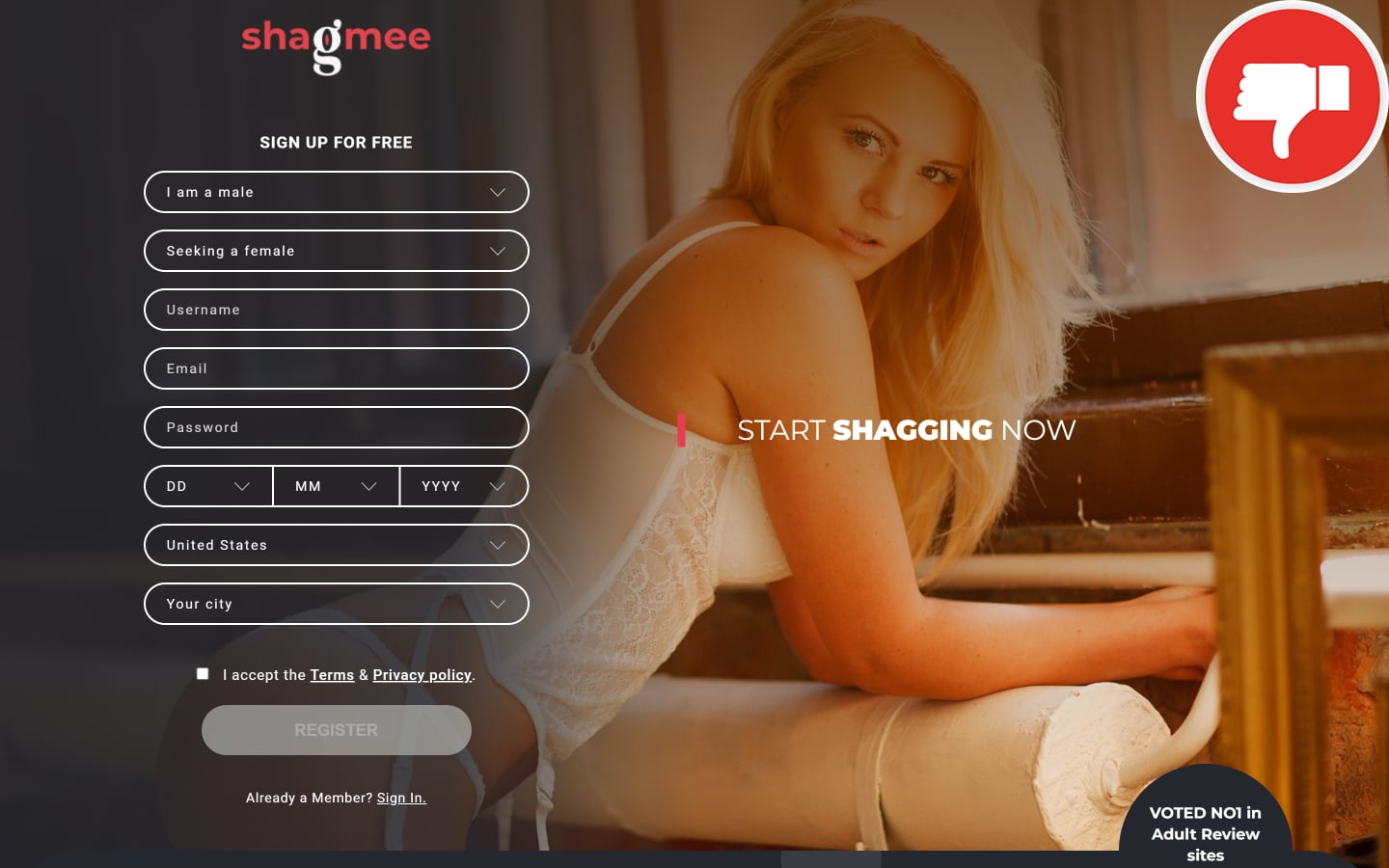 Report on ShagMee.com review
The landing page of ShagMee.com invites all its visitors to sign up for free and start shagging immediately. The domain's name makes it clear that this platform is aimed at those who are looking for casual experiences rather than long-term relationships. Thanks to their latest live chat technology, finding a sex partner has never been easier. Allegedly, thousands of attractive users are waiting for you to join them in the member's area. A quick and free registration is all that stands between you and your dreams come true. Or, at least, this is what ShagMee.com claims.
Our review will prove to you that this platform is not a good choice. It is just a scam with a fake chat scam. Fictional profiles are created by the company's representatives and/or by software that rip off users. These fake accounts don't belong to any genuine member. Therefore, it's impossible to arrange actual dates through this website in real life. All user experience on ShagMee.com is purely virtual and requires a lot of money spending. Contrary to what was implied on the landing page, this platform is not free of charge.
Meet Us Media Ltd is the dating service provider of ShagMee.com. This company is registered in Nicosia, Cyprus, a famous hotspot for scammers who run a multitude of untrustworthy dating portals. They also have a bad online reputation, where they constantly receive countless complaints from former users.
Is ShagMee.com a rip-off?
At first glance, ShagMee.com may look like a legit and effective dating platform, but the reality is quite the opposite. This website is just a fake chat scam. The members' pool is packed with fictional profiles that aren't even operated by real members. In the terms and conditions, the dating service provider for ShagMee.com admitted that users may interact with fake profiles. These accounts are controlled by either professional chat operators or by chatbots. Chatbots are a computer software that is specifically designed to simulate real human conversation.
Users are tricked into thinking that they are chatting with genuine members that they could meet in real life. What actually ended up happening though, is that the messages they had received were sent out by bots and/or by "fake chat" operators. These accounts are not even visibly marked as fictitious so that real users can identify them. Therefore, users can never be sure whether the conversation you're having is real or not. As a result, nobody can be trusted here.  Chances of arranging an actual date are close to zero on this site.
The purpose for having a rip-off scheme disguised as genuine users is to encourage actual users to buy coins. Coins are virtual items that you need to purchase in order to unlock the chat features. Every message that you send must be paid for separately by using 40 credits. The longer this meaningless conversation lasts, the higher the profit this company gains.
Scroll down to read the details of our ShagMee.com review.
Registration on ShagMee.com
You can create your profile directly from the landing page of ShagMee.com, where you will find a registration form that consists of 10 mandatory fields. One of these steps is entering your email address, which you will then receive a link. You must click on the link to confirm your account. Although this step is not required for accessing the member's area, but doing so will grant a few free coins that can be used to test the platform.
After completing the form, you'll have the chance to add further information to make your profile more compelling. You'll even have the option to upload a picture. The whole registration procedure from start to finish, takes no more than two minutes. During the entire process, nothing is mentioned about moderators, chatbots, coins, or costs. The only way that new subscribers could ever learn about these crucial details is by reading the terms and conditions.
Members' area on ShagMee.com
The member's area of ShagMee.com makes a positive first impression due to its simplicity and its professional design. Even people with no prior experience on dating platforms would have no problems whatsoever figuring out how it works. On the left side of the page, there is a pop-up menu where users will find all the important features.
The search box allows users to decide which kind of profiles they want to view first: who is currently online, who lives next to you, or who had just joined the platform. Free registration allows users to see every other member and all their public pictures. If users come across a picture that is blurred, that would mean it is private, and will require permission from the profile's owner to see it in clear mode.
Within a few minutes of our registration, we had already received several messages from attractive women willing to chat with us. Should you decide to join up, expect the same thing to happen to you. Just remember that are all these fake profiles have a common goal. To convince you to use the few free coins that you have and then buy more.
Terms and conditions of ShagMee.com
Extract from the terms and conditions from the ShagMee.com website. Current status of the terms and conditions as of August 19, 2022.
The Company operates system profiles (i.e. profiles connected to Accounts which have been created by the Company and which are either operated by contractors of the Company who impersonate the persons portrayed in such profiles or by a system designed to interact with users) and expressly reserves the right to chat with users through such system profiles to enhance the users' entertainment experience. Physical contact with individuals behind such system profiles is strictly prohibited.
Costs on ShagMee.com
We have already mentioned coins, which are the virtual a currency used on ShagMee.com. 40 coins are required to send one message, which equals roughly $2. Payments are non-recurring. When users run out of coins, there aren't any automatic top-ups. When a user profile is created, the owner of that profile is granted 80 free coins.
You can also earn additional free coins by performing some activities, such as verifying your email or completing your profile. However, these are just enough for sending a few messages, before you end up having to buy more. Credit card is the only payment option available for this site.
Conclusion from our ShagMee.com experience
ShagMee.com promises its users that after completing the free registration, they will immediately be able to find a sex partner in their local area. Unfortunately, this will never happen because none of the profiles on this worthless site has a genuine user for dating. And even if by some small chance that they do have a genuine user, they cannot be distinguished from the fake ones.
The company that hides behind this fake chat is Meet Us Media Ltd. They are based in Nicosia, Cyprus. This is not the first time that we had to review one of the dating platforms they run. Therefore, we knew from past experiences that this company should never be trusted. We recommend our readers to avoid any website associated with this scam company.
Contact data of the operator of ShagMee.com
Meet Us Media Ltd
6 Kratinou, Flat 102
1082 Nicosia
Cyprus
support@shagmee.com
FAQs for ShagMee.com
Here you can find the FAQ (Questions and Answers) for the dating website ShagMee.com
What has attracted positive attention to ShagMee.com ?
ShagMee.com advertises with a solid offer. They guarantee themselves to be the best dating platform for users to start having sex right now.
What has attracted negative attention to ShagMee.com ?
ShagMee.com is a scam with a fake chat service. The site's dating service provider is already known for many other similar dating websites.
What can I do on ShagMee.com with a free account?
Free registration allows you to create a profile, upload a picture, and browse the member's area. Moreover, you will be granted some free coins that are enough for just a couple of messages.
Can I really meet someone on ShagMee.com ?
It's highly unlikely that you will ever be able to arrange a real date on ShagMee.com.
Is there moderators or bots on ShagMee.com ?
In the terms and conditions, we can read that the member's area contains fake profiles controlled by professional moderators and/or chatbots.
How can I cancel my account on ShagMee.com ?
You can delete your account from the control panel on your profile.
Let us know your ShagMee.com experience in the comments as well.