The result of our SexyFeetDating.com review: Our test on SexyFeetDating.com turned out to be an insufficient dating website.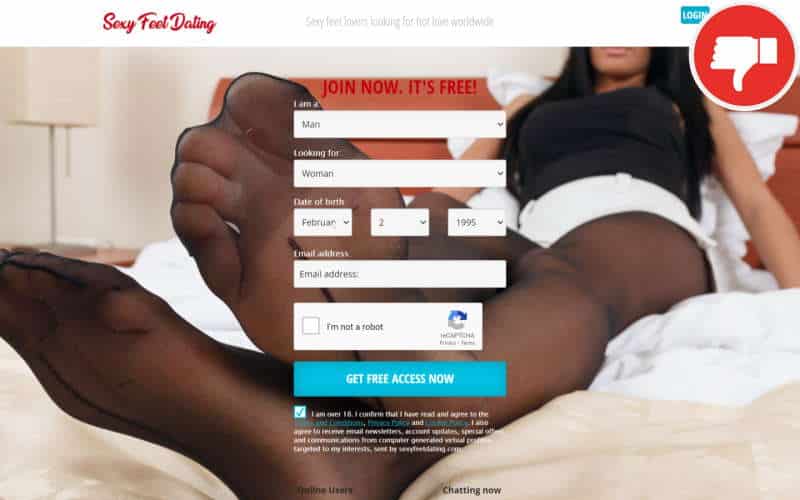 Report for SexyFeetDating.com review
SexyFeetDating.com is a dating portal designed for podophiles. There is something for everyone out there, isn't there? The problem is that, if you want to see real feet, you may as well go to the beach instead, as our review revealed that this particular website is nothing but a fake scam with a subscription rip-off. The operator states clearly in the terms and conditions that they use fictitious profiles.
Indeed, knowing that the website is operated by Tyche Technologies AG, a company based in Zug, Switzerland, we know for a fact that you will not find any real dates here. Instead, you will have a hard time unsubscribing from their service. This company is not new to us. They are part of the notorious Dating Factory network, an expert in fake chat scams and subscription rip-offs. We have reviewed other websites from this operator and the experience was always negative.
Scroll down to read the details of our SexyFeetDating.com review.
Details on the SexyFeetDating.com review
SexyFeetDating.com claims to offer the opportunity to find feet to lick as easily as ordering a taco. You can see a lot of feet on the landing page for sure. As usual, we decided to put this website to the test. Registration is pretty straight forward, but our review revealed that problems start as soon as you create an account. The so-called "member area" is actually filled with fake profiles managed by fake operators whose only goal is to lure naive users into spending their hard-earned money.
When we found out which operator was running the platform, we had a laugh. The name of the company is Tyche Technologies AG, a company based in Zug, Switzerland. This operator is connected to the infamous Dating Factory network, an expert in various scams and rip-offs online. In fact, it did not take us long to find a lot of complaints and negative reviews from former users on the Internet.
An expensive subscription rip-off
Users need to subscribe to a pricey membership in order to use the service and interact with what they believe are genuine profiles. A trial membership is available, which will be automatically reconducted unless the user cancels it in time. Indeed, all subscriptions are subject to an automatic renewal billing policy. Unfortunately, the site's operator is known to make the cancellation process extremely difficult. Consequently, users can quickly end up stuck in a long and costly subscription trap. It would be less problematic if there were real dates on this site, but the sad truth is that there are none.
The following note is from the terms and conditions
You acknowledge and agree that some of the profiles posted on the website that you may communicate with as a member may be fictitious. The purpose of our creating these profiles is to provide our members with entertainment, to allow members to explore our Service and to promote greater participation in our Service. The messages they send are computer generated.
Fake profiles
The operator creates its own fictitious profiles to get in touch with the users and lure them into trickery. They also acknowledge that these profiles send computer-generated messages to "promote greater participation", which makes sense, since you need to be a member to do just about anything on the website.
The conclusion from our SexyFeetDating.com review
SexyFeetDating.com is a blatant scam. They are part of the Dating Factory, an infamous network which operates fake chat scams and subscription rip-offs through different websites. Our review shows that this is again the case here and that any experience on this website is doomed to leave you miserable, and a lot poorer.
Let us know your SexyFeetDating.com experience in the comments as well.