SensualFlirts.com review
October 7, 2022
The result of our SensualFlirts.com review: Our test turned out to be an insufficient dating website.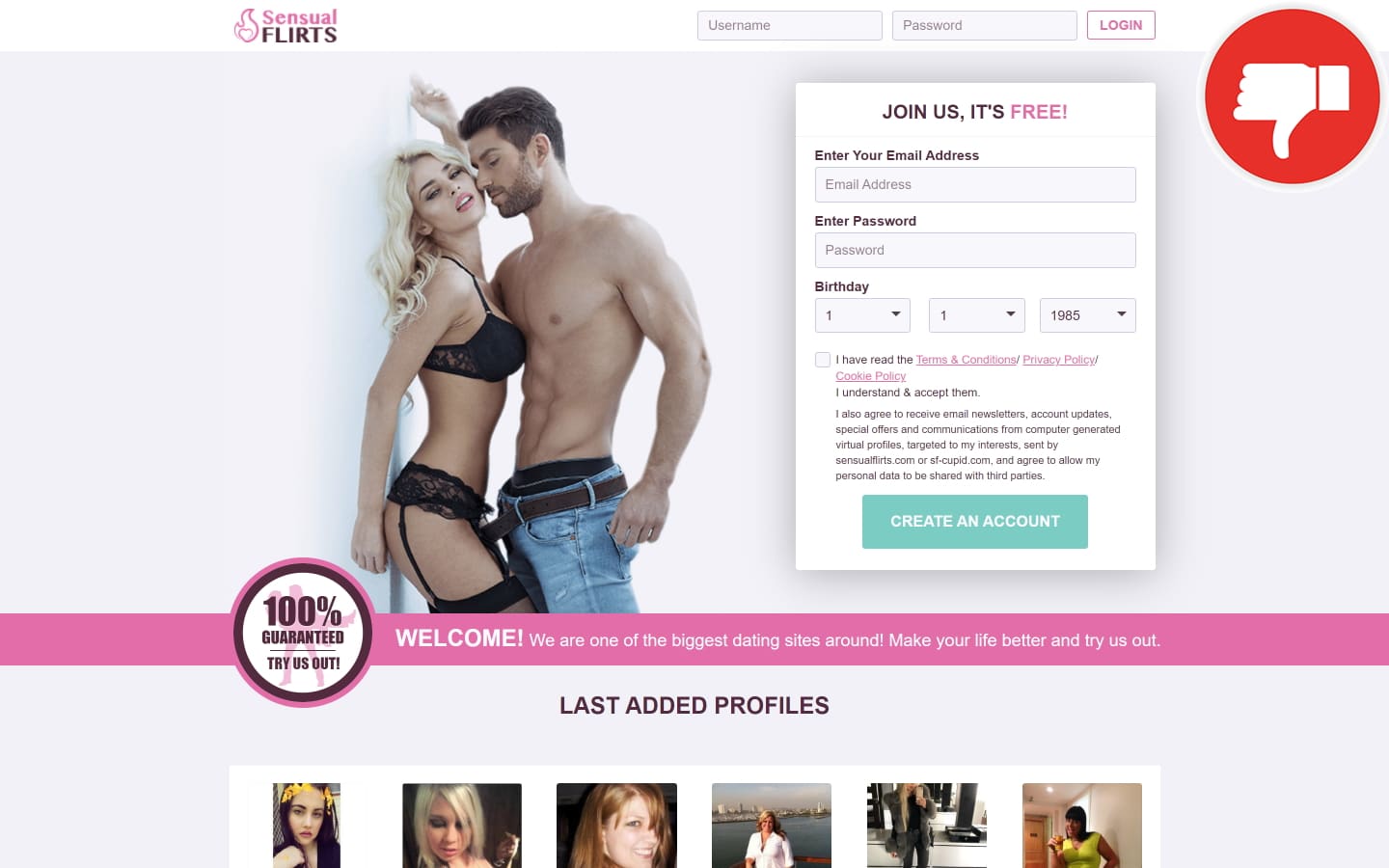 Report for SensualFlirts.com review
SensualFlirts.com claims to be the best place on the internet, for meeting and chatting with singles. Their homepage states that users are guaranteed to have success using their services. It also displays examples of the attractive profiles which users can contact after registration. Signing up for this dating portal is supposedly free, which makes it seem like a promising dating platform. The company managing SensualFlirts.com is Maunaloa Ltd, who have headquarters in Nicosia, in Cyprus. The location of this company is known for being a scammer's hotspot.
Because of our suspicions, we conducted a thorough review of the Terms and Conditions of this dating portal. Additionally, we made a test account, to check out the inner workings of the site. We found that this website is not as ideal as it initially seems. It is a fake chat scam and subscription rip-off.
SensualFlirts.com state, in their terms of service, that they use fictional profiles to communicate with users. This is an indication of a fake chat scam. Further investigation proved this to be true. When attempting to have conversations with the profiles who sent us messages, we were unable to proceed, unless we first purchased a premium subscription. Of course, we did not do this. Our experience allowed us to recognize the subscription trap.
Scroll down to read the details of our SensualFlirts.com review.
Details on the SensualFlirts.com review
Though SensualFlirts.com appears to be a promising dating portal, a thorough dive into the Terms and Conditions, showed otherwise. To gain a complete understanding of the website's functions, we made an account of our own. Despite claiming that it is free to register, and start flirting with local singles, we found that SensualFlirts.com requires a paid subscription to use the chat features. Additionally, it is unlikely that you will find anyone genuine on this site.
Fictional entertainment service
The Terms and Conditions state that this site uses automated profiles, to make the website more amusing. What this really means, is that the operator will hire staff to pose as real members, and use computer-programmed chatbots, to start conversations. The operator is Maunaloa Ltd, from Nicosia, in Cyprus. This is a dangerous scam and a sign of a rip-off. If users do not notice this memo in the fine print, they will assume that the messages from these profiles are genuine. Many users will fail to notice the use of fake profiles.
So, they might easily be persuaded into purchasing a premium membership. This is required to send replies to the enticing messages that they receive. When logged into our test account, we noticed that messages immediately began filling up our inbox. This was odd, since our account lacked any details and did not have any photos. We examined the profiles which sent us messages and discovered that they were all fake. They are marked by the nickname Pearl Class. This nickname is supposed to clearly distinguish false profiles, but it is difficult to spot.
From the Terms and Conditions
From time to time, while You use Our Services, You may interact with automated online accounts and/or false profiles, which all its content has been generated by either: a) real persons that have been only contracted or employed by Us for the purposes set-forth below; or/and b) by automated programs or scripts, which dialogues none really exist and have been generated exclusively by programming ("Automated Profiles.")

The purpose of the implementation of Automated Profiles in Our Website is to enhance Your amusement experience and providing You with entertaining and conversational services, so You can be stimulated to use Our Services more extensively, for example, by helping You to intercommunicate better with other users which are actually real.

According to the Bolstering Online Transparency Act or any other equivalent regulation that may be applicable, We have added the tag with the nickname "Pearl Class" to all the Automated Profiles that are being used in Our Website, so You can clearly identify them. Such tag will always be displayed on the top bottom right of the user's identification information.
Subscription trap
SensualFlirts.com uses automated and fictional profiles, to lure unknowing new users into purchasing a paid subscription. Since a subscription is required to send messages, fictitious profiles send enticing messages to users. These encourage them to sign up. These subscriptions are expensive and renew automatically. Therefore, members will be charged until they cancel it. It is notoriously difficult to successfully cancel a subscription rip-off.
The conclusion from our SensualFlirts.com review
Despite seeming quite promising at first sight, our review of SensualFlirts.com found that it is a fake chat scam and a subscription rip-off. This website uses fake chat operators, and automated chatbots, to interact with new users. Our experience the purpose of this is to trap unsuspecting users in a cycle of subscription payments. It is extremely unlikely that you will meet anyone real on this website. Every profile we had contact with was fake.
Let us know your SensualFlirts.com experience in the comments as well.