The result of our SeniorSwingersClub.com review: Our test on SeniorSwingersClub.com turned out to be an insufficient dating website.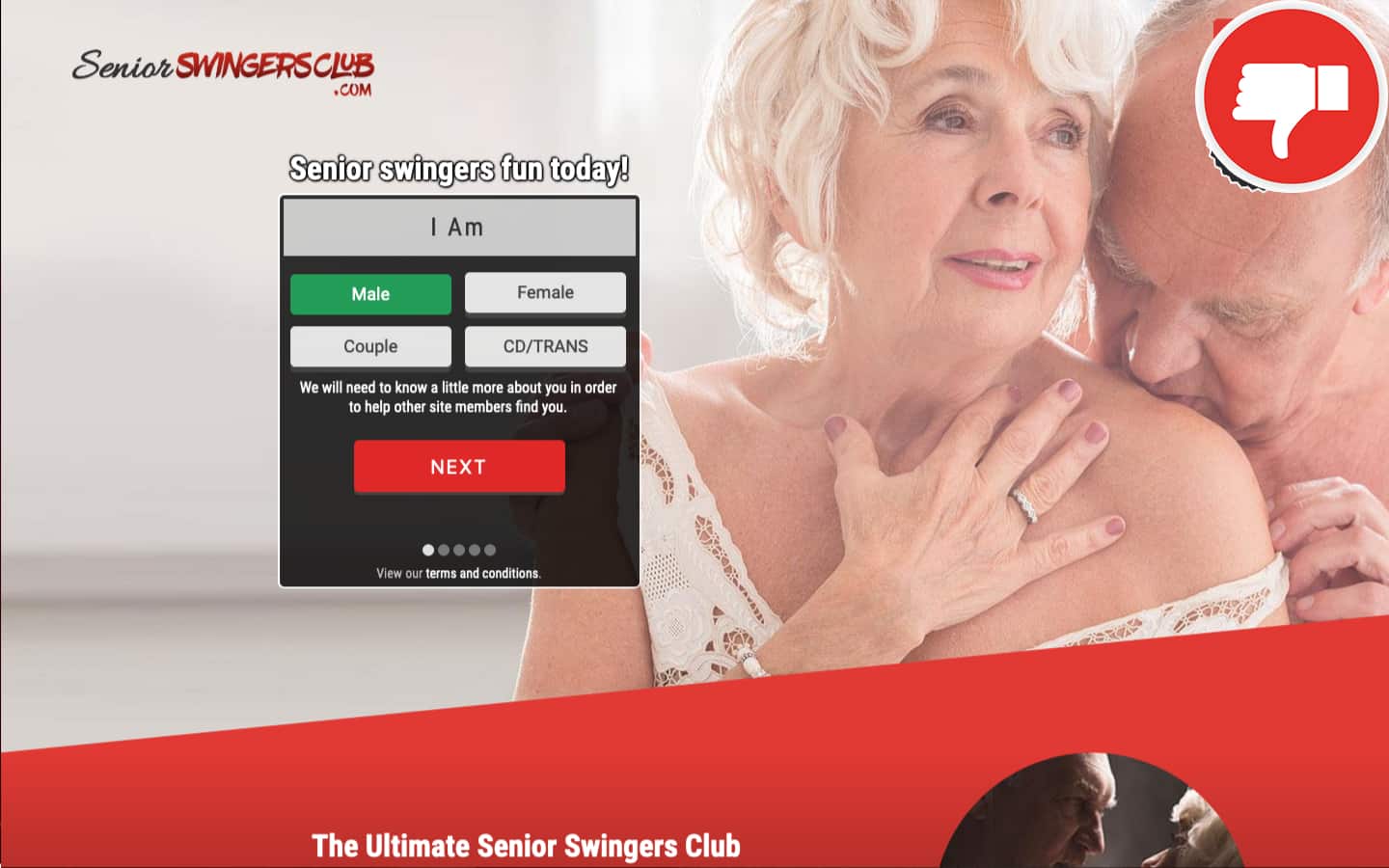 Report for SeniorSwingersClub.com review
SeniorSwingersClub.com claims to be the ultimate senior swingers club and offers free registration. You would think that this kind of entertainment would require the users to meet and interact in real life. This is however not the case. Users are led to think they can meet the other members in person, but SeniorSwingersClub.com is full of fake profiles. The dating site is operated by NetFanPix Limited located in Douglas, on the Isle of Man.
While doing our research for SeniorSwingersClub.com, we decide to sign up to get a better insight ourselves. The operator does not give any proof for the usage of fake profiles. However, we have had enough experience with fake chat scams to know how to spot one. Several negative user reviews also point out that SeniorSwingersClub.com cannot be trusted. Using the chat function requires a paid membership. This is where the fake profiles come into play.
Scroll down to read the details of our SeniorSwingersClub.com review.
Details of the SeniorSwingersClub.com review
Judging by the front page, SeniorSwingersClub.com seems to be a fun dating site for seniors looking for some excitement. The first step is the registration. It just takes a few minutes to sign up. Suddenly we realize that some promises made on the front page are misleading.
The operator gave us the following promise
Join today it is 100% free
Saying that something is 100% free makes it sound like everything is completely for free. The operator is however only referring to the registration. But by making it sound like everything is for free, you can entice more people to sign up. We soon find out that users are supposed to purchase a VIP membership which turns out to be a subscription.
Fake profiles in the members' area?
A VIP membership is already required to chat with other members of the dating site. After having successfully created our account, we already receive the first messages. We did not invest too much time in completing our profile, and we did not add any information or even a profile picture. Why other members would be interested in chatting with us. We suspect a rip-off as soon as we find out about the VIP membership. As normal users we can neither read nor send messages. Apparently, fake chat operators are controlling fake profiles and use them to send messages to the users. This way they make the VIP membership look more appealing.
Memberships are in fact subscriptions
A short VIP membership of only a single month costs more than 50 dollars. There is a discount for longer lasting memberships to make the users pay for a longer period. Memberships on SeniorSwingersClub.com renew automatically unless you submit a cancellation 5 days before the final date. Although this can easily be forgotten or overlooked, SeniorSwingersClub.com does not appear to be an obvious subscription rip-off.
SeniorSwingersClub.com has received several user reviews online, all of which are negative. Apparently, we are not the only ones to suspect a fake chat scam here. The dating site is operated by NetFanPix Limited located in Douglas on the Isle of Man. This seems to be a rather suspicious location for an operator of international dating sites.
The Conclusion from our SeniorSwingersClub.com review
You can only chat on SeniorSwingersClub.com if you are a VIP member. Only a subscription makes it possible to upgrade your membership. Having a subscription-based membership that comes with a short period of notice is nothing unusual. But we are concerned about a suspicion which is shared by several users. Fake profiles are part of the members' area on this dating site. They are controlled by fake chat operators who try to scam the users.
Let us know your SeniorSwingersClub.com experience in the comments as well.