The result of our PumasLove.com review: Our test on PumasLove.com turned out to be an insufficient dating website.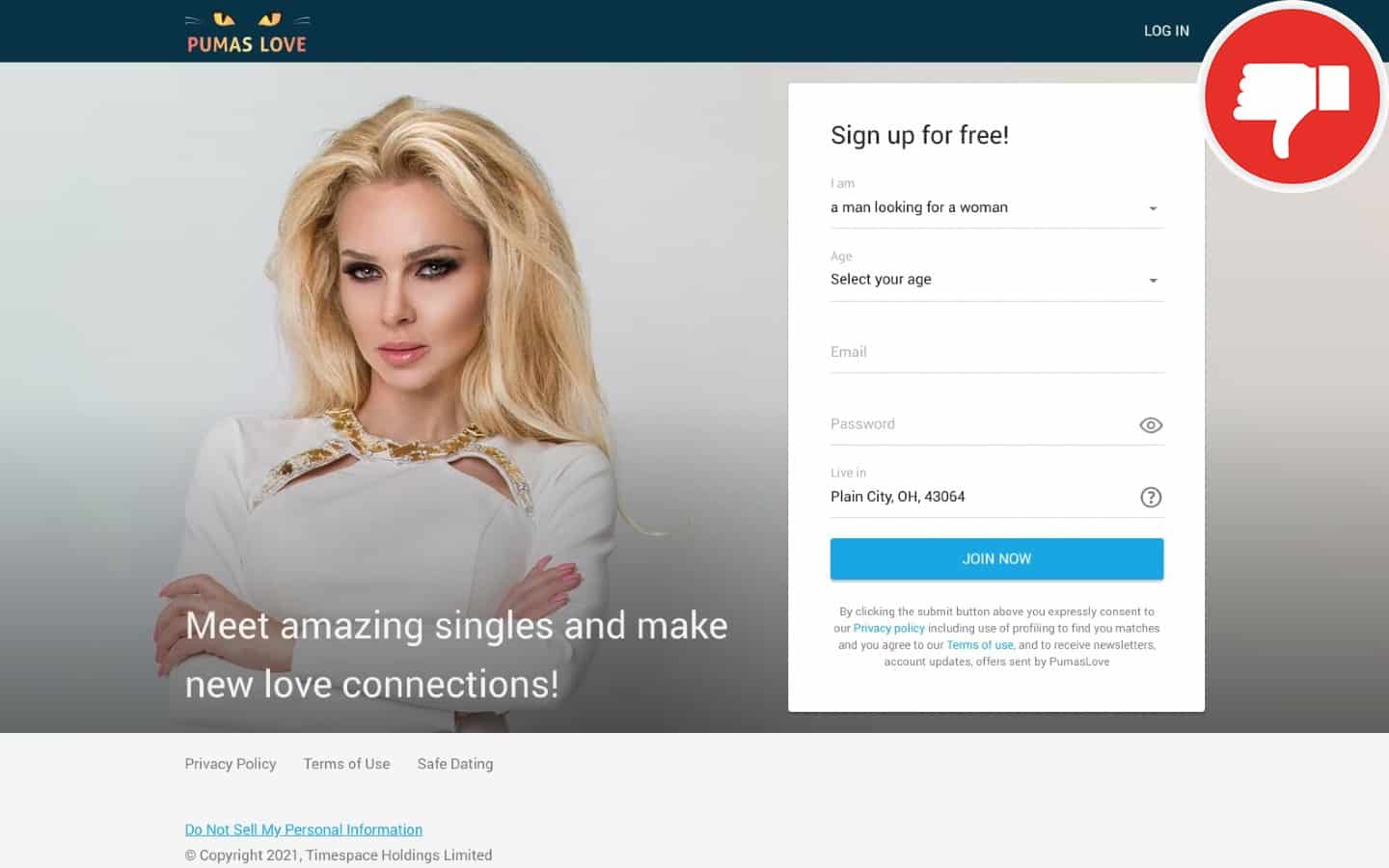 Report for PumasLove.com review
Users interested in meeting amazing singles and making new love connections may feel attracted to register on PumasLove.com. Registration is free, and it takes only a couple of minutes. However, we should say from the beginning that registering here is a big mistake. The platform is a complete scam. The site is a clear subscription rip-off.
The dating website is operated by Timespace Holding Ltd, based in Tortola, in the British Virgin Islands. Our experience with this operator is negative. All the platforms that we have reviewed from this operator were a scam. The same is true here, as users will become victims of a subscription trap.
Scroll down to read the details of our PumasLove.com review.
Details on the PumasLove.com review
The online dating platform PumasLove.com offers free registration. But that is all they mention on their landing page. There is no information about the costs that users will have to pay after registering. Because on this platform, nothing but registration is free. The operator of the platform, Timespace Holding Ltd, is well known for all kinds of scams. We have written several reviews about some other websites from this company. It seems that they always use the same tricks. Here they use both fake chat operators as well as a subscription rip-off.
Getting the interest of the potential users
Before asking the users to pay for a membership, it is necessary to get their attention. And to do so, the best way is by making the users think that the platform is full of interesting profiles. For that, the company will use fake profiles. These are managed by fake chat operators employed by the company. Although this is not mentioned in the terms and conditions, there are plenty of reviews on the internet which mention this. Former users explain their experiences with these fake operators and how they try to get them to subscribe to a paid membership.
But memberships here are expensive, and this may discourage many users. The best solution is to offer a short and cheap membership. But these trial memberships will become expensive and dangerous traps.
All
membership
s
will renew automatically
It is normal that subscriptions for all kinds of services renew automatically. Therefore, automatic renewal should not be considered a scam. But here things are different, as the operator uses a clear subscription rip-off. This subscription trap happens because the automatic renewal cannot be canceled on time. The deadline for cancellation is 72 hours. As the membership is for three days only, it is impossible to terminate the trial membership in time. That means that the membership will extend automatically to a monthly paid membership with very high costs.
The following note can be found in the terms and conditions
All paid subscriptions automatically renew for the period and price that you signed up to. You may cancel the auto-renew feature to avoid recurring charges, but you must act at least 3 days (that is, 72 hours) prior to the renewal date.
The conclusion from our PumasLove.com review
The website PumasLove.com uses fake chat to lure new users to subscribe to a paid membership. But these memberships turn out to be a cheeky rip-off. We have written many reviews about platforms from this operator. In all of them, we have found out the same kind of scams. Therefore, we do not recommend this platform.
Let us know your PumasLove.com experience in the comments as well.