The result of our PeggingDates.com review: Our test on PeggingDates.com turned out to be an insufficient dating website.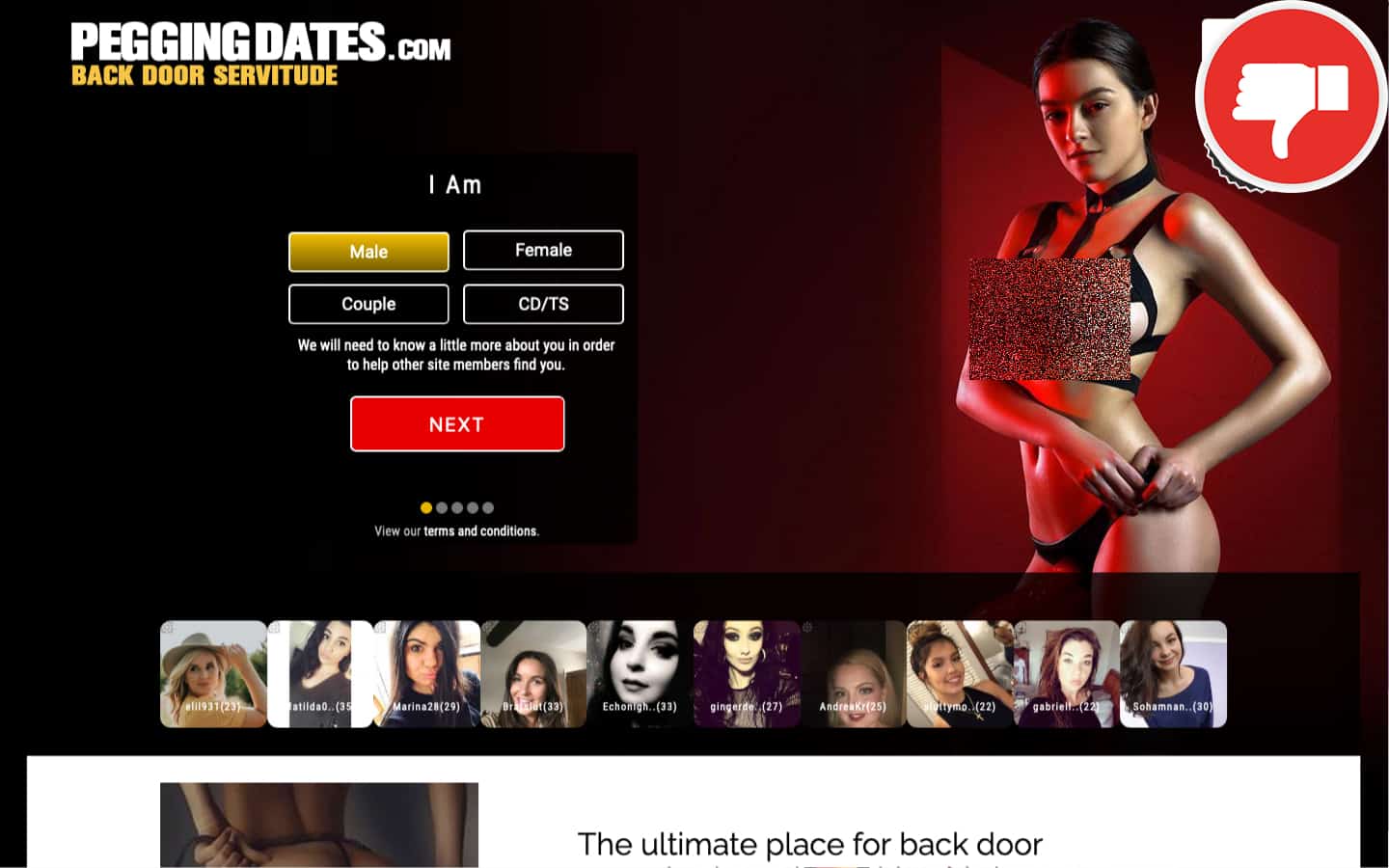 Report for PeggingDates.com review
PeggingDates.com is a dating site that advertises with free registration and the horniest members on the web. Pegging is a sexual act, where a strap-on dildo comes into play. Cintilet Limited is based in Dublin, Ireland, and is the operator of PeggingDates.com. The company seems to have the right dating site for everyone. The network of Cintilet Limited consists of numerous dating sites which all work in the same way. The other profiles in the members' area are moderated and part of a cheeky scam.
Users of this site are not supposed to find out about the actual identity of the other members. Instead of attractive and willing women, they are chatting with fake chat operators. Chatting on PeggingDates.com is not free for regular users. The fake chat operators are aware of that and manipulate them in the chat.
Scroll down to read the details of our PeggingDates.com review.
Details on the PeggingDates.com review
PeggingDates.com describes itself as a wild dating site for "Back Door Fun". The black design of the front page looks appealing. Pegging normally refers to a sexual act that involves a woman penetrating a straight man wearing a strap-on dildo. Since the front page only shows photos of attractive female members, PeggingDates.com mostly aims at a male audience. The attractive female members do not seem to be real. They are fake profiles created by the operator.
This is not our first experience with Cintilet Limited, the operator of PeggingDates.com based in Dublin. Apparently, this Irish company always creates fake profiles to let them interact with the users. To make this possible, fake chat operators are employed. They use the fictitious profiles, which allows them to stay undercover. In the terms and conditions these profiles are referred to as "test dating profiles".
Here is how they are described
From time to time, the Company employees (or employees of its parent or affiliated companies) may create test dating profiles for the purpose of checking and testing the functionality of our Website and Service to improve the quality and user experience for its Users.
Fake Profiles are part of a trick
These profiles are indeed used to improve the user experience in a way. On PeggingDates.com it does not take long for any user to receive several messages from other members. In fact, they are being contacted by fake chat operators who try to start several conversations. This way they will be rather willing to sign up for a paid membership. As a non-paying member, you cannot read your messages. This is how this trick works.
Apparently not too many users had to deal with this site's rip-off. Proper user reviews for PeggingDates.com are nowhere to be found. The dating site might not be a subscription rip-off, but the paid membership comes with a cancellation period of 5 days. If you fail to cancel in time, the membership renews automatically. Since many members on PeggingDates.com are not real, you should not consider signing up on this scam site in the first place.
The conclusion from our PeggingDates.com review
PeggingDates.com is a dating site for men with a special kind of fetish. Pegging requires a real-life encounter, which PeggingDates.com cannot really offer. Many of the members appear to be fake chat operators. They only engage in conversations with the users because users must purchase a membership to use the chat function. You must also be careful about the cancellation period of 5 days.
Let us know your PeggingDates.com experience in the comments as well.