OneWife.com review
October 20, 2022
The result of our OneWife.com review: Our test turned out to be an insufficient dating website.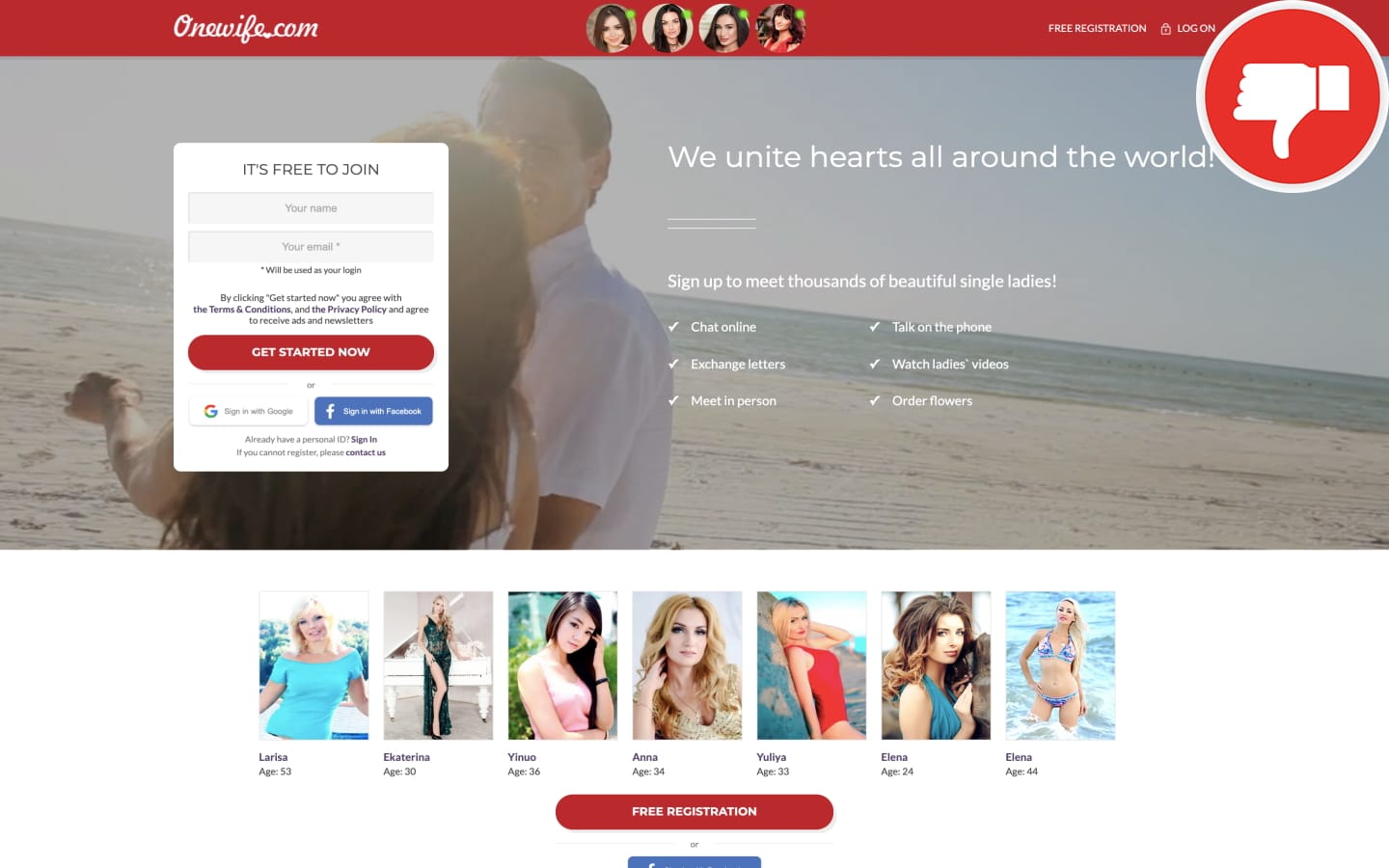 Report for OneWife.com review
The landing page of OneWife.com makes a great first impression. The website looks professional and is nicely designed. It advertises beautiful singles from around the world and says registration is free. It displays examples of profiles, which include pictures of attractive women. The operator of this website is May Group Solutions LP, which is based in Dublin, Ireland.
Though this dating website looks like a promising place to find dates and relationships, our research found some issues. The website says it is safe that all female profiles are verified, and that finding a relationship is easy. Unfortunately, we found that this website is very likely a fake chat scam. Although it is free to sign up for an account, users must purchase an expensive virtual currency to read or send messages, and use other functions. Also, it appears that many of the profiles may be false.
Another issue with this website is that its operator has a very poor reputation. We found many user reviews accusing the operator of running rip-off and scam websites. Our experience on the website supports these accusations. Overall, this website is not a good choice to meet real people.
Scroll down to read the details of our OneWife.com review.
Details on the OneWife.com review
OneWife.com initially seems like a reliable and exciting dating website where users can find relationships with beautiful women. Though it appears to be perfect, our review found that this is not the case. In reality, OneWife.com looks to be a fake chat scam and a rip-off. We found many profiles that appeared fake, received suspicious messages, and discovered that chatting is expensive.
Expensive virtual currency
Although it is free to register an account on OneWife.com, you have to pay to use it. To unlock the messaging feature, you must buy a virtual currency called "credits." You will have to buy expensive bundles of credits to read and send messages. This means that users could end up spending huge amounts of money in a short amount of time.
Suspicious profiles and messages
Another problem with this website is the large number of suspicious profiles. Although it does not state so in the Terms and Conditions of the website, we suspect that this platform is using false accounts run by fake chat operators. Not only have many user reviews accused the operator of filling their websites with fictitious accounts, but we also ran into numerous profiles that looked too good to be true. Almost all of the profiles looked like models.
We also received multiple messages from attractive accounts immediately after signing up for an account. We found this odd because our profile was completely blank, without any information or photo. It's quite unlikely that a real person would contact an empty profile.
Poor reputation
The operator of this website has a terrible reputation online. This company is May Group Solutions LP, from Dublin, Ireland. They are known to run a network of online dating sites that we have given poor reviews to in the past. Other user experience reviews have also complained about rip-offs and scams from this operator.
The conclusion from our OneWife.com review
We found that OneWife.com is likely a fake chat scam and a rip-off. Using the features of the website is not free, but requires the purchase of an expensive virtual currency. Also, internet reviews claim that the operating company often uses fake chat operators, and we noticed many suspicious profiles. Given the poor reputation of the operator, we see this website as untrustworthy. Overall, the chance of finding a real relationship here is low.
Let us know your OneWife.com experience in the comments as well.