NeighborsWhoPlay.com review
February 7, 2023
The result of our NeighborsWhoPlay.com review: Our test turned out to be an insufficient dating website.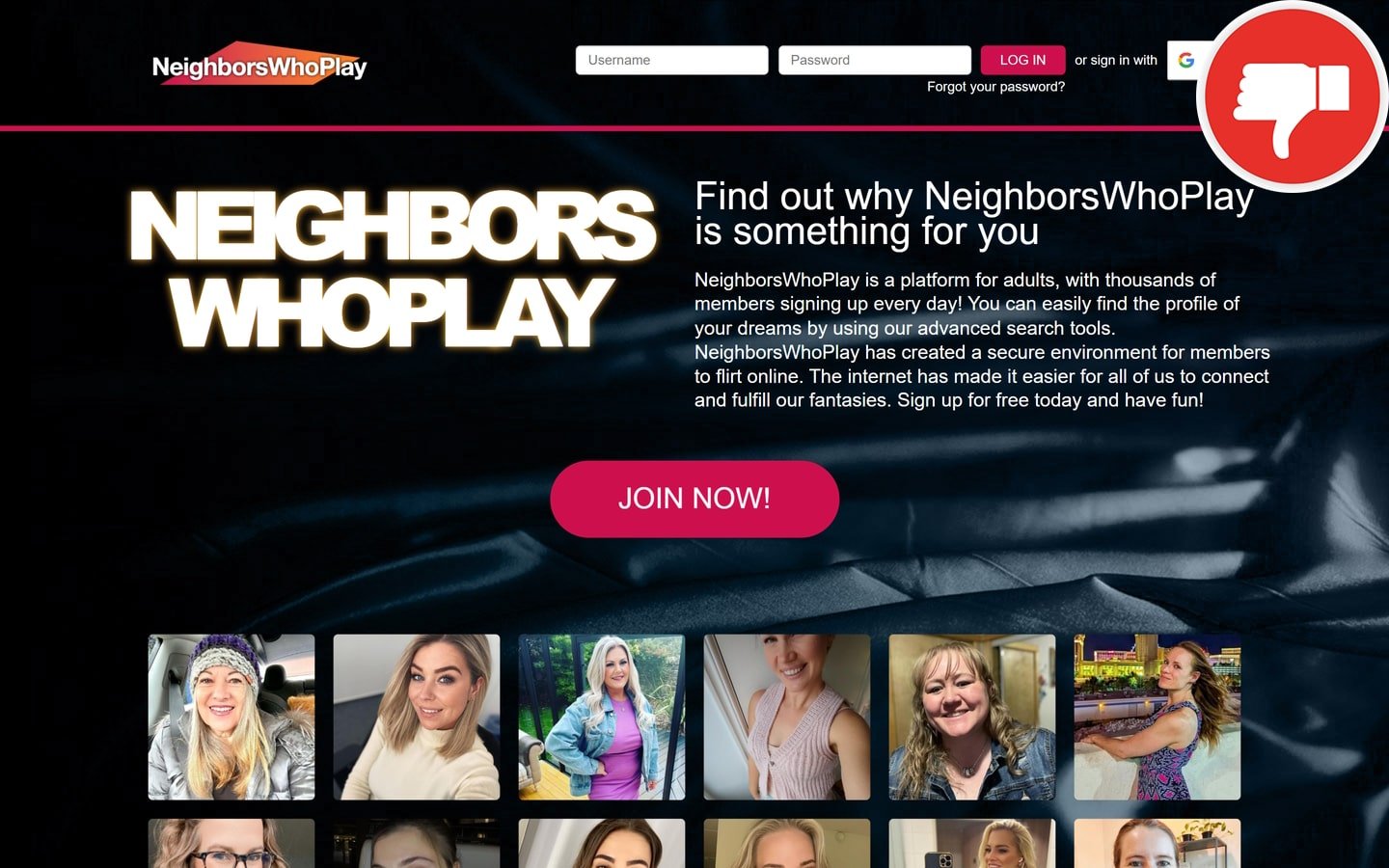 Report for NeighborsWhoPlay.com review
When we get to the starting page of NeighborsWhoPlay.com, we see a rather blank and uninspiring page, with a dark background. The name of the website shines at us in neon lights. The opening text highlights the benefits of the website and gives us hope of finding a dating partner. The website promises us that we can flirt and chat, with thousands of daily signed-up users, in a safe environment.
Scrolling down, we can already see some profile samples, which appear to be from real women, who are registered on the site. However, before we can chat with them, we must register for free. The operator of this website is White Mountain Online Solutions BV, which is based in Krimpen aan den IJssel in the Netherlands.
To get more detailed information about this website, we continue our review, by creating an account and looking at the Terms and Conditions. We soon find the information that this website is only a fantasy service, and all interactions are with operators, and not with real people. So, it becomes clear that this website is a scam and a rip-off. We also find information that the profiles, which are fictitious, are marked with a heart symbol. Negative experiences from other users on the internet, also confirm that this website is indeed a scam.
Scroll down to read the details of our NeighborsWhoPlay.com review.
Details on the NeighborsWhoPlay.com review
Although the starting page of NeighborsWhoPlay.com is quite blank, it looks quite promising, at first. The operator, White Mountain Online Solutions BV, which is based in Krimpen aan den Ijssel, in the Netherlands, claims that thousands of members sign up every day. Therefore, we can find the profile of our dreams, with ease.
With pictures of apparently registered women, with whom we can chat, the website wants to give us a first impression of seriousness. But it is only when you scroll down the homepage, that you realize the true purpose of the site. Fictitious profiles serve to "entertain" the users, but real contact with these women is never possible. A closer look at the website's Terms and Conditions also tells us more about how this website rips off its users, with fictitious profiles and fake chat operators.
This is what we found in the Terms and Conditions
You also understand that this is a fantasy entertainment Service and that (i) the profiles are fictional and your interactions will be with operators;…
Expensive messaging costs
After we set up our account, we are taken to the members' page. Here, we can search for other members based on gender, age, and location. At first sight, none of these members appear to be fictitious. However, if we look at the profiles closely, we can see a heart symbol next to the name, which indicates a fictitious account, which is created by operators. Without even filling in any profile information, or uploading a picture, we also receive a lot of messages within the first few minutes, after signing up.
If we then want to chat with one of these members, we cannot do so easily. To write messages, "credits" must be bought first. There are different options that vary in the number of messages available, and the cost. 3 messages cost $2.99, while they can go up to 300 messages, which would cost $300.00. However, finding other members, who are real, is almost impossible. Also, the cost of a message is quite high, which is a clear indication of a rip-off website.
The conclusion from our NeighborsWhoPlay.com review
Profiles created by operators that only serve to entertain users, fake chats, and expensive messaging options. All this, unfortunately, makes us have a bad experience with the website NeighborsWhoPlay.com. Right on the starting page, we see the information that we will mainly meet fictitious profiles. This information is quickly confirmed. We immediately receive messages from some users, without providing any further information about ourselves, in our profile. In addition, there are costs of up to $300 for sending messages. Therefore, based on our review, we advise you not to use this website.
Let us know your NeighborsWhoPlay.com experience in the comments as well.