The result of our Nearby-Dates.com review: Our test on Nearby-Dates.com turned out to be an insufficient dating website.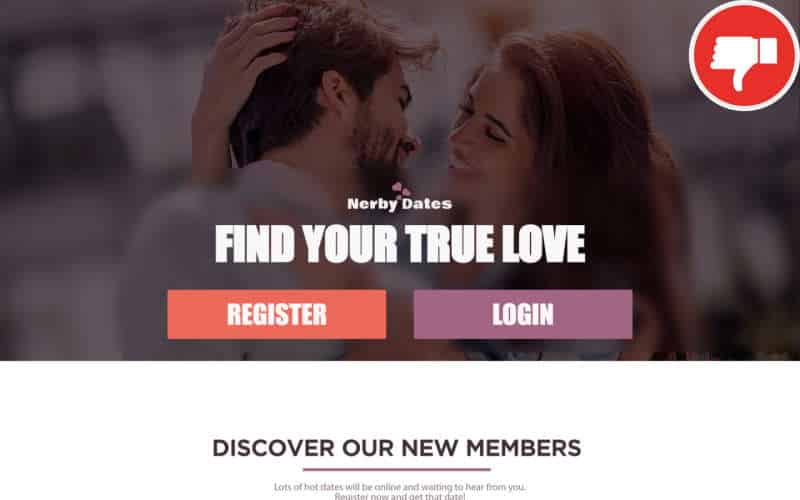 Report for Nearby-Dates.com review
The dating portal Nearby-Dates.com invites the reader to join a community, where he will allegedly be able to find true love. Quick registration is all that is needed to browse through a huge database of open-minded people from every corner of the country.
It looks like it's quick and easy to find a partner for a date, but our experience with the operator of this website tells us something different. Gagatas Ltd, which is based in Nicosia, Cyprus, is well known for using fake chat to rip off its customers, making them believe a lot of people are interested in meeting them. But this is just a scam as the 'person' they are talking to is not real and the messages arrive from an automated online account.
Scroll down to read the details of our Nearby-Dates.com review.
Details on the Nearby-Dates.com review
The landing page of Nearby-Dates.com has a simple and clean design and doesn't show any explicit content. A beautiful picture of a smiling couple welcomes visitors and invites them to sign up with the promise that they will be able to find somebody to fall in love with.
A photo gallery highlights new members, indicating they are all real people waiting for a date. At the bottom of the page, we find a section with tips and tricks on how to create an effective account that can maximize the chances of getting attention from other users. We have to admit the first impression is positive but, as we will reveal in this review, the reality is very different from its appearance.
Chatbots
As we always do, we head to the page of Terms and Conditions, where a user can get important information to find out whether the website is a rip-off or not. After reading it carefully, we finally have evidence that Nearby-Dates.com doesn't deserve any trust.
The reason is that the platform uses fake profiles to lure members into buying expensive credits, which are necessary to get in touch with others. The messages coming from these accounts are automatically generated with software called chatbots. The worst part is that the victim of this scam is not aware that the 'person' he's talking to is not real. He therefore thinks buying a few credits is all that separates him from a hot date.
But since the accounts are fake, real meetings are obviously not possible and the whole experience will be just virtual.
The following is stated in the Terms and Conditions
You may interact with content generated by, or with the assistance of, automated online accounts ("Bots" or "Automated Profiles"), where none – or substantially none – of the actions and posts of that Automated Profile are the result of, or arise in connection with, a natural person's profile or otherwise User Content.
It's not the first time
In the past, we have already written several reviews about Gagatas Ltd, the operator of Nearby-Dates.com, which is registered in Nicosia, Cyprus. All their dating websites use fake chat, and this is confirmed by many other reports that can be found online.
The conclusion from our Nearby-Dates.com review
Nearby-Dates.com claims to be the perfect platform to finally meet your soulmate. But this is not going to happen on this or any other portal of this company. Every conversation is pointless because all the messages come from automated accounts created for the sole purpose of making you spend a lot of money without getting anything back.
Let us know your Nearby-Dates.com experience in the comments as well.