NaughtyTime.com review
March 30, 2022
The result of our NaughtyTime.com review: Our test turned out to be an insufficient dating website.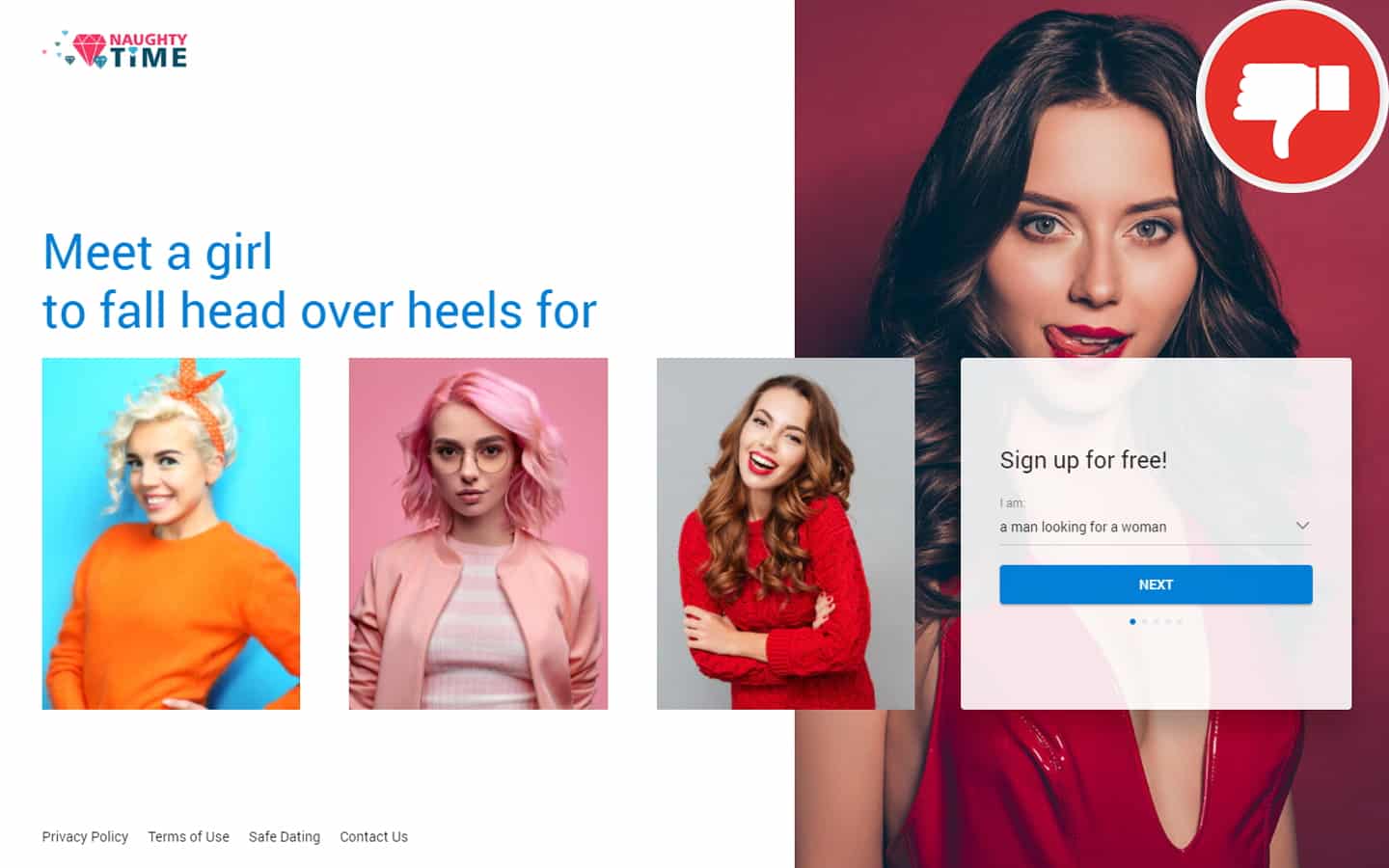 Report for NaughtyTime.com review
NaughtyTime.com attracts new users by offering free registration. It guarantees that anyone who signs up can meet a girl he'll fall head over heels for. We did some research but found it is not to be trusted. This platform is a scam since it's impossible to arrange real life physical meetings with anyone via its services. The majority of profiles in the members' area are fake. Users will probably end up just having a virtual experience with fake chat operators. Moreover, paid subscriptions are also a trap.
The company that runs NaughtyTime.com is Neosolut Web Services Ltd. It is headquartered in Lamaca, Cyprus. The internet is full of negative reviews from past users that suggest its services are a rip-off.
Scroll down to read the details of our NaughtyTime.com review.
Details on the NaughtyTime.com review
The nasty reputation of this operator should already be enough to convince anyone not to waste any money or time on its platforms. It always uses the same fraudulent techniques. Predictably, NaughtyTime.com is no exception. At first, it lures visitors to its landing page to sign up for a free account. Nothing is mentioned about a premium membership or the relevant prices. Users only find out the platform is not free after registration. Misleading information and lack of transparency are the first signs of an unreliable dating website.
However, we cannot define this as a scam yet, since the creation of our profile doesn't cost anything. Unfortunately, this doesn't allow us to send messages to other members. The free basic version of this website is therefore useless. The whole point of a dating portal is to get in touch with other people interested in real meetings. To do this on NaughtyTime.com, a paid subscription is needed.
Automatic renewal policy
All forms of premium memberships are renewed automatically for the same price and duration you signed up for. To avoid recurring charges, you should send a cancellation request 72 hours before the renewal date. This seems a fair policy, but there is a catch. The same notice is also required for trial membership, which lasts for exactly 3 days. In this case, terminating the contract is physically impossible, thus making it a subscription rip-off.
Moreover, many reviews from past users point out that even monthly subscriptions are a trap. According to what we read online, Neosolut Web Services Ltd, the operator from Lamaca, Cyprus, constantly rejects all cancellation requests without giving any valid reason. And it is suspected of using a fake chat service to encourage members to buy these subscriptions.
Here is what we read in the Terms and Conditions
We do not guarantee that all the profiles found in search belong to other users, as we reserve the right to create profiles which are maintained and managed by our employees ("Staff Profiles"). 
You shouldn't trust anybody
NaughtyTime.com admits using fake profiles to communicate with its members. These accounts are not identified separately in the system. Users can therefore never be sure whether they are talking to a fictitious character or a real person, assuming there are any.
The conclusion from our NaughtyTime.com review
Our previous experience with this untrustworthy operator didn't leave much scope for hope. And in fact, NaughtyTime.com recycles all the same scams we have already uncovered in the past. The members' area contains a lot of fake profiles controlled by professional animators employed by the company. Their job is to pressurize new members into buying paid subscriptions that turn out to be impossible to cancel. It's unlikely you'll find any real dates here.
Let us know your NaughtyTime.com experience in the comments as well.