MyTransgenderDate.com review
December 22, 2022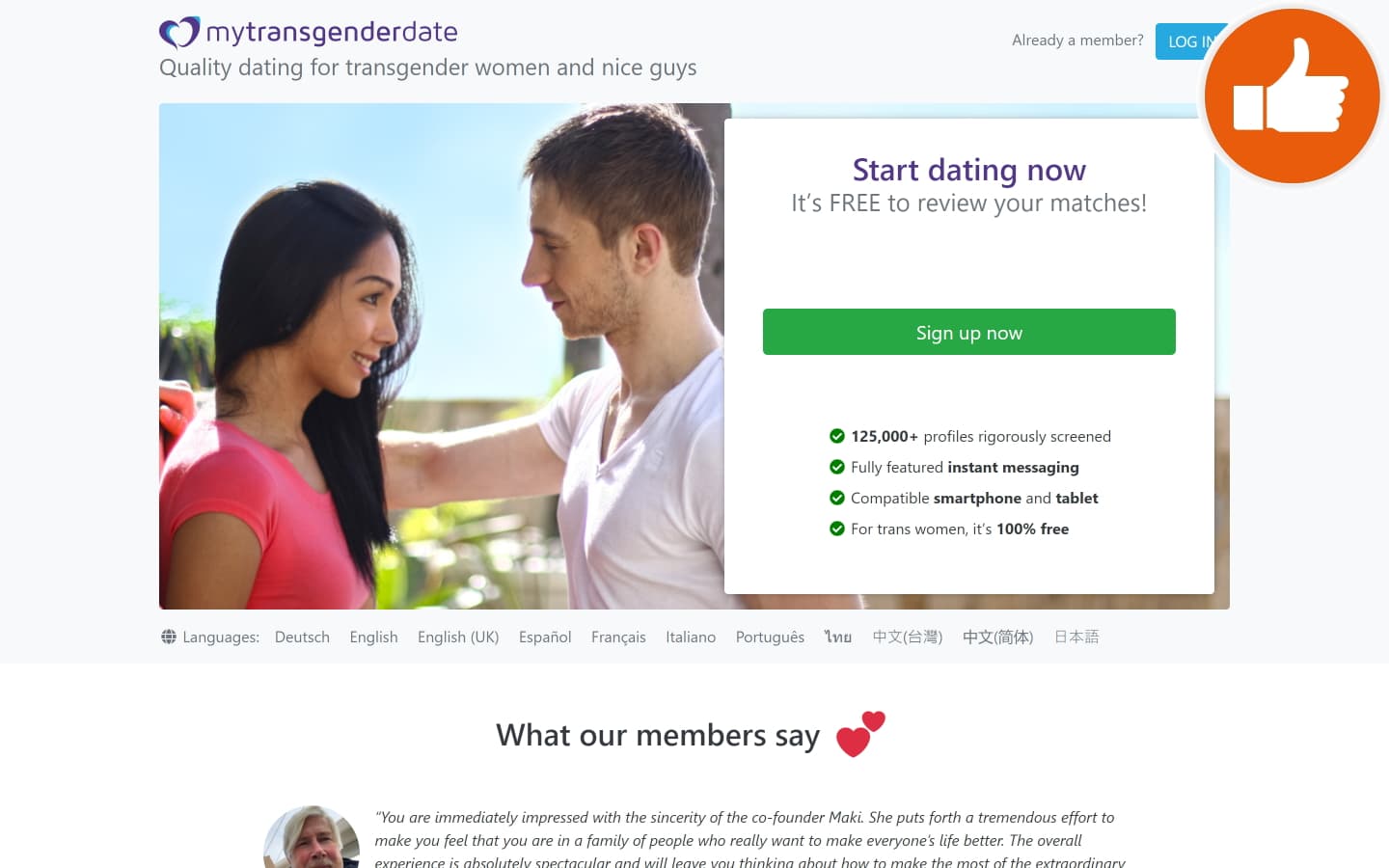 Lots of good reviews online

Escorts try selling themselves on the site
Report for MyTransgenderDate.com review
When we first visited MyTransgenderDate.com we were conflicted about whether this site seemed reliable or not. The landing page seemed like a good page with a lot of content, but there could be some hidden negative aspects. It is free to sign up for this site. The operator of the site is Building Bridges Ltd, from Bulgaria.
Judging from the online reviews of former users who experienced the site themselves, the site seemed like the perfect site where transgenders can meet and fall in love. All user profiles are checked before approval. All transgender women will get a free premium membership, while everyone else of different sexual orientations must pay to fully use the website's features.
MyTransgenderDate.com has received positive online reviews from its users and is quite serious about moderation. However, we found some profiles that were active, but not verified with a green check next to them. This raised concern, but we do not think this site intends to scam its users. The site has yet to use a proper match-making system, so users will need to manually search for other users on their own. In addition, profile photos are not a requirement. Normally, that's an indicator of a fake dating website. In this case, it seems to be more of a design flaw.
Scroll down to read the details of our MyTransgenderDate.com review.
Details on the MyTransgenderDate.com review
Our experience on MyTransgenderDate.com was quite pleasant. The landing page was a great start for us, and we believed that it would be a great dating site. Transgenders who are looking to find a transgender date could potentially find someone to date on this site. It is straightforward and easy to navigate around, which is excellent for all who visit or join the site.
If users want to sign up, it is free, but to access the full features, users will have to buy one of the premium subscription options. From our research, we found no sign that this website is a rip-off. The site's operator, Building Bridges Ltd, is from Bulgaria and does not use generated virtual profiles to entertain its users. That is a huge plus for the site, for the company that runs it doesn't hire "fake chat," operators. Therefore, the site's goal is not to entertain users with a fake chat service.
Verification
The site's operator also thoroughly checks all members joining the site to ensure they are appropriate for the site. They want to make sure that their users will not fall for a scam. While there are many positive online reviews, there are a few negative comments from former users. We found online complaints claiming that the site has escorts selling themselves on the site. Having escorts on this site is worrisome for genuine users. On the landing page, there were a lot of successful love stories, along with some verified profiles.
Subscriptions
Even though the site is free to sign up for, users cannot do much as free members. Having a free membership is pointless as users have many restrictions. To get all the features and the full benefits of this site, a premium subscription is required. There are many positive reviews about the site, with a few complaints.
If anyone wants a subscription, users must pay, which is normal; however, if you are transgender, it is free. The current prices for the subscription options are $29.90 for one month. $22.90 per month for three months. $16.90 a month for six months. If users choose the 12-month subscription, the price is $10.90 a month.
The conclusion from our MyTransgenderDate.com review
Based on our review, MyTransgenderDate.com is generally a great website for transgenders. There were a few negative reviews about escorts being on the site, which made former users believe that this site could be a rip-off. If these reviews didn't exist, this site would be perfect. If our readers were to join this site, we ask that you proceed with caution. Registration is free, but to access all the features, users need to purchase a subscription unless they are transgender. The operator does not use any fake profiles on the site.
Let us know your MyTransgenderDate.com experience in the comments as well.