MysteriousSeductress.com review
November 25, 2022
The result of our MysteriousSeductress.com review: Our test turned out to be an insufficient dating website.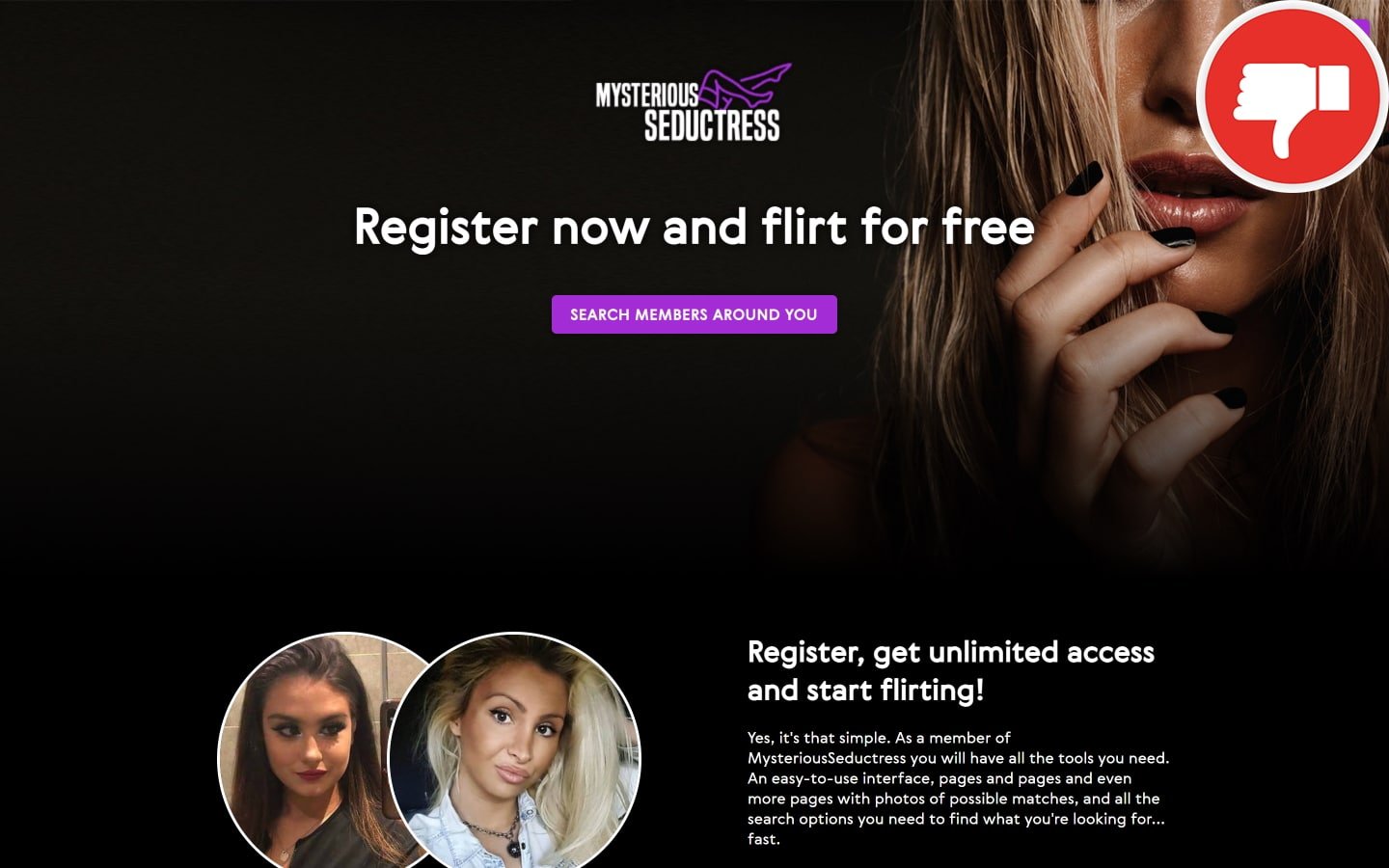 Report for MysteriousSeductress.com review
MysteriousSeductress.com promotes itself as an online entertainment and social networking website, where open-minded people can chat, flirt, and have fun. They promise to be the best dating platform for connecting with hot members, who are ready to hook up. According to the landing page, the member's area is full of thousands of profiles of attractive users, who are looking for exciting new experiences. Everyone is invited to take advantage of the free registration, and explore the endless possibilities of MysteriousSeductress.com. Let us see what we found out about this dating portal.
MysteriousSeductress.com promises to give you the chance to flirt, and meet, with sexy women, for casual erotic experiences. But our review will show you that this will never happen. In fact, this website is just a scam, with a fake chat. Most of the profiles that you will interact with in the member's area, are fictional. The purpose of this rip-off is to lure you into a meaningless conversation, that will never lead to any physical encounter. By doing so, you will end up spending a lot of money for nothing.
MysteriousSeductress.com promotes itself as a free platform, but this is a lie. Users must pay, separately, for each message that they send. Therefore, the longer the chat, the higher the revenue for the company. The company which runs this website is White Castle Design BV, who are based in Groot-Ammers, in The Netherlands.
Scroll down to read the details of our MysteriousSeductress.com review.
Details on the MysteriousSeductress.com review
At first sight, MysteriousSeductress.com seems to be a professional and legit dating website. This is mainly due to the fact that the landing page does not show any erotic pictures. Those, who do not have any previous experience with this kind of platform, might find the simple design quite reassuring. The sign-up form promises that you can register and flirt for free. Because of that, many people might think that you can send messages to other members, without spending any money. Unfortunately, this is just a misleading piece of information.
Sending a flirt is indeed free of charge, but this means that you can only show your interest in somebody else, without using words. If you want to start chatting, you must purchase very expensive credits. The fact that MysteriousSeductress.com is not transparent about their pricing policy, is a strong clue that this platform might be a scam.
Outrageous costs for nothing
Costs on MysteriousSeductress.com originate from "credits", which are virtual items that you can buy in bundles of different sizes. Every time that you send a message, one credit will be deducted from your personal account. Depending on the package that you purchase, prices vary from $1.00, to $3.00, per message. Your experience on this portal can quickly turn into an expensive nightmare. Moreover, keep in mind that unused credits will expire after three months.
The only good news is that there is no automatic top-up, when you run out of credits. At least, we can be sure that this is not a subscription rip-off. Still, we strongly advise you against spending money here. Since most of the profiles are fake, it would be just a massive waste of time and money.
The following note is from the Terms and Conditions
The Company explicitly reserves the right to send Messages on the Website through self-created Profiles. These are fictitious Profiles with which no physical arrangements are possible.
A horrible reputation
MysteriousSeductress.com admits to using fake profiles to communicate with their members. These accounts are created and controlled by professional moderators, who impersonate a fictional character. As clearly stated, no physical arrangements are possible on this platform.
White Castle Design BV is infamous for implementing a fake chat service on each one of their dating websites. The internet is full of negative reviews from former users, who speak against this company based in Groot-Ammers, in The Netherlands.
The conclusion from our MysteriousSeductress.com review
After extensive research, we can guarantee that MysteriousSeductress.com, run by White Castle Design BV, from The Netherlands, is not a safe and effective dating platform. The member's area is full of fantasy profiles, which are controlled by professional moderators, who do not correspond to any real member. Users are tricked into spending a lot of money to buy useless credits. Since every message has to be paid for separately, costs can pile up fairly quickly. Regardless of how much you spend, your chances of arranging a hot date are close to zero.
Let us know your MysteriousSeductress.com experience in the comments as well.