The result of our MingleBBW.com review: Our test on MingleBBW.com turned out to be an insufficient dating website.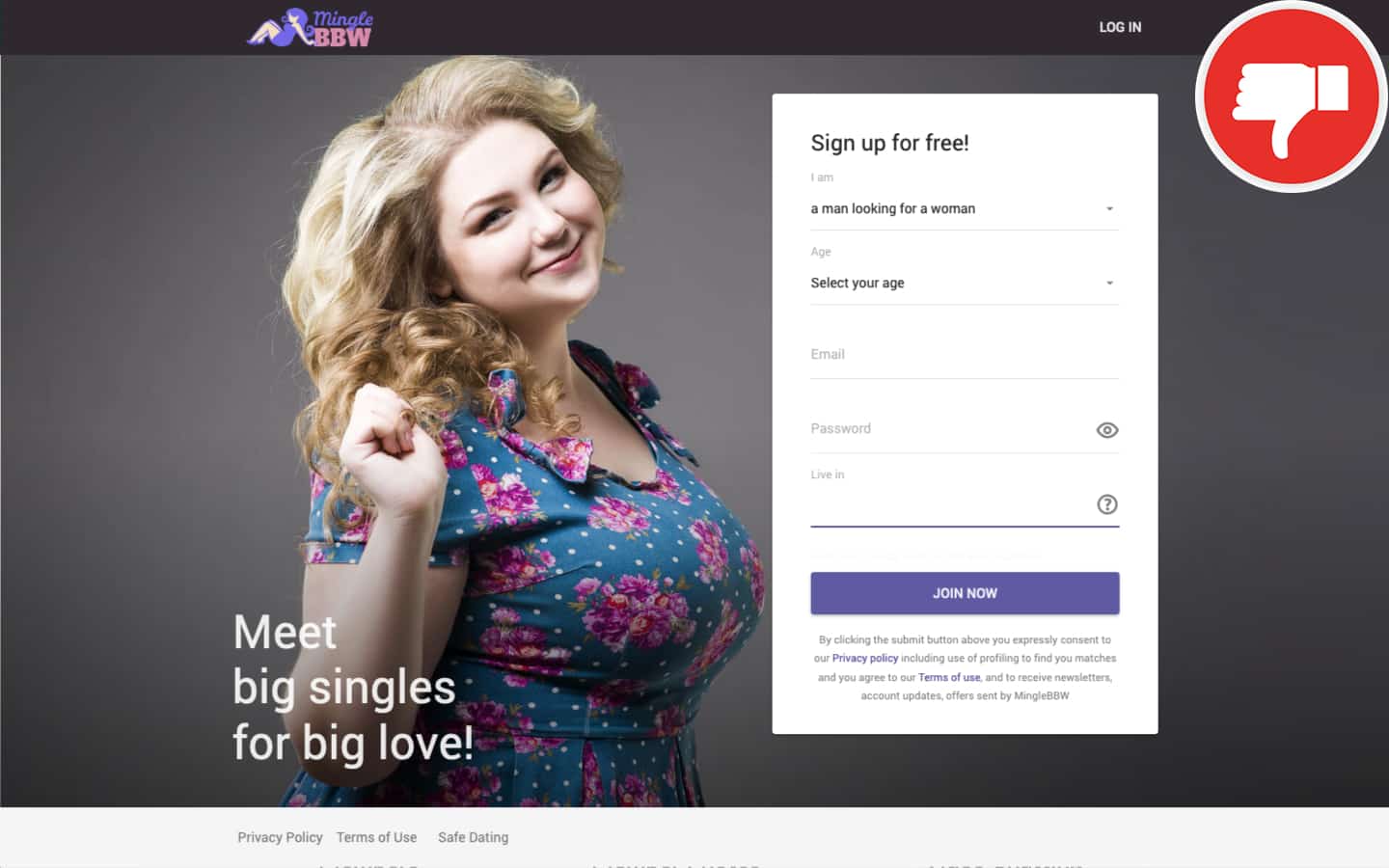 Report for MingleBBW.com review
MingleBBW.com is an online platform for "BBW" dating and the registration is free of charge. We decide to sign up and hope to find out more. Before we create our own profile, we do some research online. MingleBBW.com is operated by Esquiline doo. This company is based on the island of Pula and runs several scam platforms. Users are encouraged to pay a lot of money just to make use of basic chat functions.
We are convinced that this dating platform uses fake profiles to sell a paid membership. Only users that pay money can use the chat, where they are greeted by seductive fake chat operators. These operators lie about their actual identity and lure the users into a subscription trap. The cheap trial membership can become extremely expensive.
Scroll down to read the details of our MingleBBW.com review.
Details of the MingleBBW.com review
The first thing we see on the front page of MingleBBW.com is a photo of a "BBW". MingleBBW.com clearly seems to be the right platform for singles with a weakness for bigger ladies. Other than that, and a registration form, there is nothing much to see here. Apparently, we must sign up to find out what this platform has to offer. After some time, we feel that something is wrong about MingleBBW.com. This has to do with all the fake profiles and the costs of chatting with them.
There seems to be something wrong about the operator
Luckily, the operator of MingleBBW.com is already mentioned on the front page: This dating platform is run by Esquiline doo, situated on the Croatian island of Pula. If you copy the company's name and paste it into the Google search bar, it gets mirrored. Esquiline doo has a bad reputation, and they have found a way to hide. The negative user reviews for MingleBBW.com already show us what is wrong here. This site is a subscription rip-off full of fake profiles.
Too many suspicious member profiles
We normally look at the terms and conditions to find out whether a dating platform relies on moderated profiles. Although there is nothing suspicious to be found in the terms and conditions, we are still sure that MingleBBW.com is not a legit dating service. Immediately after signing up, we start receiving messages and photos from female members of the platform. Since our profile is pretty much empty, this seems rather odd to us. We cannot read or answer the messages we receive. This requires a paid membership.
The trial membership is not worth it
This is not our first experience with a fake chat scam. Fake chat operators are responsible for the messages we receive. They want us to think that it is easy to find a date with a beautiful woman here. They use fake profiles to stay undercover and try to promote the fee-based membership. As an alternative, MingleBBW.com offers a cheap two week-long trial membership.
The operator hides the fact that this short trial membership must be cancelled before the final day. If you forget to do so, it turns into a paid subscription that costs at least twice as much as any other membership.
The Conclusion from our MingleBBW.com review
MingleBBW.com is a subscription rip-off, and the trial membership turns out to be a trap. This is the reason that the company responsible for the platform does not want us to do research about it. Esquiline doo operates several dating platforms, where fake chat operators try to sell the expensive membership.
Let us know your MingleBBW.com experience in the comments as well.