MilfsCity.com review
June 27, 2022
The result of our MilfsCity.com review: Our test turned out to be an insufficient dating website.
Report on MilfsCity.com review
MilfsCity.com is an online dating site that caters to people who specifically want to meet mature women. The blandly colored landing page does not stand out for its originality. It features the same claims as other sites of its kind, including free registration, a "100% guaranteed" experience, whatever this may mean, and the biggest members' pool around.
To see whether the site lived up to its promises, we decided to register free of charge, read the terms of use carefully and search online for reviews from previous users. The first thing we notice is that the site is run by Master Focus Ltd, a company based in Belfast, UK. Unfortunately, this company is responsible for a large number of disreputable dating sites that always use the same dirty tricks to increase their profits.
Immediately after signing up free of charge, new users receive messages from horny women who want to meet them right away. Honestly, when does this happen in real life? In our reviews, we never upload any photo to the test profiles we create to help expose chatbots that would give themselves away by mentioning our physical appearance or fake chat operators that make us think they have a crush on us even though they have never seen our face.
In our experience, MilfsCity.com uses both chatbots and physical operators to run its fake chat scam and dupe users into believing they are ladykillers.
After a few messages exchanged in fake chats, however, the party suddenly ended: to continue chatting, we now had to pay. Damn it: this happened just when this hottie was telling us she wanted to meet ASAP. Don't be fooled though: the same trick is played every single time, and the worst part still lies ahead.
Looking at the premium membership page, we understand that we are indeed dealing with a subscription rip-off, which corroborates the reviews we found online from past users who fell for this. These costly forms of membership are extended automatically and indefinitely if not cancelled on time and can therefore lead to a long and costly trap. This is even more the case here, since the operator is known to overcomplicate the cancellation process or even just ignore termination requests. At this point in our review, we already know there is no dating to be expected from this spurious site.
Is MilfsCity.com a rip-off?
MilfsCity.com is indeed a rip-off. It uses a fake chat scam, whereby fake chat operators try to lure users into shelling out for costly forms of membership that will be renewed automatically. As we see it, the main rip-off here is the subscription scam.
We also found evidence in the TOS that the operator creates its own fake profiles to "entertain" users and "increase their activity" on the platform. In reality, what this means is that the only increase on the cards in this game of fools is in the company's profits. It is known to run other shady websites featuring the same kind of scam.
Scroll down to read the details of our MilfsCity.com review.
Registration on MilfsCity.com
Registration on MilfsCity.com could not be easier. In fact, it is so simple as to be suspicious. Users simply need to provide an email address, which will not even be verified, upload a photo if they wish, choose a nickname and indicate their age. And that's it.
At no time during this "free" registration is there any mention of the costs involved in using the platform. Naturally, registration is free in name only, since after a few messages sent during a chat, users will not be able to do anything further unless they take out a paid subscription.
Members' area on MilfsCity.com
Our first impression upon entering the members' area was that the place looked rather bleak. We saw a few profiles of women who did not look like milfs at all. They were mostly hot girls in their 20s, so we believe the operator uses the same database across all its various websites.
In fact, we could not spot a single genuine profile. The area is actually full of fake profiles created by company staff. We read in the terms of service that these fictitious profiles have "creative nicknames" so they are easily identified. In our experience, such dishonesty is astounding. In the course of our review, we only saw members displaying "creative nicknames", whatever this might mean. In reality, users have no way of knowing these profiles are fake unless they read and understand this statement in the TOS.
Terms and conditions of MilfsCity.com
Extract from the terms and conditions from the MilfsCity.com website. Current status of the terms and conditions as of June 27, 2022.
Please, note that while using Our Services You may sometimes interact with automated online accounts and/or fictitious profiles, which its interactions been generated by or with the assistance of automated programs or scripts, or by real persons that have been contracted or employed by Us (Hereinafter, referred to as "Bots", "Automated Profiles" or "Fictitious profiles"). [...] Bear in mind that none of the content or actions made by Automated Profiles are the result of, or arise in connection with, a natural person's profile or otherwise User Content. Any of dialogues with Automated Profiles really exist and have been generated exclusively by programming.
Costs on MilfsCity.com
MilfsCity.com's advertising offers free registration. After signing up, users are granted a few free credits, but these are short-lived. This is just enough however for fake chat operators to cast their nets across would-be lovers in the hope of enticing the most gullible among them to buy pricey VIP membership.
On the subscription page, users have three packages to choose from: either $29.95 for one month, $59.95 for three months or $99.95 for six months. All subscriptions are billed in one installment and must be paid by credit card.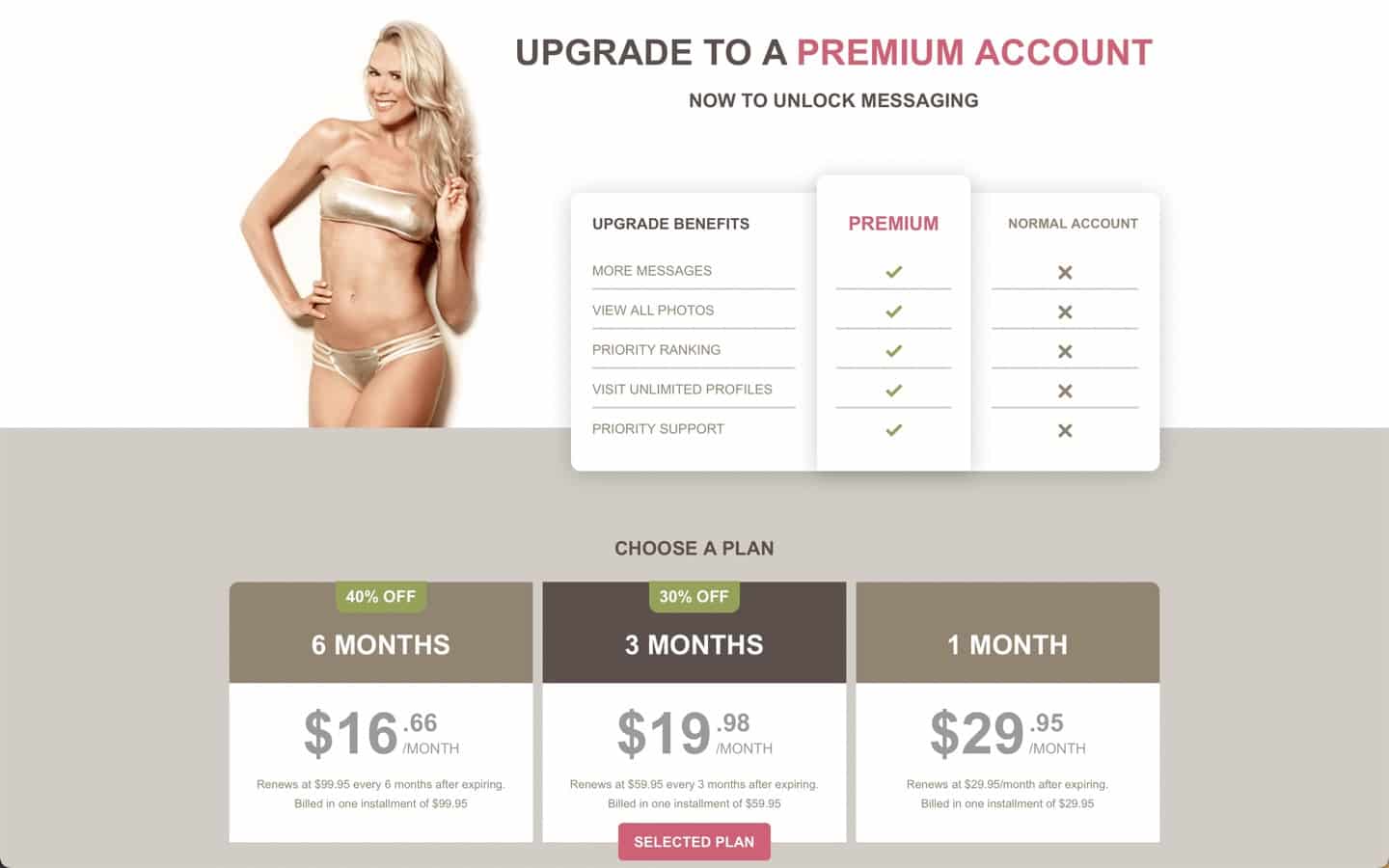 Conclusion from our MilfsCity.com experience
Unfortunately, no genuine flirting can be expected on MilfsCity.com, let alone a real date, since the site is full of fake profiles created by company-commissioned moderators to push users into buying paid membership. These costly subscriptions are renewed automatically and known to be extremely difficult to cancel, leading users into a long and arduous money trap.
The company responsible for this disreputable service is Master Focus Ltd, from Belfast, UK. It is known for running a wide range of similar scams and has a terrible reputation on the web. We found numerous reports online that corroborate our own impression in every respect.  All in all, this website is not trustworthy and should be avoided.
Contact data of the operator of MilfsCity.com
Master Focus Ltd
Suite 227, Scottish Provident Building
7 Donegal Square West
Belfast, BT1 6JH
United Kingdom
support@milfscity.com
FAQs for MilfsCity.com
Here you can find the FAQ (Questions and Answers) for the dating website MilfsCity.com
What has attracted positive attention to MilfsCity.com ?
The website's advertising offers free registration.
What has attracted negative attention to MilfsCity.com ?
The layout of the site and the members' area do not inspire confidence. But the main source of negative comment is that all the profiles are fake, as we have found proof of in the TOS. The cost of subscriptions is high and there is a significant risk of subscription traps. We also found a lot of negative reviews online.
What can I do on MilfsCity.com with a free account?
Users can browse through profiles, read messages and send a limited number of instant messages.
Can I really meet someone on MilfsCity.com ?
Unfortunately, the chances of actual dating on this site are almost non-existent.
Is there moderators or bots on MilfsCity.com ?
It is stated in the terms of use that the company creates what it calls "Fictitious Profiles" which are run by chatbots and physical operators to communicate with users.
How can I cancel my account on MilfsCity.com ?
Users may cancel their subscriptions via the settings option under their profile or by contacting Customer Support Service via the FAQ on the website.
Let us know your MilfsCity.com experience in the comments as well.