The result of our MeetMilfs.ca review: Our test on MeetMilfs.ca turned out to be an insufficient dating website.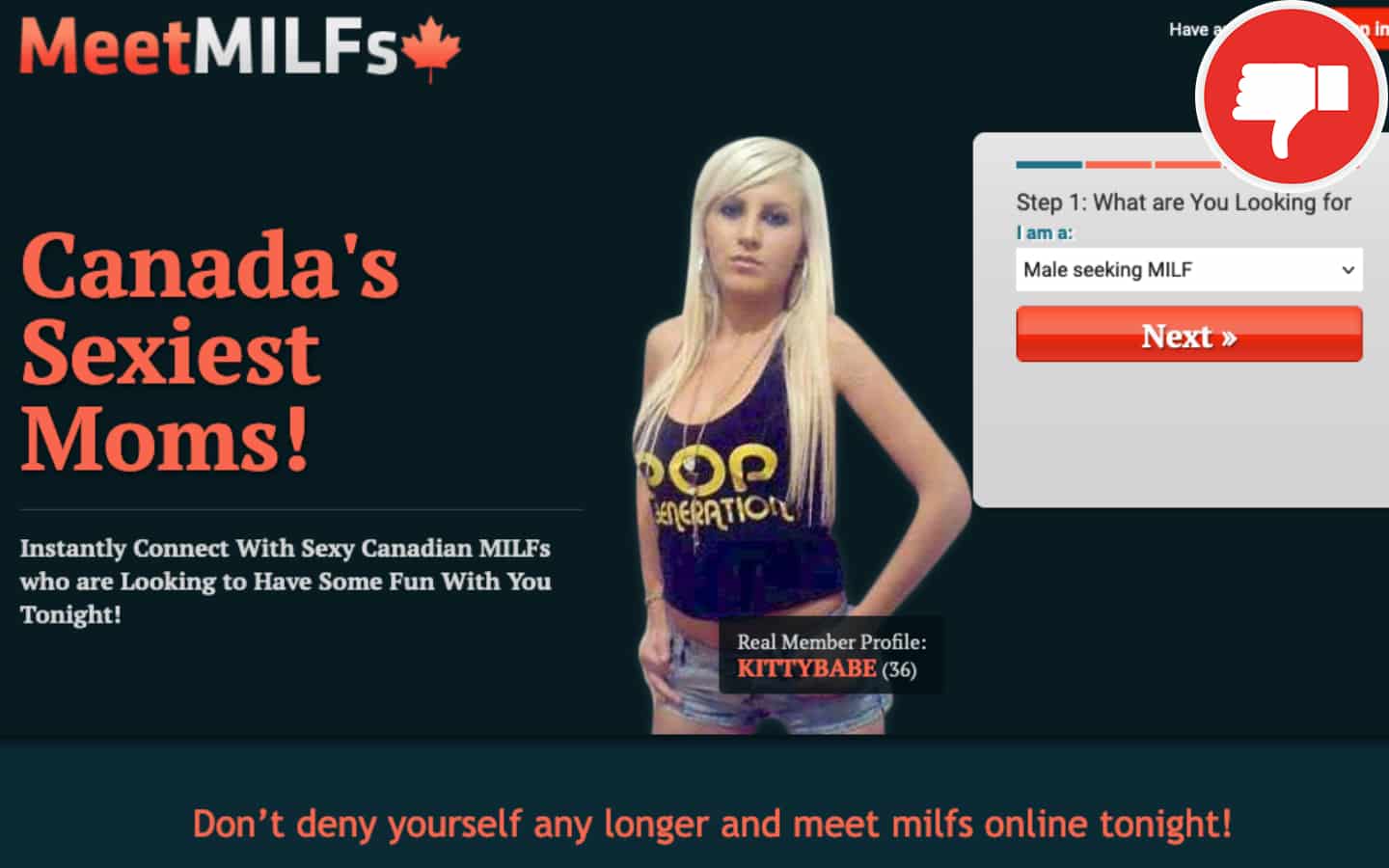 Report for MeetMilfs.ca review
MeetMilfs.ca claims to be an ideal place to quickly find casual dates with sexy Canadian "milfs". However, after some research, it turns out to be a rip-off.
Without a paid premium membership, most features cannot be fully used. All premium subscriptions renew automatically and can easily lead to a long and costly subscription trap. The cheaper trial memberships are not recommendable either. They convert into one of the more expensive long-term memberships. Moreover, according to some reports by former users, the members' area is filled with fake profiles. Therefore, it seems rather unlikely to arrange a real-life date via MeetMilfs.ca.
The site is operated by the infamous Infinite Connections Inc, from Planation, Florida. This company is known for its vast network of untrustworthy online dating websites. They regularly receive negative user reviews online. They are often criticized for leaking data, poor customer service, and questionable cancellation policies.
Scroll down to read the details of our MeetMilfs.ca review.
Details on the MeetMilfs.ca review
At first sight, MeetMilfs.ca looks like a great place to find sexy Canadian milfs, who are looking for naughty dating experiences and casual sex adventures. We search the internet for user reviews, success stories, and complaints. We also have a close look at the terms and conditions and the privacy policies. Furthermore, we find out that MeetMilfs.ca is part of a network of infamous online dating websites, known to be rip-offs.
Subscription trap scam
The registration is free and can be done in no time. However, the free basic membership only allows basic actions. Users can create a profile, browse the site, and have a look at the member base. They can also send so-called "flirts" to others. But to get full access to all features without any limitations, users must purchase an expensive premium membership subscription.
Unfortunately, these subscriptions are dangerous traps. Once expired, they will automatically renew indefinitely. The site's operator makes the cancellation process extremely difficult, so many users find themselves caught up in incredibly costly long-term subscriptions. The cheaper trial memberships are just as bad. They will automatically, and unavoidably, convert to a pricey 1-month subscription. Therefore, we strongly advise you to stay away from these memberships.
Fake Profiles
According to several reports by former customers, the members' area of MeetMilfs.ca is packed with fake profiles. We cannot find any information about a moderated chat, chatbots, or fictional profiles in the terms and conditions. Therefore, we cannot offer any proof for these claims. Nonetheless, the chances of finding a real-life date on this platform seem extremely low.
Infamous Infinite Connections
During our research, we find many negative reviews about the site's operator. Infinite Connections Inc, who are based in Florida, USA. They are responsible for a huge network of online dating websites, all of which have a poor reputation. Aside from the cheeky subscription rip-offs, these websites are known for fake profiles, leaking data, and extremely poor customer service.
The conclusion from our MeetMilfs.ca review
MeetMilfs.ca turns out to be a rip-off. To get full access to the chat, a paid membership subscription is needed. But all subscriptions extend automatically and can easily end in a subscription trap. Moreover, the members' pool seems to be filled with fake profiles. Therefore, the chances of finding a date are extremely low. The site's infamous operator is well-known for their scams and regularly receives negative customer reviews online.
Let us know your MeetMilfs.ca experience in the comments as well.