LustSeek.com review
July 31, 2022
The result of our LustSeek.com review: Our test turned out to be an insufficient dating website.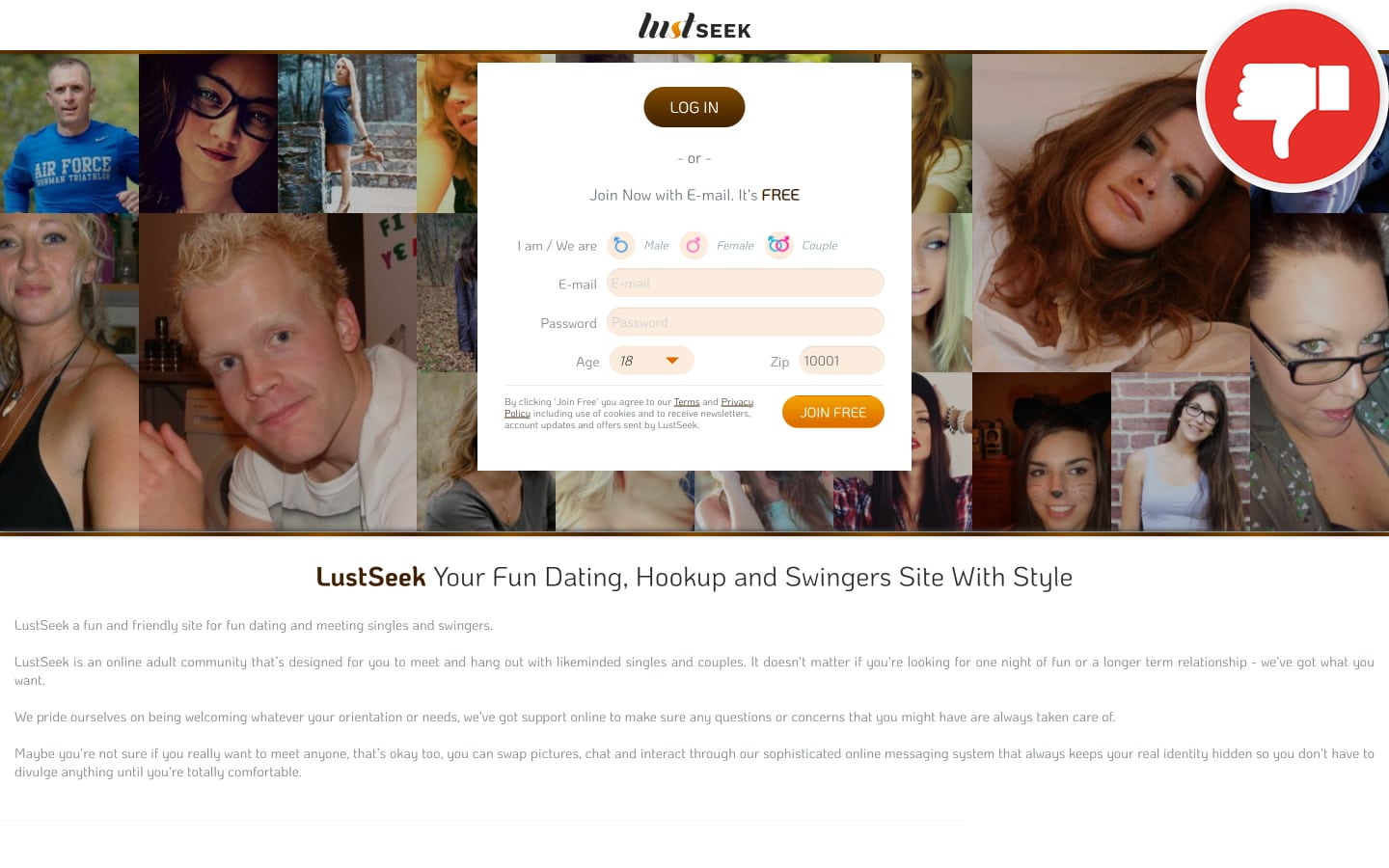 Report on LustSeek.com review
LustSeek.com is a dating site for swingers that advertises with a free registration. Furthermore, LustSeek.com offers an online messaging system which allows you to keep your real identity hidden. According to the operator, this site is a fun place to be on. If you do some research on LustSeek.com elsewhere, you get a totally different impression. This site has received several negative reviews on the internet. Apparently, it is a scam full of fake profiles.
The site's operator is Turmalinas Ltd. The company is headquartered in Nicosia on the island of Cyprus. This is not our first encounter with this European operator. Operators of scam dating sites can often be found on Cyprus. The island is famous for being a tax haven.
Is LustSeek.com a rip-off?
After spending some time on LustSeek.com, we can only conclude that this site is a rip-off. There is a free basic membership which lasts forever. However, you can only use the chat function after upgrading your membership. You can start with a very cheap trial membership. The one-day membership is used to draw you into a subscription trap.
There is something else you should know about this site. Most of the profiles in the members' area are just made up. The operator has created so-called "AI profiles" which interact with the real users. They send generated messages and entice users to send chat messages. This is a clever way to advertise for the trial membership. Unfortunately, LustSeek.com is a fake chat scam, as well as a subscription rip-off.
Scroll down to read the details of our LustSeek.com review.
Registration on LustSeek.com
There is not a lot to say about the registration process. You can easily find the registration form on the landing page. You can sign up as a man, woman, or even as a couple. We are also required to inform the site about our age and our zip code. We do not have to upload a profile photo if we do not want to.
Before we can finish the registration, we need to share our email address. For some reason, there is no need for us to verify this address. We could just use anyone's mail address and still be able to sign up successfully. This should always be of concern to you. It should be very easy to create fake profiles on this site.
Members' area on LustSeek.com
After completing the registration, we are sent to the members' area. This is where we see many good-looking member profiles of different women. Most of them show a lot of their skin. It seems that we are shown a random selection of members. At first sight, there do not seem to be any search filters for us to select. As soon as we click on another profile, we also get to see a few "hotties" from our area. All the members we are shown look quite beautiful.
We do not have to wait more than a second to receive our first message. A good-looking woman wants to have something physical with us. We can hardly keep up with all the messages that we receive. Various women try to seduce us with their sexual messages. It should not be so easy to attract that many girls. We have not shared anything about ourselves in our profile. So, the messages in the chat do not appear to be real. The same is true for all the members who have approached us.
We cannot reply to any of all those messages in our inbox right away. First, we need to upgrade our membership. However, the cheap trial membership will only lead you into a subscription trap. The fake members are part of a scam. Based on our experience, this kind of scam is quite successful.
Terms and conditions of LustSeek.com
Extract from the terms and conditions from the LustSeek.com website. Current status of the terms and conditions as of July 31, 2022.
Last but not least, you expressly understand, acknowledge and agree that the Site may create and maintain some AI profiles on the Site in order to keep a continuous level of interactions during low attendance hours. Indeed, some Users of the Site may actually be created by the Company and, therefore, the information, text, and pictures contained in these AI profiles do not pertain to any actual person, but may be included for entertainment and educational purposes only [...]
Costs on LustSeek.com
We need a membership upgrade to chat without limits, view private photos, and make use of additional features. The operator makes it seem that we can get all that by spending only a dollar. This cheap price only refers to the single day access to all the premium features. After one day, this trial membership turns into a regular subscription of more than 40 dollars per month. You must pay with your credit card. The only way to stop this is to cancel the trial membership while it lasts.
All of this can be found in the fine print. Apparently, the operator does not want you to find out about the automatic renewal. The users are supposed to believe that they can get everything for just one dollar. If they forget to cancel their trial membership, they easily end up in a subscription trap.
Conclusion from our LustSeek.com experience
Do not bother wasting your time on LustSeek.com. You can have a better online dating experience on other dating sites. This one is a fake chat scam, as well as a subscription rip-off, operated by Turmalinas Ltd. The many profiles in the members' area look too good to be true. In fact, they are fake profiles designed to attract your attention. They send seductive messages and invite you to chat with them.
Unfortunately, your free membership does not allow you to do that. You are enticed to pay one dollar for a membership upgrade. It seems that one dollar is all you pay here. However, the trial membership is part of a subscription rip-off. We are not surprised about the negative reviews and the site's low trust score on the internet.
Contact data of the operator of LustSeek.com
Turmalinas Ltd
Flat/Office 201
19 DasoupoIi Vamiko 20
Strovolos 2024
Nicosa
Cyprus
support@lustseek.com
FAQs for LustSeek.com
Here you can find the FAQ (Questions and Answers) for the dating website LustSeek.com
What has attracted positive attention to LustSeek.com ?
Signing up on LustSeek.com is free and easy. The dating site appears to be fun as well as safe to use.
What has attracted negative attention to LustSeek.com ?
Anyone can sign up. There is no protection from fake profiles or scammers. The dating site itself is a scam and full of fake profiles. They lure you into a subscription trap.
What can I do on LustSeek.com with a free account?
You can read messages for free. Free members can also view other profiles and some of their photos.
Can I really meet someone on LustSeek.com ?
The other members are AI profiles. All of them are made up, which means that you cannot date them in real life.
Is there moderators or bots on LustSeek.com ?
Yes, there are many so-called AI profiles. They are bots, which send generated messages to attract your attention.
How can I cancel my account on LustSeek.com ?
You must send a message to Turmalinas Ltd in order to cancel your account. The operator provides a form for that.
Let us know your LustSeek.com experience in the comments as well.