LustfulMeets.com review
November 25, 2022
The result of our LustfulMeets.com review: Our test turned out to be an insufficient dating website.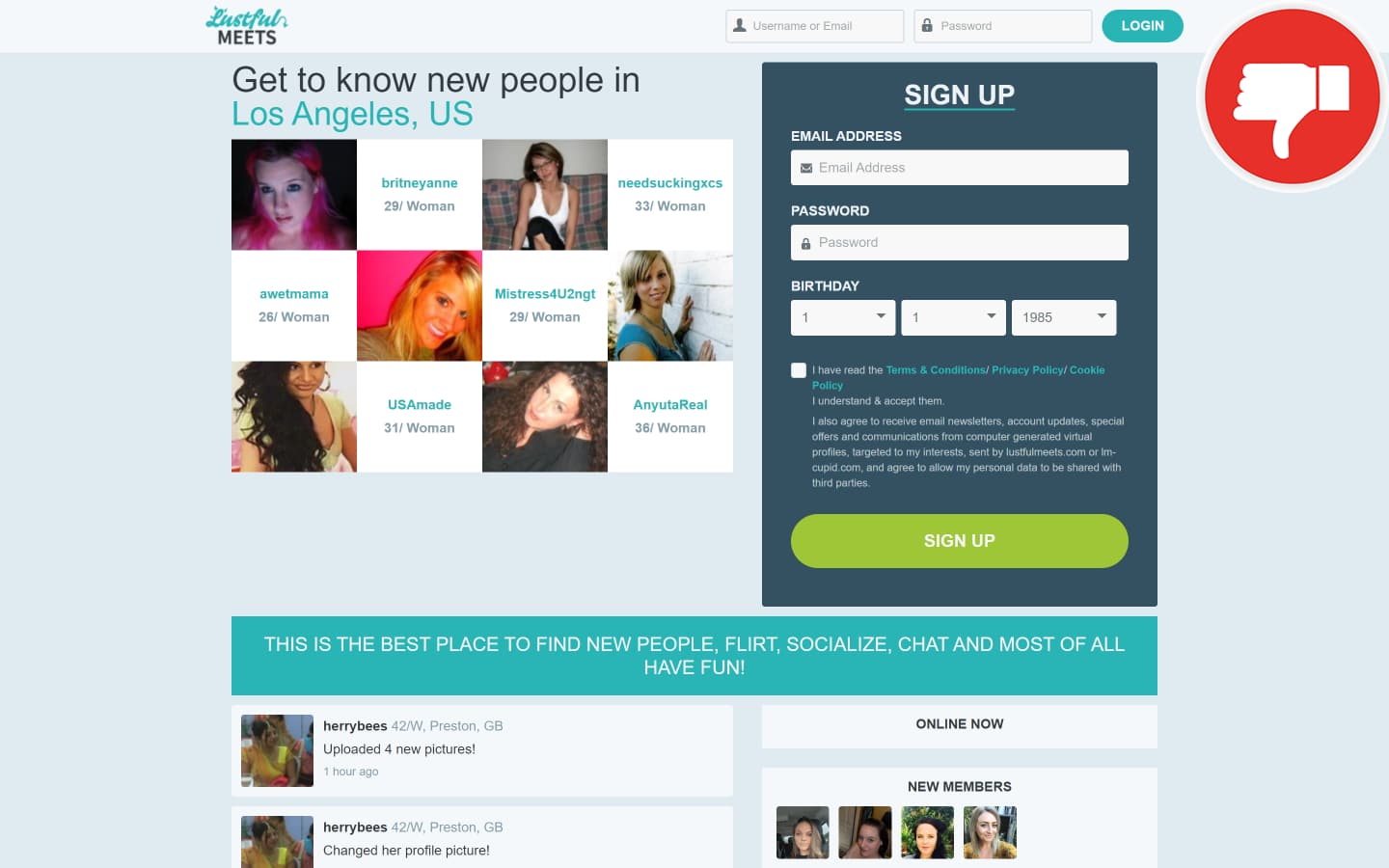 Report for LustfulMeets.com review
At first glance, LustfulMeets.com looks like a great dating website, which is full of attractive members to meet and chat with. The homepage claims that it is the best place on the internet to flirt and have fun. Also, the page contains status updates and some example profiles, making it seem like a promising platform. The operator of this website is Niretio Ltd, from Nicosia, Cyprus.
Though this operator is relatively new to us, we have already given one of their other sites a negative review. For this reason, we considered all the claims on the LustfulMeets.com homepage quite difficult to believe. Sadly, we were correct in our suspicions. During our experience researching this website, we discovered that it is a fake chat scam. It also contains a subscription trap.
Reading the Terms and Conditions, we found that this is a fantasy service, not a dating platform, as users are led to believe. The website employs fake chat operators, to entertain members. However, users are not informed that most, if not all, of the accounts here are fake. This information is only stated in the lengthy Terms and Conditions. Also, unlocking the chatting feature on this site requires the purchase of an expensive subscription. This subscription is tricky to cancel and is a rip-off.
Scroll down to read the details of our LustfulMeets.com review.
Details on the LustfulMeets.com review
Our review concluded that LustfulMeets.com review is a fake chat scam with a subscription rip-off. It is likely that all the profiles displayed in the members area are fictitious. This means there is no way to meet them in real life. In our experience, the chances of talking to someone genuine or finding a date here are extremely low. Also, it is expensive to chat. Users must pay for an upgraded membership, to unlock many of the features. This subscription automatically renews if not cancelled in time. The operator of this site is Niretio Ltd, from Nicosia, in Cyprus.
Full of fake chat operators
We read through the extensive Terms and Conditions for LustfulMeets.com. In the terms, the operator admits to using "automated online accounts," which are fictitious profiles, to interact with members. These accounts are moderated by a fake chat operator, or an automated chatbot. Fake chat operators specialize in convincing users to spend money. They do this by sending you enticing invitations to chat with them, and they carry on conversations for as long as possible. Since users must pay to unlock the chatting feature on this site, this is a scam.
Most users will have no idea that this website is full of fictitious profiles. Therefore, they may assume that their communications with these profiles are genuine. As a result, members could easily find themselves spending large amounts of money, to chat with a bot or website employee.
From the Terms and Conditions
From time to time, while You use Our Services, You may interact with automated online accounts and/or false profiles, which all its content has been generated by either: a) real persons that have been only contracted or employed by Us for the purposes set-forth below; or/and b) by automated programs or scripts, which dialogues none really exist and have been generated exclusively by programming (Hereinafter, referred to as "Automated Profiles").
Subscription trap
Another issue with LustfulMeets.com is the subscription. Users are required to pay for an expensive premium membership subscription, to unlock the chatting ability. Subscriptions automatically renew if you do not submit a request to cancel, more than 48 hours before the renewal date. This is where the subscription trap comes into play. Websites like these are notorious for ignoring requests to cancel. So, users may find themselves being charged the expensive fee, month after month. Seeing as the profiles here are fake, this is a huge scam.
From the Terms and Conditions
You have the right to terminate the automatic renewal of Your Paid Membership twenty-four (24) hours after purchase and at least forty-eight (48) hours before Your Paid Membership is due to renew again, either by sending an email at https://www.lustfulmeets.com/help or by clicking on the cancellation button found in the settings section of Your account.
The conclusion from our LustfulMeets.com review
We conducted an in-depth review of LustfulMeets.com, run by Niretio Ltd, from Cyprus, and concluded that it is a fake chat scam. The operator admits to using fictitious profiles in the Terms and Conditions. These accounts are run by staff members or computer programs. Either way, they cannot be met in real life. Also, the website charges a steep fee to unlock the chatting feature. This is a subscription trap, as users must buy a premium membership, if they want to send messages. This membership automatically renews.
Let us know your LustfulMeets.com experience in the comments as well.