LoveMe.com review
May 2, 2022
The result of our LoveMe.com review: Our test turned out to be an insufficient dating website.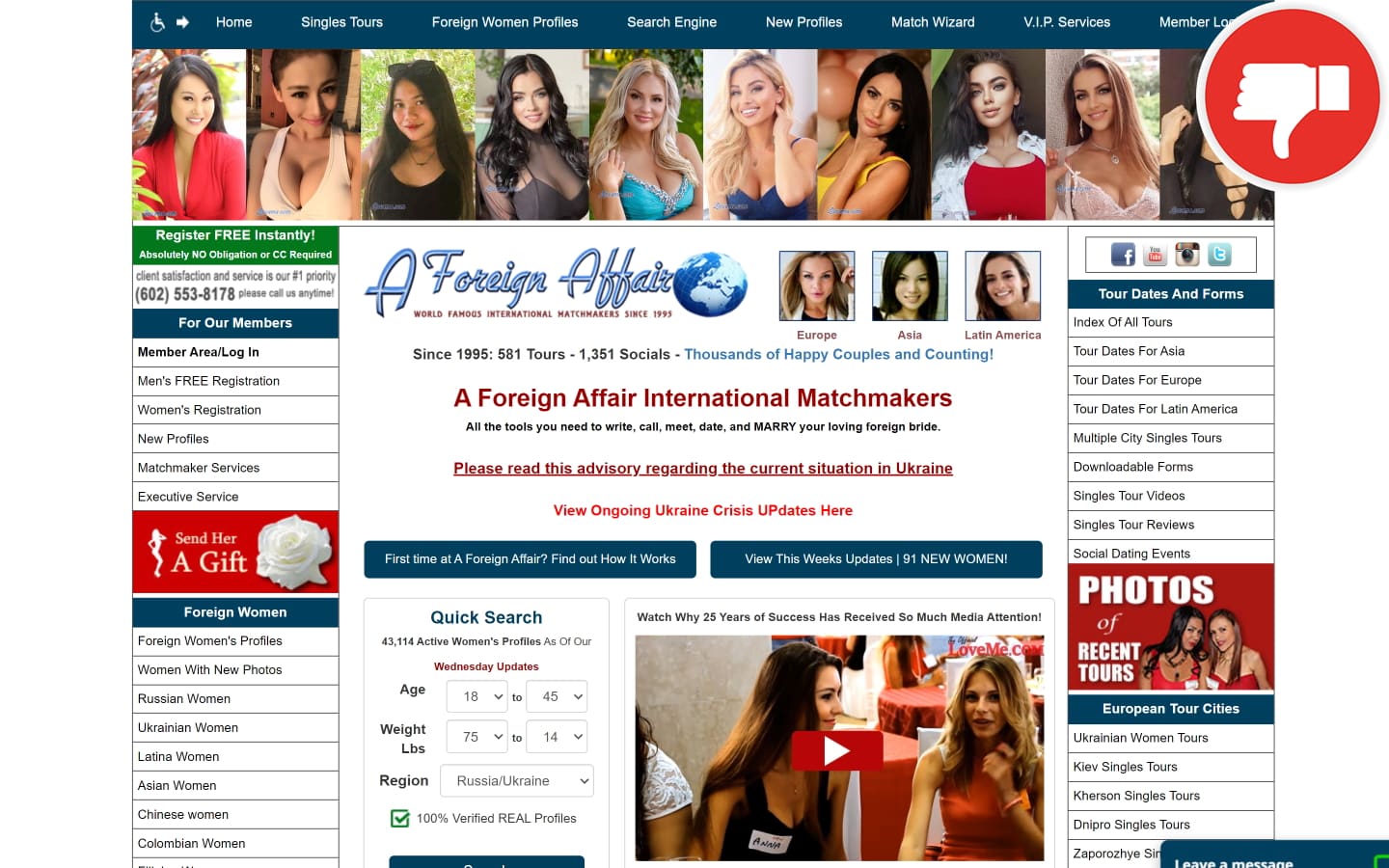 Report on LoveMe.com review
The online dating portal LoveMe.com looks a little overwhelming. On the landing page, we see a lot of images of attractive women. Additionally, there is a lot of content to read about the website. This site is a matchmaker. But it is clearly one of a kind. This platform claims to be an international matchmaker. Here you will find the love of your life easily and quickly. Men from the US can find partners from Russia or Eastern Europe.
In general, finding an accurate match is not that simple. A matchmaker will need a lot of information to find accurate matches for its customers. To find a match from another continent with a different cultural heritage and language, a lot of effort is required. But according to the information and promotional video on the landing page, this website contains all that is needed.
The website makes a good first impression. Its design might not be the latest on the market. However, the profiles on the landing page look great. All show very attractive women. Additionally, the promotional video sounds more than promising. The operator of the platform is A Foreign Affair, which is based in Phoenix, USA.
Is LoveMe.com a rip-off?
The online dating portal LoveMe.com claims to be an international matchmaker. But we did some research on the internet. We found plenty of reviews alleging a scam. Now we want to explain all this in more detail, as the case of this site is quite complicated. First, we would like to mention some general difficulties with this platform. What the website offers sounds interesting and promising, but a little too good to be true. This site claims to find you the perfect match from Russia or Eastern Europe. At the beginning, the matchmaker will provide matches for you.
Then you can contact your matches online to get to know each other. This will take a lot of effort if you are looking for the one and only perfect partner, especially in view of the cultural differences. Usually, this would take a lot of effort, even with a perfectly working matchmaking system. On this website, however, there is no real matchmaking algorithm. On the one hand, we did not provide a lot of information. Our profile just contained information about our location and age. We also described our appearance. So the profile information we uploaded was terribly sparse.
On the other hand, the website does not search for matches. We see all the site members. So, it is up to us to find a match. Well, this makes the search for the perfect partner from another continent more difficult. Our first hint of a rip-off is that the actual service provided by the website is bad. Moreover, it is not consistent with what the site promises. We also found a statement admitting the site is for entertainment purposes in the legal information. This is the second reason for our inability to recommend this portal.
Entertainment usually means moderation. Moderation means fake chat operators control profiles on the site. We also found reviews alleging fake profiles. Our experience tells us the profiles on the site are all fake. We checked out the members´ area. This website does not have one single female user who looks like an ordinary person. All images showed very attractive women. We believe these are professional model images. This is a clear sign of fake profiles. Plus, we are not the only ones to come to this conclusion. Many former users complained about fake profiles.
Now, fictitious profiles are not admitted in the terms and conditions. But the site operator does refer to third-party content. Such third-party content might be a hint of fake profiles. Combined with the purpose of entertainment, it means a fake chat scam. Fake chat operators control the fake profiles and chat with users. While chatting, they will not mention anything about moderation. We conclude that the chances of meeting a member of this site in real life are very low. Plus, high costs will develop after registration. This website is not worth your time and money.
Scroll down to read the details of our LoveMe.com review.
Registration on LoveMe.com
Registration on LoveMe.com is easy and completed within a few minutes. At the top of the landing page, we see the button for registration. We will be redirected to a new website page. Registration is free for women and men alike. Only a little personal information is required. First, we enter our gender and the one we seek. This website also requires our full name, age and location. Additionally, we provide a valid e-mail address and password. This is all the information needed to create a profile.
We did not have to upload a profile picture. Afterwards, we may add further details about our appearance. But these details are not compulsory. This requirement is inadequate. This website claims to make international matchmaking possible. Finding a match on the internet is not that easy. To find the perfect partner on the internet, a lot of information is required. The search algorithm needs a great deal of information to find an accurate match. Again, this is difficult even for a normal matchmaker that finds matches in the same country. An international matchmaker faces even greater challenges.
On this platform, men from the US can find women from Russia or Eastern Europe. What's on offer certainly sounds interesting. Besides the demographic barrier, there are cultural and linguistic differences that have to be surmounted. To overcome all these impediments, the search algorithm has to find the perfect match. But from the point of view of achieving this, too little information is sought during registration. In our experience, such a cursory registration process makes this website unworthy of trust.
However, after registration is completed, we have to verify our account. This is a positive aspect. Verification via e-mail ensures fake profiles are avoided. This simple precaution guarantees a modicum of safety for members of this platform. After we verified our account, we visited the website.
Members' area on LoveMe.com
The website is extensive. At the top of the portal, we see its main areas. Among these are our profile settings, the inbox and the match section. Each area has plenty of subcomponents. However, this website makes navigation simple. All areas are easy to find. Plus, there are no hidden sections. After a few minutes, we know our way around. But we have to say, the overview is not that great. The Home section is especially overwhelming. We read there about the website's great services and the high chances of meeting your perfect match.
After a little while, we found the members´ area. This website does not have an actual matchmaking system. That is a suspicious aspect, which we will revisit shortly. Actually, it is possible to find women from all areas of the world. However, the girls come from other continents. We see female users from South America, Africa, Europe and Russia. As far as the profile pictures are concerned, we have one comment to make. The profiles look fake to us. We checked out all the different categories of women. Not one single member looks like an ordinary person.
All profiles show perfect women, just as professional model images do. Now, this portal claims it only accepts professional women. We found this item of information on the landing page. The same thing is stated in the promotional video. Well, we are not sure what 'professional woman' means, especially since this site is supposed to be a matchmaker. It seems this website is more an escort service than a real dating site.
Generally speaking, this portal does not seem trustworthy. The longer we reviewed this site, the more suspicious we grew. And we found reviews on the internet alleging the use of fake profiles.
Some reports from former users claimed fake chat is used. The site makes it sound as though it will be easy to find a match here. But any such a match will be fictitious. The profiles also appear to be moderated. Fake chat operators keep users feeling optimistic. This makes users willing to pay to use the site.
Costs will arise after registration. On this website, you pay to be entertained. This platform is an entertainment service. This is the site's only purpose. Well, a dating site is not supposed to be for entertainment. It should provide a service that connects matches and ensures safe usage. But here you will be entertained virtually. In a nutshell, this is a fake chat scam. Entertainment is a common euphemism. It means moderation can be admitted in the legal information without calling it by its name.
We also found a note about third-party content. Our experience suggests this is an admission of fake profiles. These two notes combined are proof enough. The content does not come from this website. Again, the profiles clearly look fake. To entertain users with third-party content, fake chat operators are employed.
During our review, we did not receive any messages. Had this happened, it would have been further proof of fake chat. However, we found reviews on the internet recording this kind of experience. Some former users mention spam messages. Within just a few minutes, their inboxes became full of messages from attractive women. Most such messages contained erotic fantasies right from the start. These messages sounded as though they were intended to stimulate chatting.
Terms and conditions of LoveMe.com
Extract from the terms and conditions from the LoveMe.com website. Current status of the terms and conditions as of May 2, 2022.
This service is intended for entertainment purposes only.
Costs on LoveMe.com
Registration is free for women and men. But women have to undergo a further test while creating profiles. The website verifies all profiles. However, this site will only accept professional women. The promotional video on the site indicates that only good-looking women are accepted. This explains to a certain extent the good-looking profiles in the members´ pool. However, fake profiles are certainly used as well. Anyway, after free registration, free basic membership will be provided. This entitles users to considerable latitude.
We were able to visit each section of the portal. We were also allowed to use various functions. Free basic membership gave us the opportunity to get to know this website. We could see all the profile pictures. Additionally, we were able to visit each profile to obtain more information about specific members. Most female profiles contain a lot more than one image.
Free basic membership also allowed us to read messages and notifications. While reviewing this website, we did not receive any messages. But we found reports about this kind of experience on the internet. This is a clear hint of fake chat. Additionally, the messages contained erotic promises that will never come true. Fake chat operators try to instigate new members to chat. To reply, costs will arise.
Only one type of subscription is offered: platinum membership. This form of subscription allows purchasers to use all site features. It also guarantees discounts and benefits. With platinum membership, express mail costs $2.50 per letter. Users without platinum membership have to pay $9.99 per letter. And platinum members only pay $7.49 per letter with a translation included.
Three-way phone calls including translation cost $2.00 per minute. Non-platinum members have to pay $5.99 per minute. Platinum members only pay 3.99 USD per minute!
Platinum membership also includes the right to receive videos from other members. Some women on the website have some kind of promotional video. Users have to pay to see such videos. Costs vary from member to member. Platinum members do not have to pay. Platinum membership costs $29.95 per month; a fee of $95.00 is also incurred to activate the subscription.
Now subscriptions will be renewed automatically. Usually, this is not a bad thing. Here, however, we advise you to be careful. Paid membership might lead to a subscription rip-off. In such a situation, a user has to terminate the subscription actively and in time. But the contact details for termination are not the same as those of the operator. To cancel your running subscription, please contact frontdesk@wwdl.net or call 1-800-576-3367. Contacting customer support should end the subscription.
Conclusion from our LoveMe.com experience
LoveMe.com is a scam with fake chat. Plus, there might be a risk of falling for a subscription trap. Premium membership is renewed automatically if it is not terminated in time. We did not find reviews on the internet alleging a trap. Moreover, automatic renewal does not have to be bad. However, this website is a waste of money and time. Our experience tells us the profiles on the site are fake. We also found hints of fake chat.
On the internet, we read about spam messages. New members received plenty of messages right after they registered. These messages contained really basic questions and erotic fantasies. The website's purpose is the entertainment of users. This is how the operator explains its raison d'être. Well, entertainment usually means moderation. In this case, it means this website is a rip-off. The site operator is A Foreign Affair, which is based in Phoenix, USA.
Contact data of the operator of LoveMe.com
A Foreign Affair
7320 N Dreamy Draw Drive
Phoenix, AZ
85020
USA
mail@loveme.com
Phone: +1-602-553-8178
FAQs for LoveMe.com
Here you can find the FAQ (Questions and Answers) for the dating website LoveMe.com
What has attracted positive attention to LoveMe.com ?
What the website offers in its advertising is interesting.
What has attracted negative attention to LoveMe.com ?
This website has a bad reputation. Plus, its profiles appear to be fake and moderated.
What can I do on LoveMe.com with a free account?
A free account allows users access to nearly all the site's features. Costs are only incurred for sending messages.
Can I really meet someone on LoveMe.com ?
No, the chances range from very low to zero.
Is there moderators or bots on LoveMe.com ?
Yes, all signs indicate this. This site is an entertainment service.
How can I cancel my account on LoveMe.com ?
To terminate your running subscription, please contact the e-mail address given in the payment section. The contact information of the operator is useless when it comes to terminating membership.
Let us know your LoveMe.com experience in the comments as well.