LoveHabibi.com review
November 25, 2022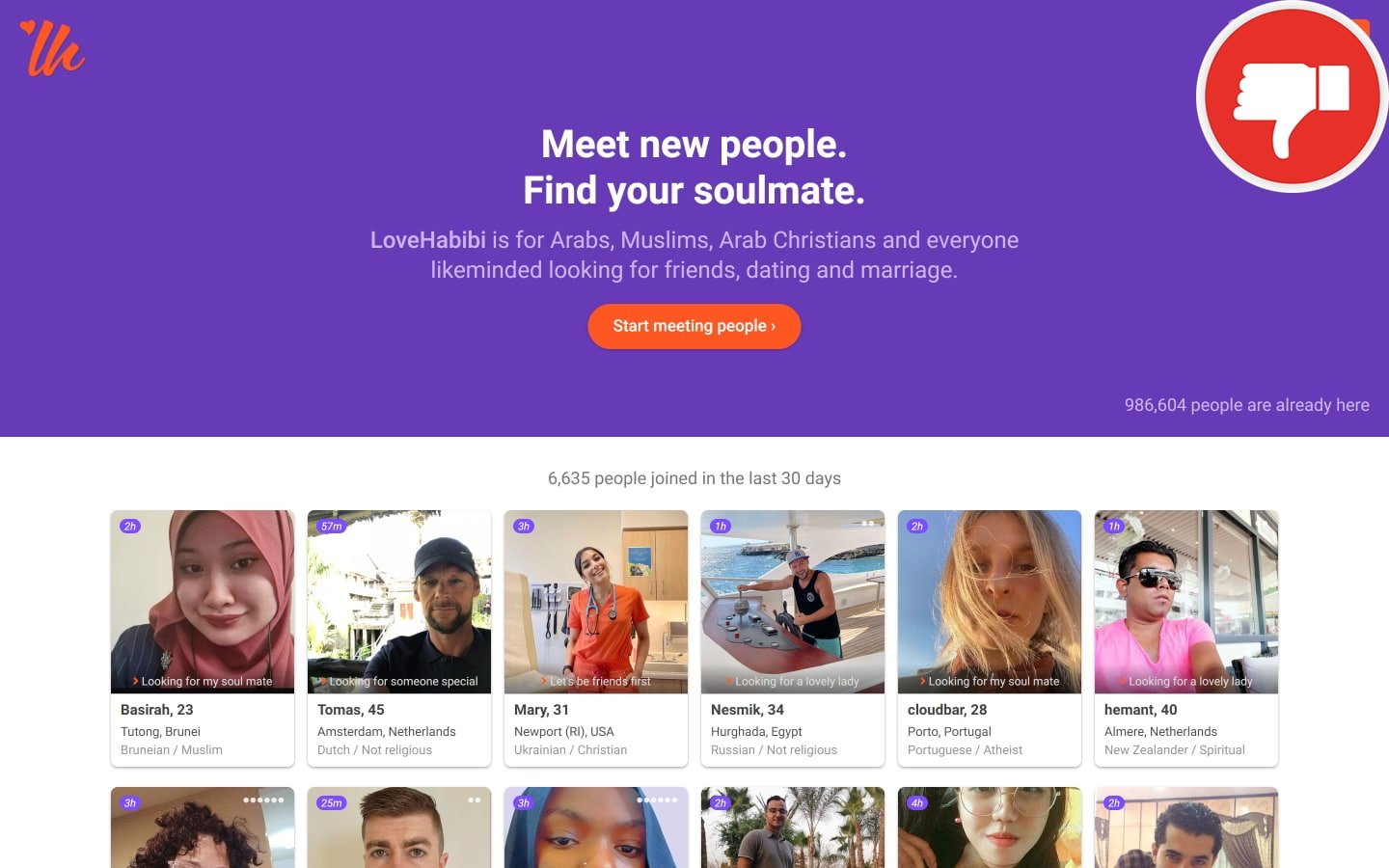 The site is well established

Suspicions of fake profiles

Suspicions of subscription rip-off
Report for LoveHabibi.com review
LoveHabibi.com defines itself as one of the leading Arab and Muslim dating websites. According to what is stated on the initial page, they are committed to helping their members find the best possible match. What makes LoveHabibi.com unique is its exclusive focus on Arabs, Muslims, and Arab Christians seeking new friendships, dating, and marriage. The landing page invites visitors to trust them and lets them assist them in finding their soulmate, regardless of location. They promise that all users have to do is sign up and start meeting new people right now.
LoveHabibi.com is a dating website founded 20 years ago. It is specifically designed for Arab and Muslim singles who are looking for long-term relationships and genuine experiences. The fact that this platform has been up and running for such a long time should be a guarantee that it is not a scam. Instead, our review will show you that there are many reasons to be skeptical of this site.
Furthermore, the site's operator doesn't disclose its real identity. This is always a clear sign that a platform could be a rip-off. Moreover, LoveHabibi.com has a horrible reputation online. A lot of former users have left negative reports to complain about fake profiles, lack of privacy, and a probable subscription trap. Let's find out a bit more.
Scroll down to read the details of our LoveHabibi.com review.
Details on the LoveHabibi.com review
LoveHabibi.com claims that over the years they have helped almost 1 million singles from the USA, Europe, Asia, the Middle East, and Africa find love, or someone to complete their lives. At first sight, it seemed to be a great place for users looking for that special person who shares their cultural and religious background. Upon further inspection, however, it turned out that this dating platform was very different from what it looked like at first glance.
Who are they?
As we always do, we immediately searched for the name of the site's operator. An honest company wouldn't have any problem revealing its identity and location. LoveHabibi.com doesn't even provide an "Imprint" section. We also checked the site's terms and conditions and the privacy policy, but we couldn't find anything. The name of this operator remains a mystery. This is a serious hint that something dodgy is going on.
Additionally, users aren't provided with any email address or telephone number, so in case any problem should arise, there is no method of direct contact. If users need to get in touch with customer support, all they can do is fill out an online form and hope for the best.
No privacy
Most of the people who sign up for a similar portal don't want the rest of the world to know that they are using a dating website. That's why only registered users can usually see other profiles. On LoveHabibi.com, the opposite happens.
On the landing page, the pictures of all the latest members are clearly visible. Without registration, users cannot see the full profile, but since the pictures are not blurred, all these people are easily recognizable. If you're worried about someone else knowing that you're using LoveHabibi.com, you should not sign up here in the first place.
A reputation that speaks for itself
Since LoveHabibi.com was founded 20 years ago, it's not surprising that they have received many reviews online. We checked all of them, and the vast majority speak against this platform. Many former users complain about a fake chat scam and a subscription rip-off. According to first-hand experiences from past users, fictional profiles were used to lure members into a paid premium membership that renewed automatically and was impossible to cancel.
We carefully read all the legal documents again to confirm these accusations. Nowhere did it mention anything about fake profiles or professional moderators. Therefore, definitive proof of the scam is missing.
The conclusion from our LoveHabibi.com review
LoveHabibi.com is the perfect example of a dating platform that we cannot recommend to anybody, even if we don't have clear evidence of any scam. However, because of our extensive experience in this business, we have detected several warning signs that indicate that this website is best to be avoided. After finding a few complaints on the internet, we were able to regard this site as a place where unfortunate experiences take place. LoveHabibi.com has received many online reports, most of which were extremely negative.
Let us know your LoveHabibi.com experience in the comments as well.